Wow, it's been way too long since I've done a post updating all the new fun stuff you are doing.  Ever since grad school ended it is so difficult for me to sit down and write anything, no matter how little it is.  I was definitely very burned out by the end, and am still pretty burned out 5 months later.  Sad, I know.  Your daddy and I are enjoying every second with you, and I suppose that's what counts most, right?  Your personality has blossomed over the last couple months and seems to keep growing and changing daily.  You have your times when you are cranky, but for the most part you are a super happy and sweet baby.  All we have to do is look at you and smile and you will grin back.  It's adorable.  You are getting to the stage that you are hard to keep up with because you are also so incredibly curious and therefore you are in to EVERYTHING!!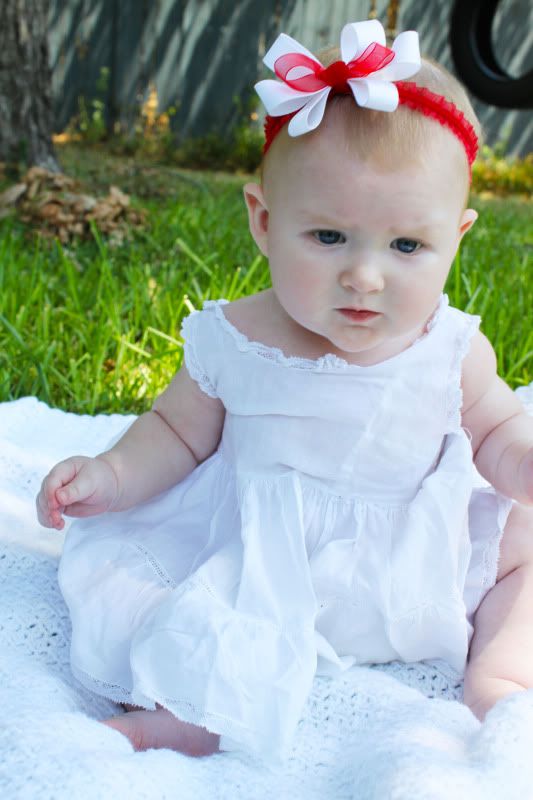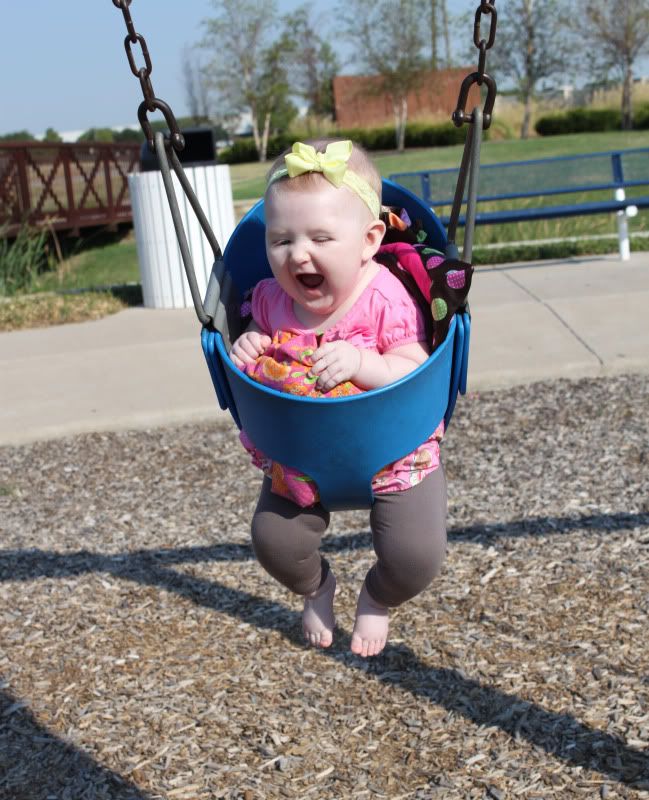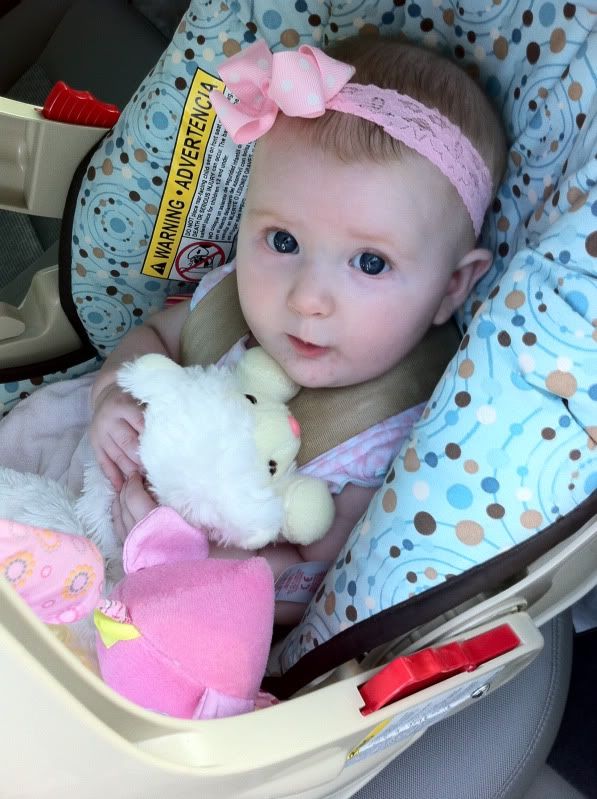 New things you have done since the last update:
Found feet- (16wks- 3 1/2months)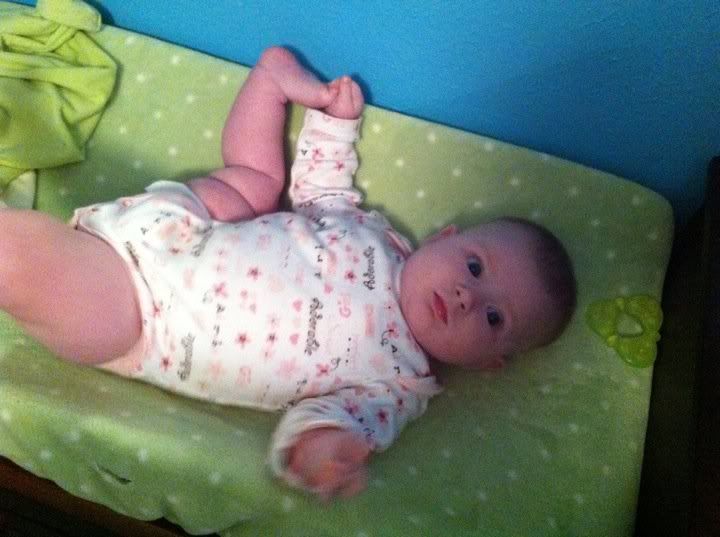 Sits up when put in place- (16wks- 3 3/4months) This one was a shocker for me.  It seemed like it took you FOREVER to be able to hold up your head, and then the next thing we know you could stay sitting up when we put you in that position.  I expected you to be late sitting up since it had taken you so long to be able to hold your head up; instead they just seemed to happen back to back!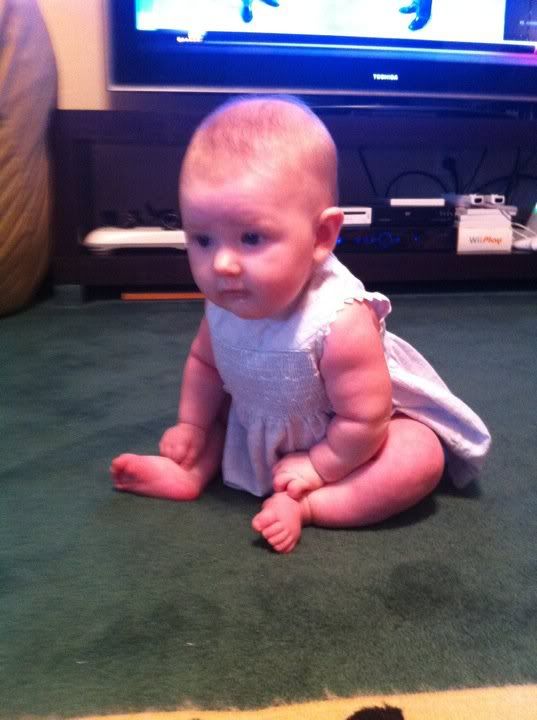 Started blowing raspberries- (16wks-  4months)  For a while you would blow them constantly, now at 6 months you only do it from time to time.
Watches dogs constantly and wants to play with them- (4months) You're still completely enamored with the dogs.  You get super excited when they walk past you and you try to grab at them.  When we put you where you can grab them you start squealing and tugging at whatever you can grab on them, usually their ears or a handful of their coat.  Now that you are on the move, if they are anywhere close you will scoot yourself over to them.  I just wish they didn't shed so badly.  It grosses me out when you pull on them because you come away with a handful of hair, and then I have to go wash your hands.  They are going to love playing with you someday though.  Right now I think Zoey is jealous of you because you get all of our attention, but as soon as you're old enough to play, she'll love you.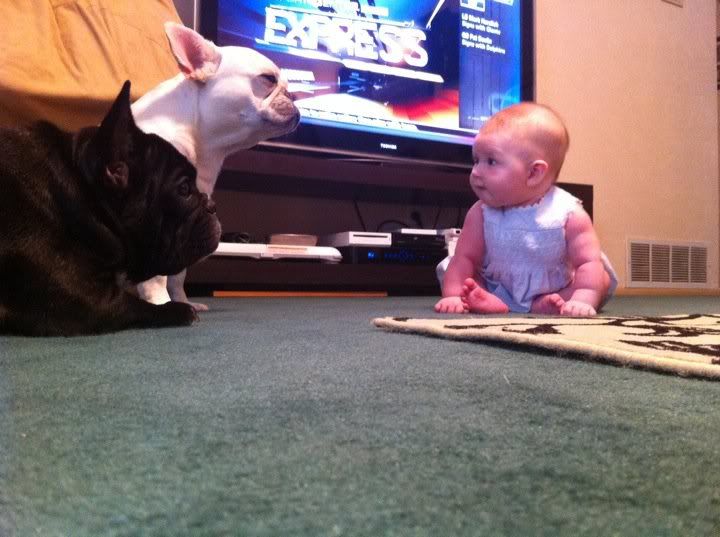 Puts foot in mouth and sucks toe- (18wks- 4 1/4months)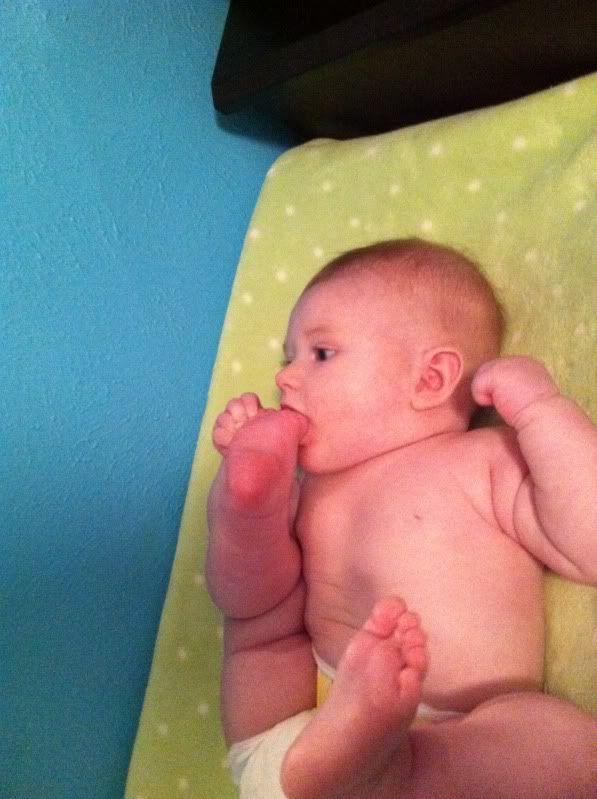 Will squirm and reach to get objects placed out of reach when on belly- (4- 1/2months 18wks)
Back to belly- (4.5 months 20wks)  It seemed like it took you forever to do this because I saw that so many other babies were doing it at such a younger age, however your doctor said you were right on track or even a little early.  I feared you would never do it because of how much you hated being placed on your tummy, but now that you have figured out that you can go places when on your stomach, you love it!
Will get toy in grasp and then roll over- ( 4 3/4months)  At this point you still didn't especially love your belly, so as soon as you got what you wanted in hand you would roll over to play with it on your back.  Now at 6 months you don't mind staying on your belly to play with your toys.
Rolls everywhere- (5 months) This seemed to be the point where your curiosity really blossomed.  You would roll one direction to go feel the table, then you would see something else you wanted and roll to get it, then something else would distract you and you'd go after it.  You just wanted to be able to feel everything and search it out on your own.
Will get up on all fours and rock back and forth- (5 months)
Crawls in reverse- (5 months)  At this point you wanted to be able to crawl so bad, but no matter how hard to tried you would only go in reverse.  You would get so frustrated that you were moving away from the toy instead of towards it.
Went from crawling to sitting position- (5 1/2 months)  I was so excited when you started backing yourself into a sitting position, until I realized just how often you started falling over and hitting your head on things.  If there was one thing I was one major thing I wasn't prepared for, it would be that I didn't realize just how often you would hit your head.  I HATE it.  Before I can even blink now you are sitting up, getting too eager to get something out of your reach that you don't take your time, and toppling over on your head.  A couple of times I've been able to quickly grab you or slip my foot under your head before you hit it on something, but I still need to be more cautious.
Will scoot along floor while in crawling position- (5 3/4 months) While trying to figure out the whole crawling thing you would get on all fours, rock back and forth, and try to get enough momentum going that you could scoot your bottom forward.
Wants to get down and just play and move on own- (6 months) A little bit before the 6 month marker a huge change took place.  In the morning when we would get up you just wanted to get down and play.  ON YOUR OWN.  You had never been like this before.  You had always wanted me in a close proximity there with you, and all of the sudden you didn't care where I was, you just wanted to be able to practice your new skills and play with your toys.  On one hand it's kind of sad, on the other it's exciting to be able to get my coffee and breakfast in the morning without having to worry about you getting upset when I'm not right there with you.
Reaches to be put down- ( 6 months)  Also at this point your started reaching to be put down.  You love being on the floor rolling/scooting/crawling around and playing.  You are still so curious and want to get into everything.  I can already tell that as the weeks progress you are going to be quite a handful.
Reaches for me to pick her up- (6 months) This new stage made me happy.  Who wouldn't like it when their child reaches for them and wants them?? Haha.  You have the perfect balance though.  You're independent and usually don't mind other people, but when you're tired or hurt, you want me.  I wouldn't take it any other way.  I hope for you to have a good balance between independence but still also wanting your daddy and me when times are rough.
Crawling- (6 months) This stage took you awhile to figure out.  You first started trying to really move at about 5 months, but it took you about a whole month to really nail it down.  Your crawling first started as more of an army crawl, but now you try to get up and move on all fours.  Army crawling is still easier for you though, and usually what you do if you're really determined to get something.  Sometimes when you wake up from your nap early I don't get my hair washed, blow-dried, and combed quick enough and have to take you into the bathroom with me.  Lately it has become a major pain because you are into everything.  You want to get your hand on every cord you can find, try to dump over the trash can, and also seem to find our extra toilet paper rolls every time.  The worst part is that you are always moving somewhere and sitting up, and I am so afraid that you're going to fall over and hit your head on the tile.  I suppose it's time to break out the pack-n-play for times like this.  We have begun playing volleyball most Sunday nights and we usually take it with us for you to play in while we are playing ourselves.  It's the first time we've really used it yet, but it's coming in quite handy.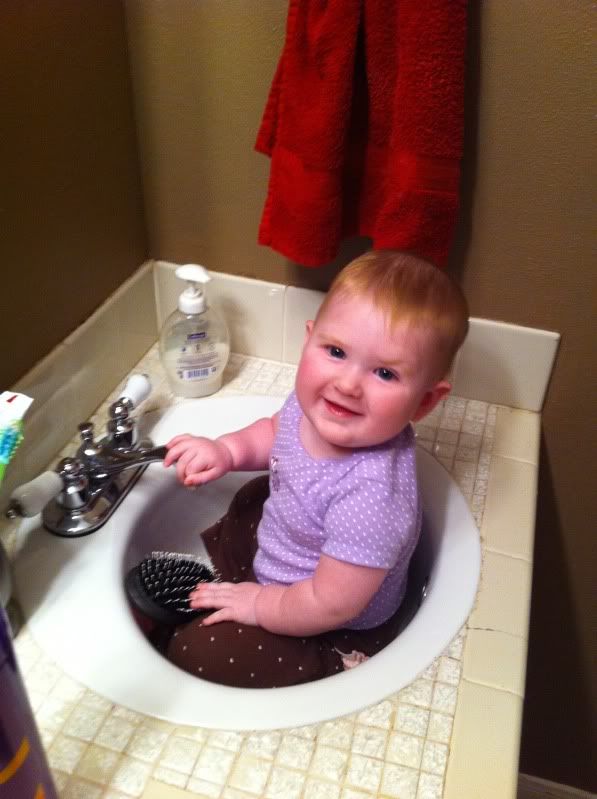 Sits up in crib-  (6 months)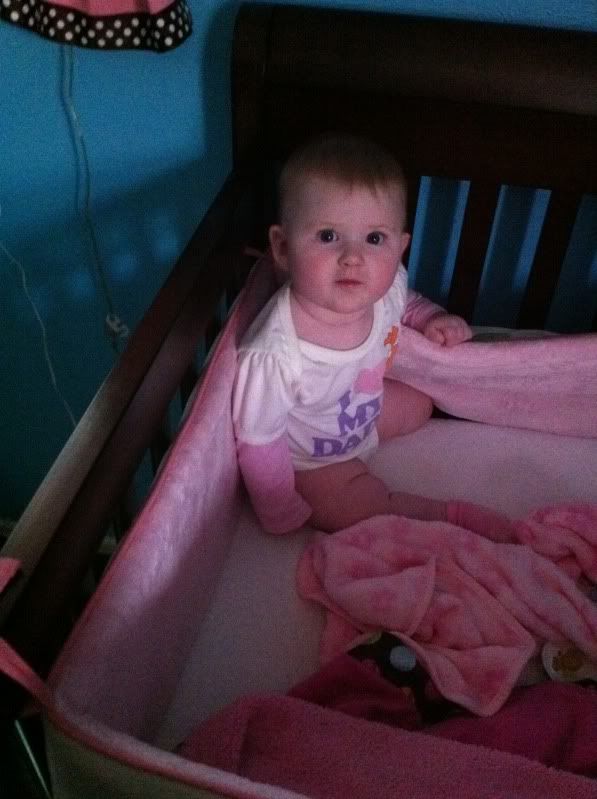 Your sleeping habits: 
For a while there your night sleeping was great.  At 4 months you would go 5-6 hours at night at a time, which meant that you were really only nursing once maybe twice a night.  I didn't mind this stage at all; I've never minded getting up with you.  However at about 5 months, I don't know what got into you, but you started waking up numerous times a night, and at 5 ½ months were waking up every hour or two.  Not only was I completely exhausted, but you were even wearing out your daddy as well because he could hear you when you woke up.  Since you had been sleeping so well, at first I got sucked into going to you every time you cried because I figured you needed me for some reason.  I also thought maybe you were just going through a growth spurt and so you wanted to nurse more at night.  Well, the more you woke up at night, the less you ate during the day.  Before I knew it, you were going 5 hours during the day without eating, but then eating all night.  I knew what I needed to do, but also for some reason needed the reassurance from your pediatrician, which he gave at your 6 month appointment.  I don't know what I was thinking to ever let it get so out of hand!!   I couldn't bring myself to follow his exact instruction with sleep training you though.  He told me I should nurse you at night, put you down, turn off the monitors, and go to you in the morning.  I kind of took a semi-different route.  Hey, do whatever works for you, right?  I just couldn't ever bring myself to let you cry endlessly.  I want you to always be confident in the fact that I will be there when you need me, and honestly believe that building that security in you will help you to be a more confident in the future.
I know you can't trust everything you read, but I've read too many articles that say that endless crying increases dependence on the parent and can increase separation anxiety issues because they don't feel confident you'll always be there.  They become terrified when you leave that you're leaving for good and become hysterical.  This is also a topic that we covered briefly in my child development class in college that I had forgotten about until recently.  More than anything I guess I fear doing that to you, and even if that research holds no truth, didn't want to chance it.  Plus, it makes me feel better about the fact that, bottom line I just can't stand hearing you cry for very long.  I cave.  It's one of my parenting weaknesses.
This is the point that we started "sleep training."  I say this loosely, because I'm not the type that is able to follow a strict schedule, or let you cry until you figure it out which are both common trademarks of most sleep training methods.  You have always gone to sleep at night on your own.  I would wait until you got tired, nurse you, and then lay you down and let you go to sleep.  Well, 30 has always seemed to be the magic number for you.  Your naps during the day (up until about a week and a half ago) had always only been 30min long, and at night you began waking after exactly 30min.  Well I decided that after you woke I would wait 30minutes before I went for you to see if you would figure it out and go back to sleep.  This didn't work the first week and I would end up having to go in there and nurse you and lay you back down, but one thing that this little bit of crying did was extend the amount of time you slept for the next segment.  The very first night we "sleep trained" you woke after 30min, cried/moaned around for 30min, I went in and nursed you, then you slept for 3 hours, I let you cry/moan for 30min, I went in and nursed you, and then you slept for SEVEN hours.  After having spent the last month waking up every hour or two, I was ecstatic!  I thought that surely it wouldn't be this easy and so I expected the worst the next night.  Instead you slept for almost 8 hours at your longest stretch.  Since we started this about a week ago you have continued to usually nurse one time at night, but that is perfectly okay with me.  I'm hoping that if I continue what we have been doing this past week, when you're ready, we will lose the middle of the night feeding.  Until then, I will continue to get up with you.  I know someday I'll look back and this will all be a blur.  I'll look back and miss the times I got to get up and snuggle with you in the middle of the night, so instead of dread it, I'm going to choose to enjoy it while I can.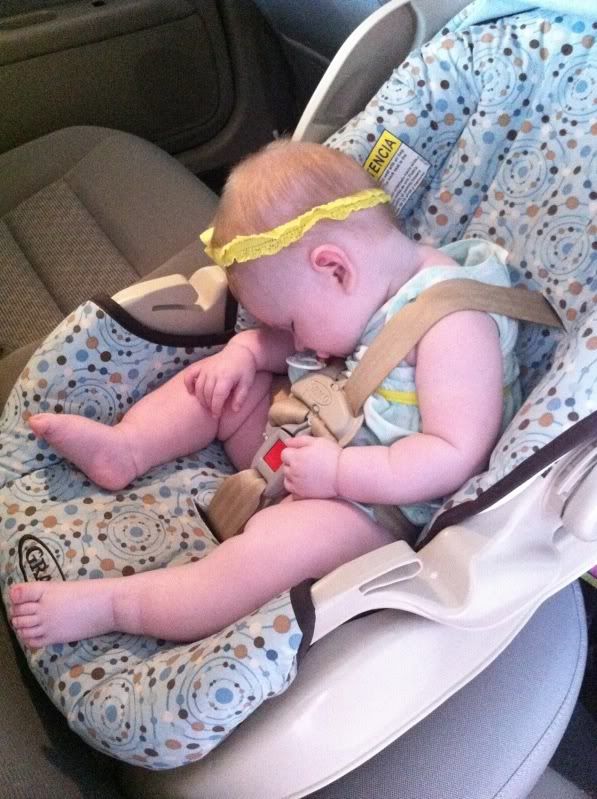 Your naps lately have been amazing!  You have never napped for long periods of time.  It always seemed to be 30 and done.  You would do this 3 to 4 times a day, but it is still so difficult to get anything done in 30min.  Especially impossible for me to take a shower and wash my hair!  About a week and a half ago your naps just kind of fixed themselves.  You now sleep for an hour or two at each nap.  It's a win/win situation.  You're getting the sleep you need, and I'm actually getting to get stuff done around the house!
Starting Solids:
Solids did not have a very smooth start.  You hated your cereal from the beginning.  You will actually clench your gums shut on me so I can't feed it to you.  I tried several vegetables after you rejected the cereal and you just don't seem to be interested much yet.  After getting desperate to see if you liked ANYTHING I tried giving you cheerios cut in half and you loved them.  You also like banana diced up.  You absolutely love yogurt and so I have been alternating bites of veggies with bites of yogurt.  Today I cut some tiny slices of green beans and sauteed them in butter and onion powder and you seemed to enjoy them alright.  I'm coming to the realization that you hate pureed baby food.  The only pureed vegetable that you seemed to halfway enjoy was squash.  I suppose I need to head back to the store and get some more since you like it!  Even the food that you seem to like alright you don't eat much of.  Yogurt is the only thing that you will even eat close to an actual ounce of, which is not a lot.  So for right now I'm just trying to set the schedule of three feedings a day, and I figure when you get hungry enough you will start eating.  Hopefully this game plan works out!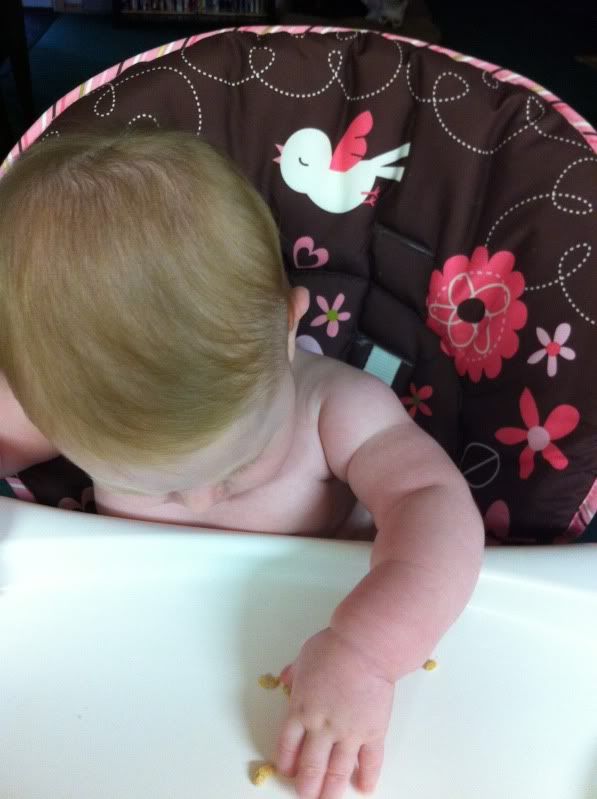 Wrapping this beast up:
I know that I'm bias, but you just keep getting prettier and prettier as you get older.  Your adorable personality adds to your cuteness and makes it impossible for me to not squeeze and love around on you all the time.  Your daddy adores you and you adore him too.  You're face always lights up when you see him walk into the room.  Your daddy works hard for us, and it's because of him that I am able to stay home with you.  Cutting our income in half has not been the easiest, and we will probably have to be very smart with our financial choices for a while, but I could not imagine being anywhere else but home with you.   I am exactly where I want and need to be and am excited to see what the future holds for our little family.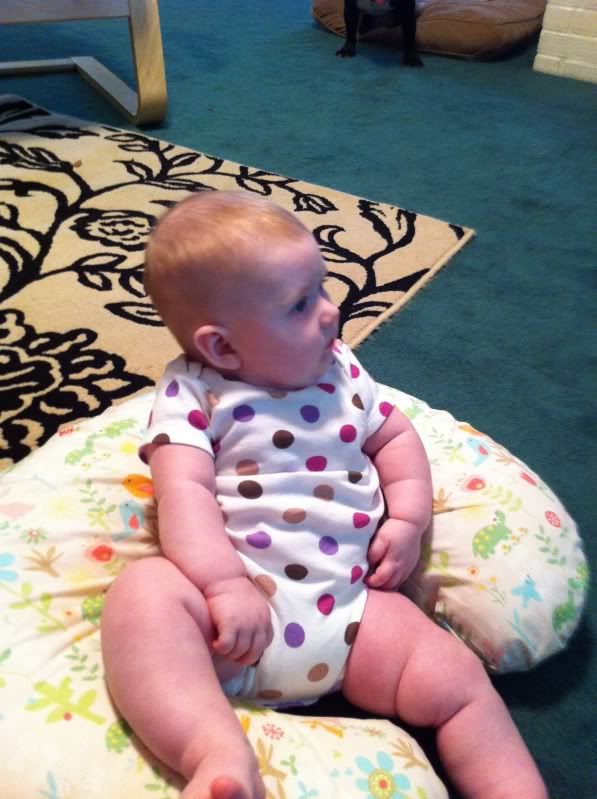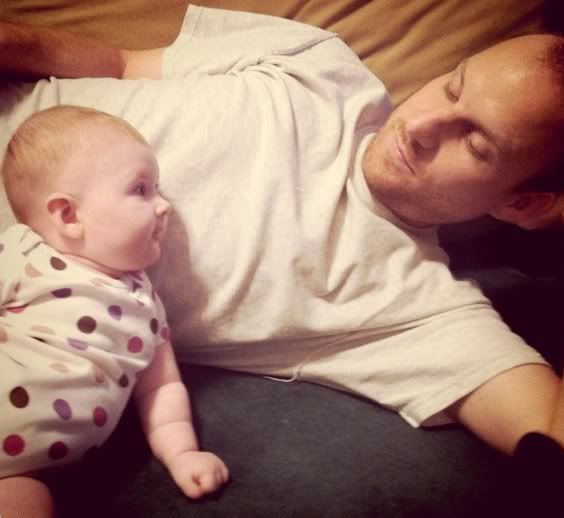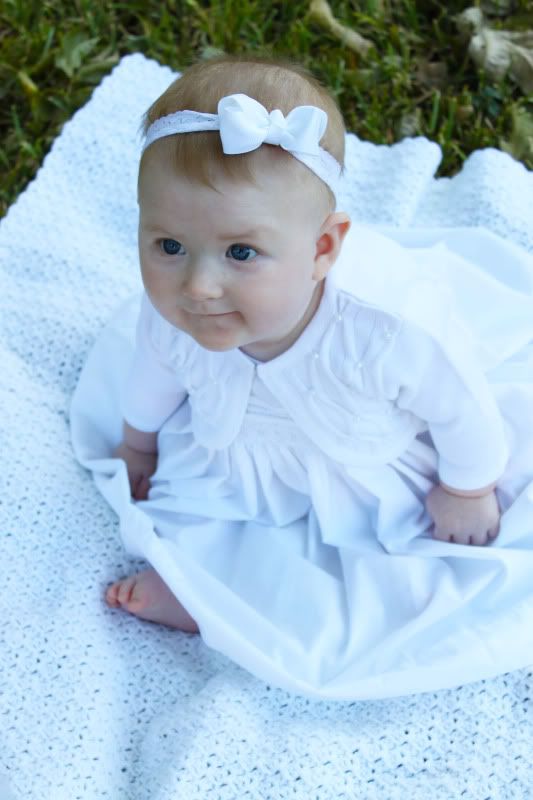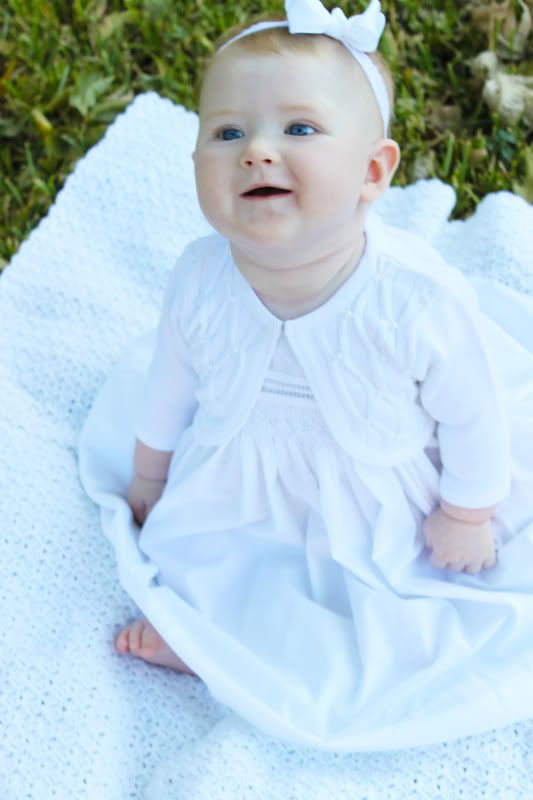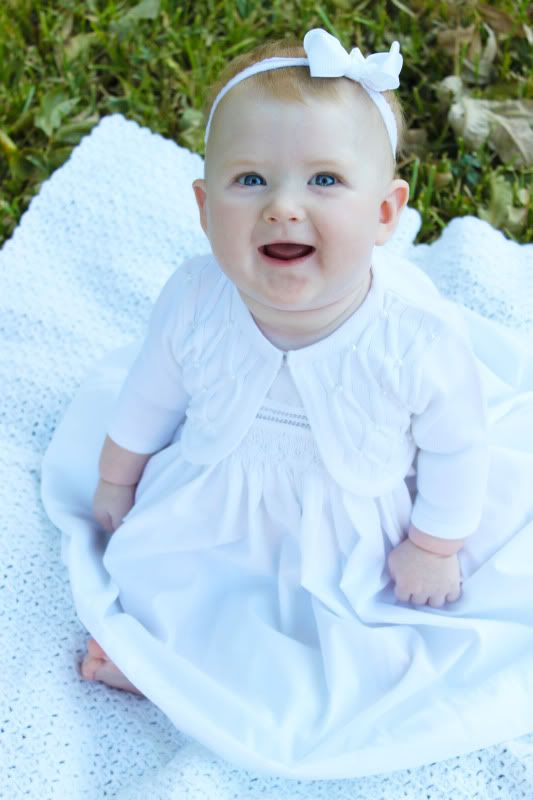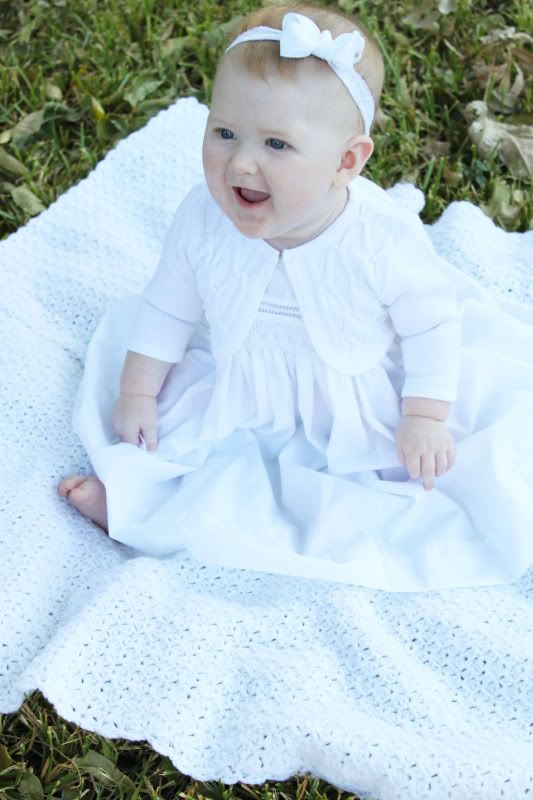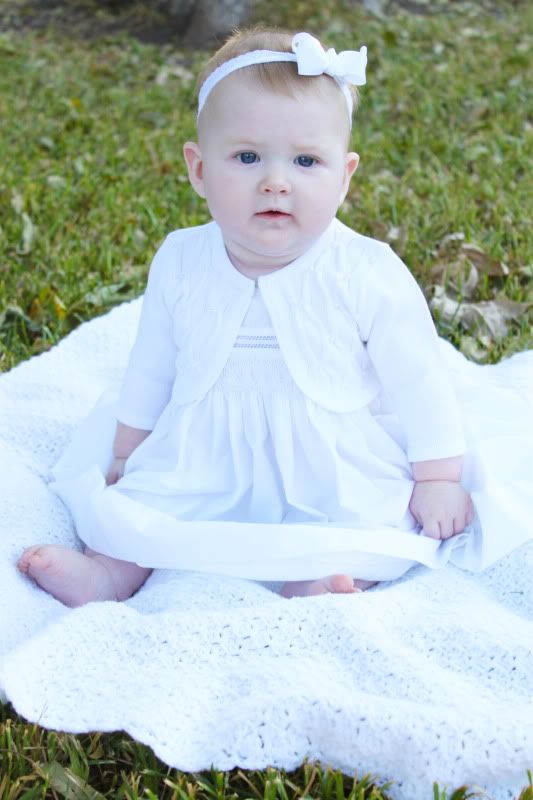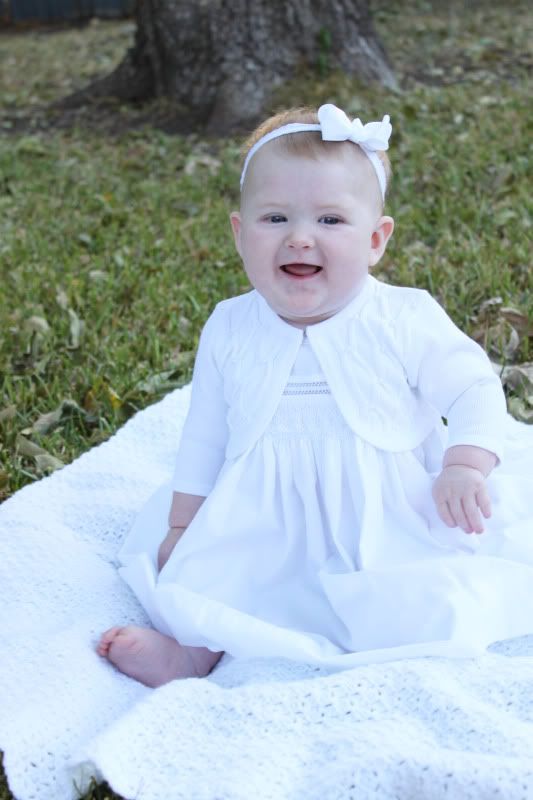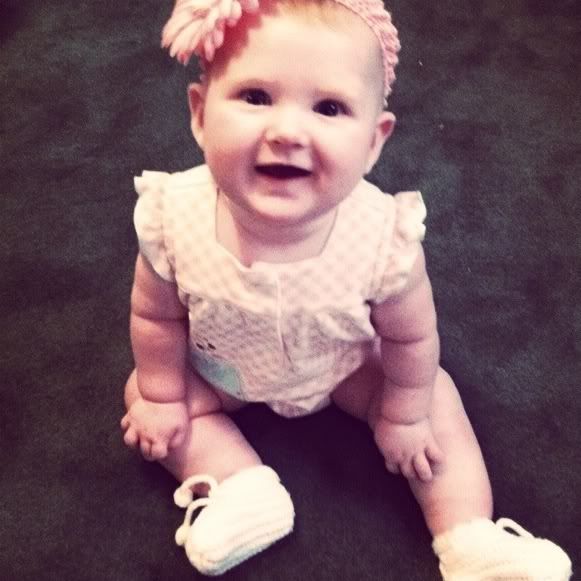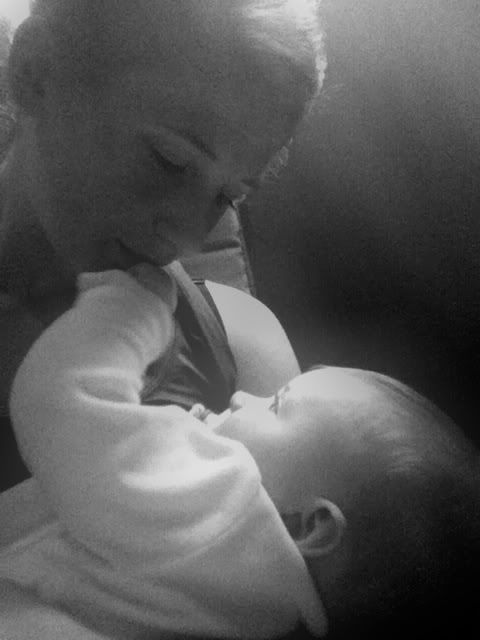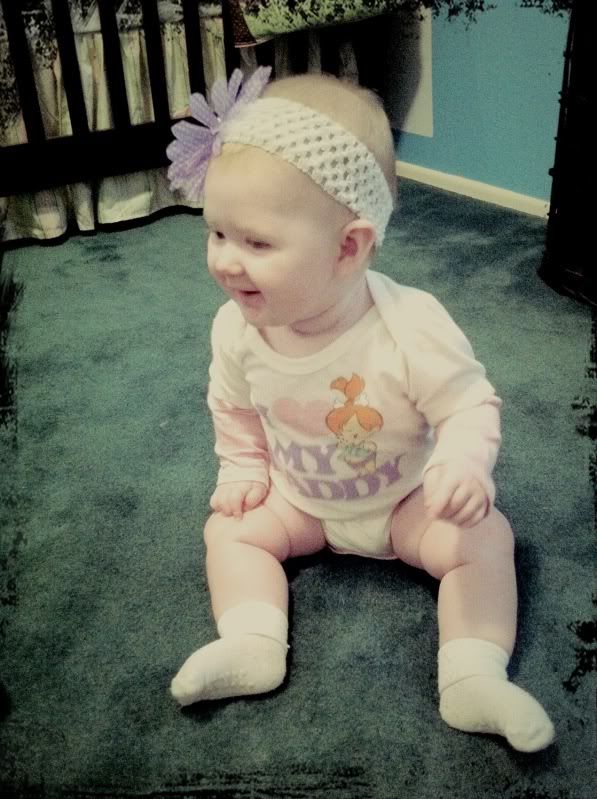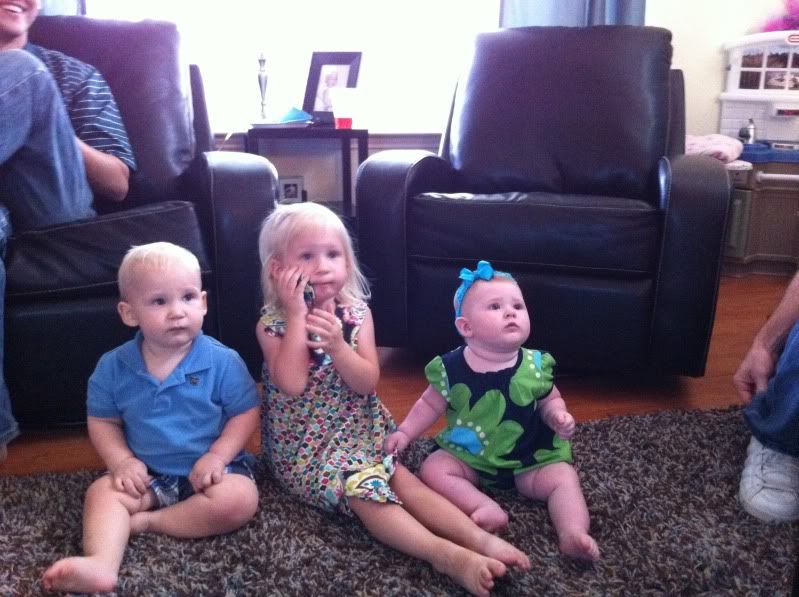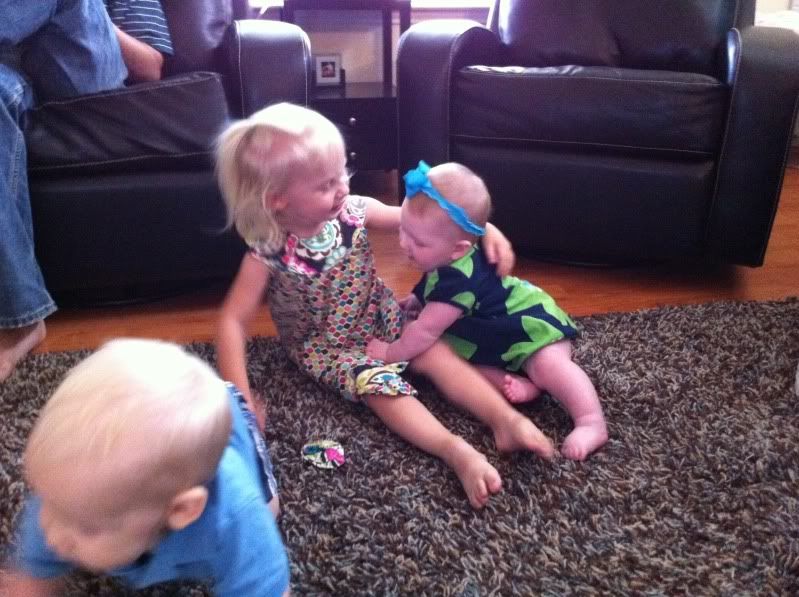 Lauralie loves playing with "baby"!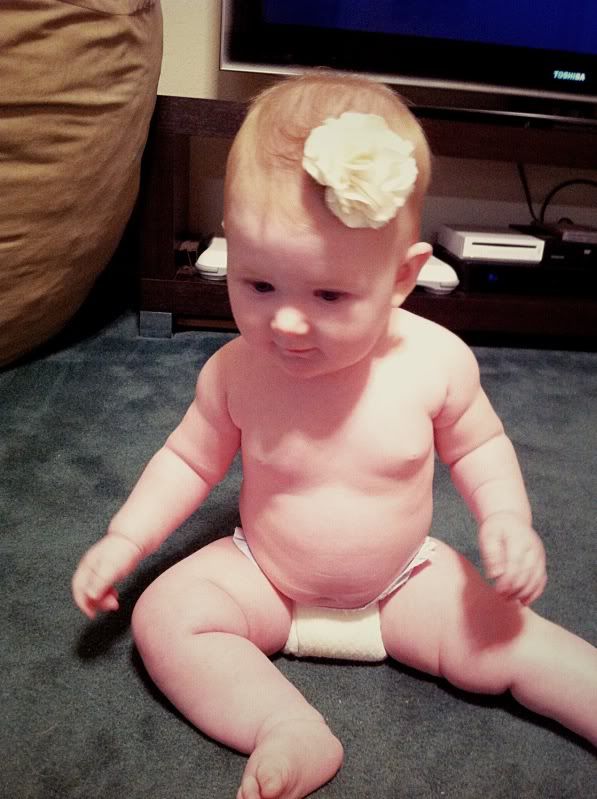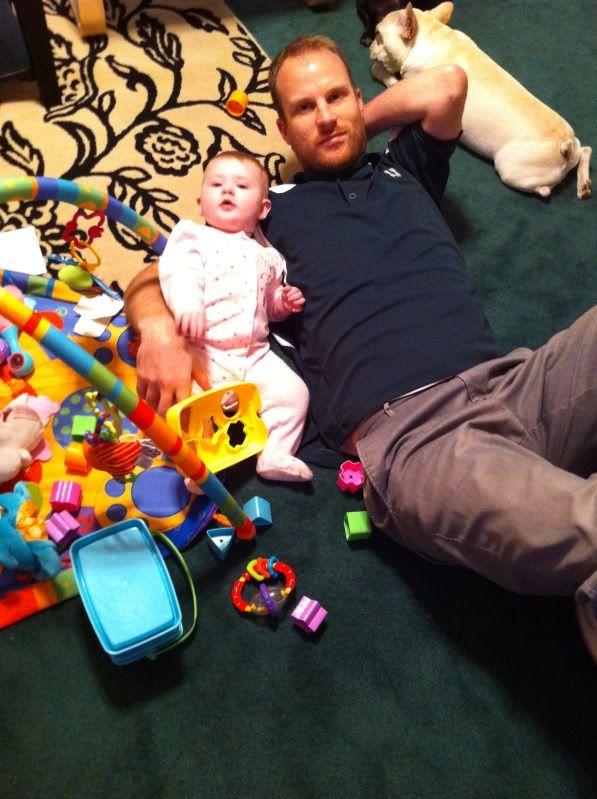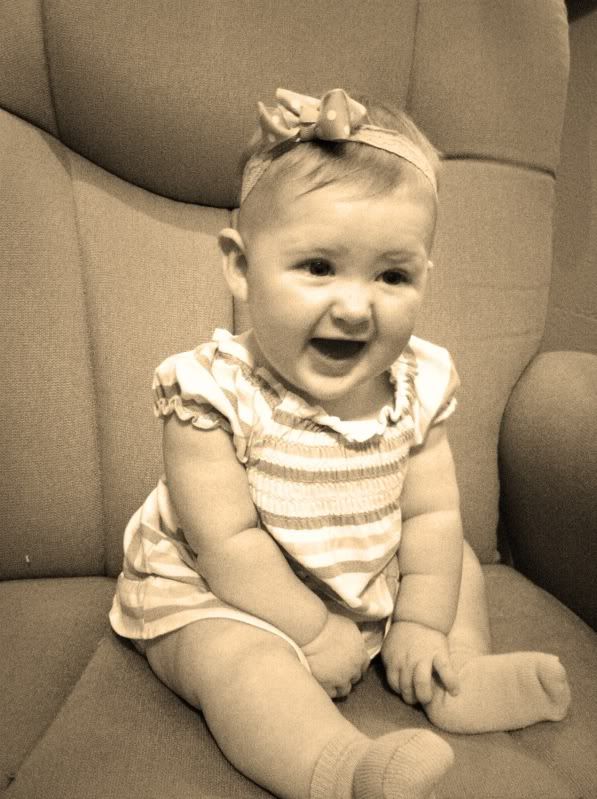 You like to squeal, a lot.  That's  what you're doing in this picture! : )