I sure hope you are able to read all of this someday and there is not too much to keep up with.  I try to keep it decently short and to the point, but since it takes me so long to get a new post up, they end up huge!  Just in case this website turns into information overload, I am also keeping a copy of all of your firsts with no blurbs added in and plan to put it in your baby book.  I really like being able to write about it all on here because I can tell you in detail just how you have been at each stage and what your personality is like.  I am so glad that I get to spend all day every day with you and get to watch your personality grow and develop.  There is no other joy like it.
Here are all the physical and intellectual leaps you have made since the last post …
6-7 Months …
Pulled up- (6 1/2 months)
Said "mama"- (6 1/2 months)
Walk along hanging onto our hands or walking toys- (6 1/2 months)
Realize we are in the car with you and will turn around to try to see us- (6 1/2 months)
Let go when standing up and tried to stand on own- (6 3/4 months)
Other 6 month pictures ….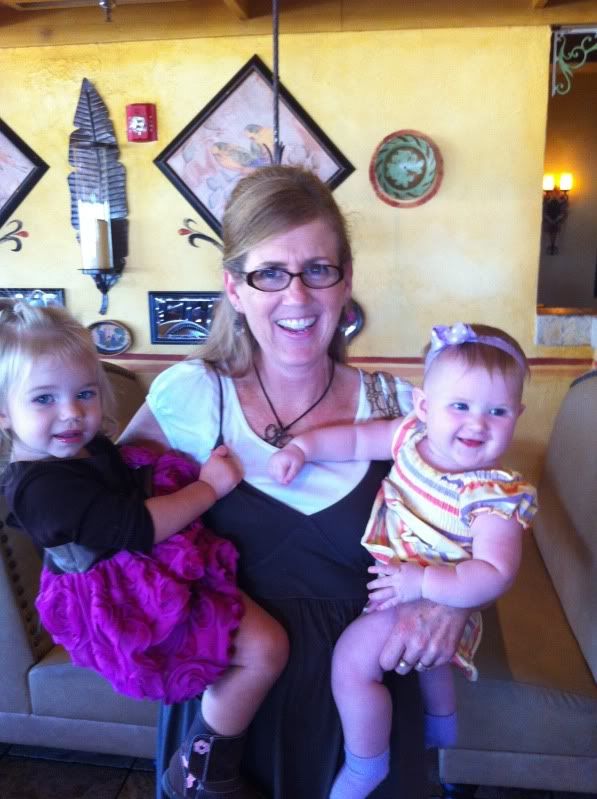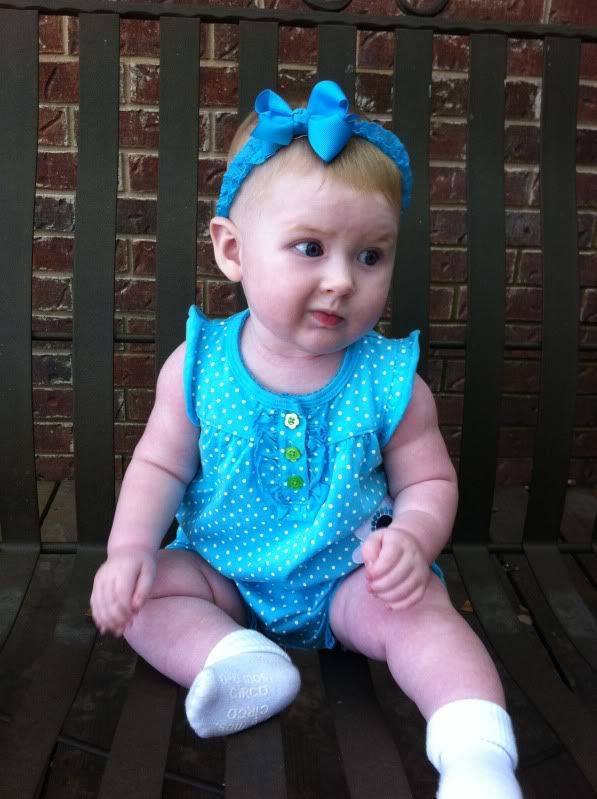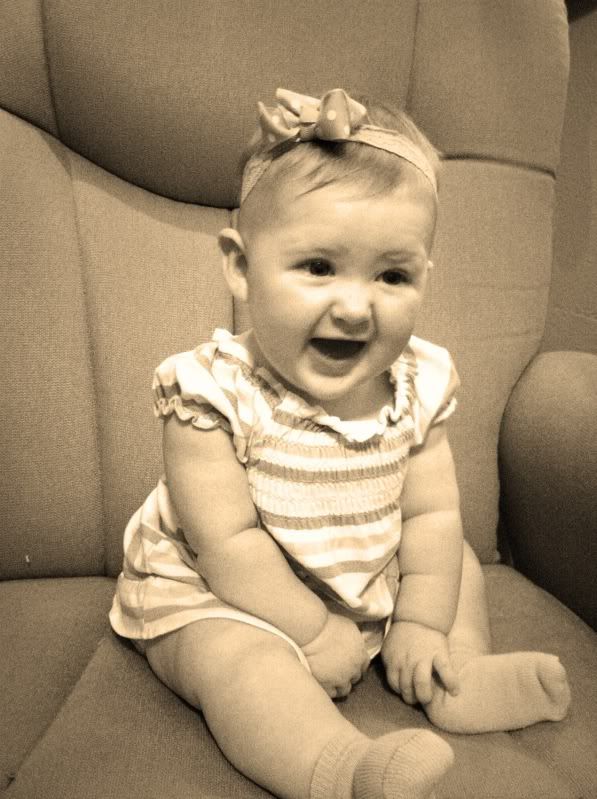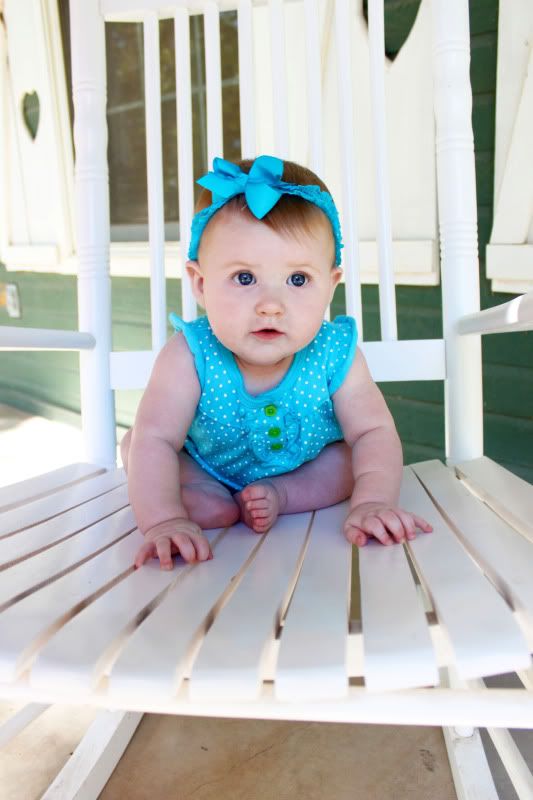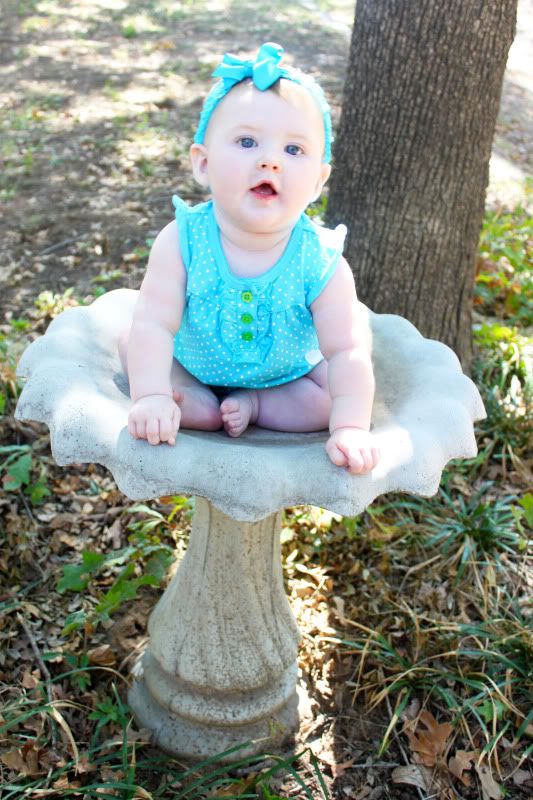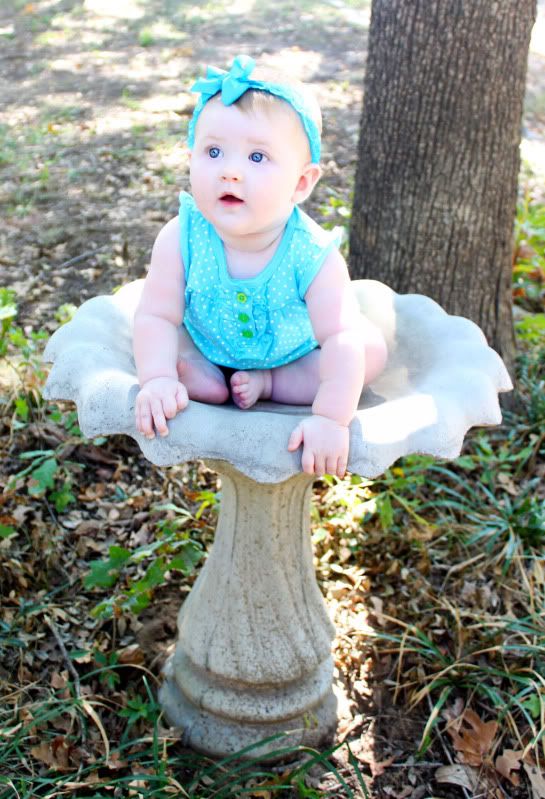 7-8 Months …
Said "dada"- (7 months)
When looking in the mirror you began to realize that it is actually us that you are looking at, and will turn your head around to look at me behind you- (7 months)
Stands on own for short amounts of time- (7 months)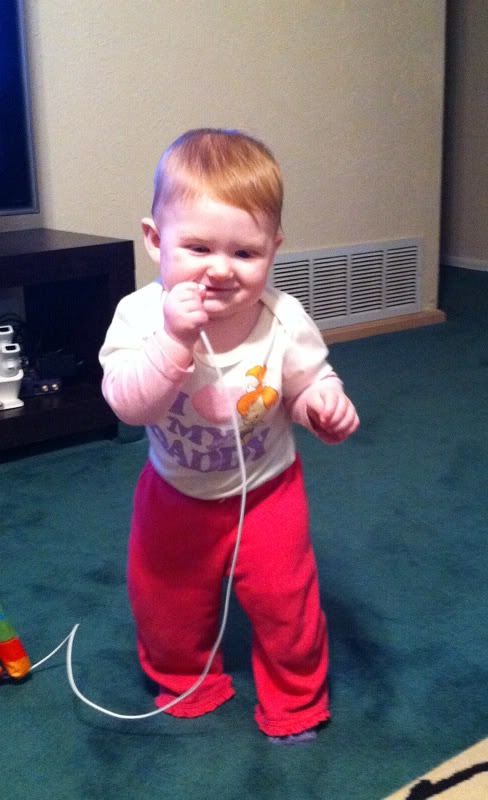 Can grab objects with the "pincer" grasp and put them in mouth ex: Cheerios- (7 months)
Walk along hanging on to the edge of objects- (7 1/4 months)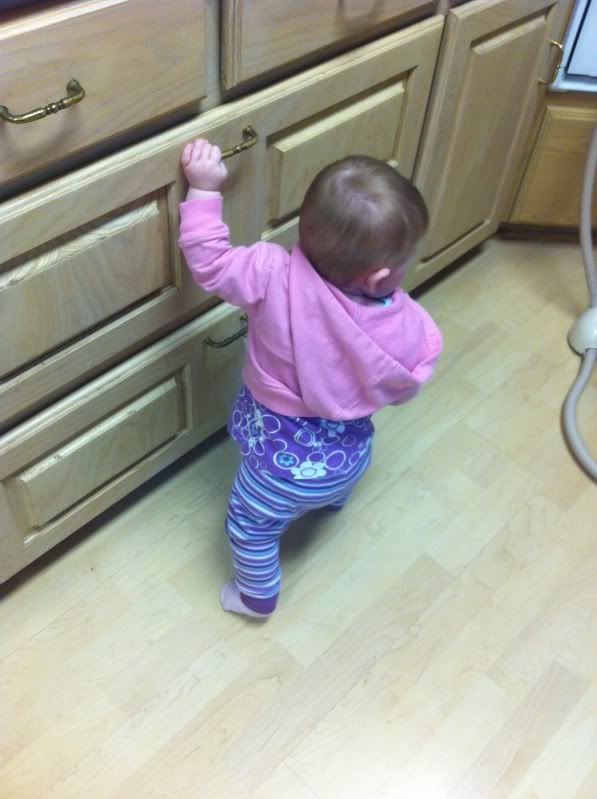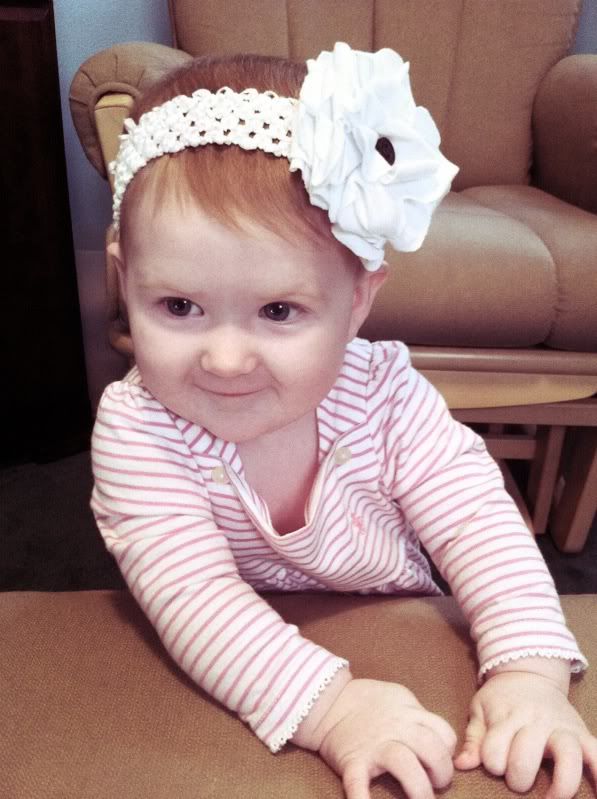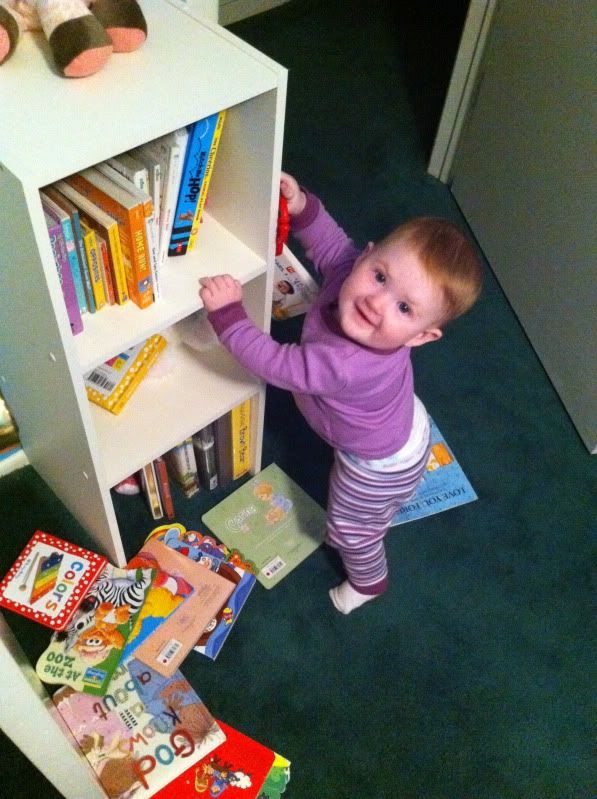 Moved between objects (from one chair to another)- (7 1/4 months)
Waves goodbye- (7 1/2 months)
Gives kisses- (7 1/2 months)
Stands on own for 20-30seconds at a time- (7 1/2 months)
watch?v=NOew7RSJ_KU&list=UUVmOjo-5ETXRhfjcRkL5Y4Q&index=14&feature=plcp
Other 7 month pictures …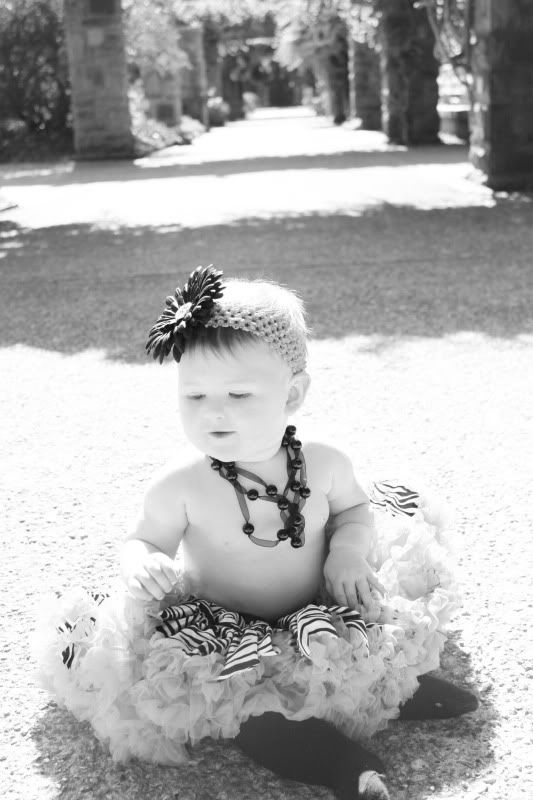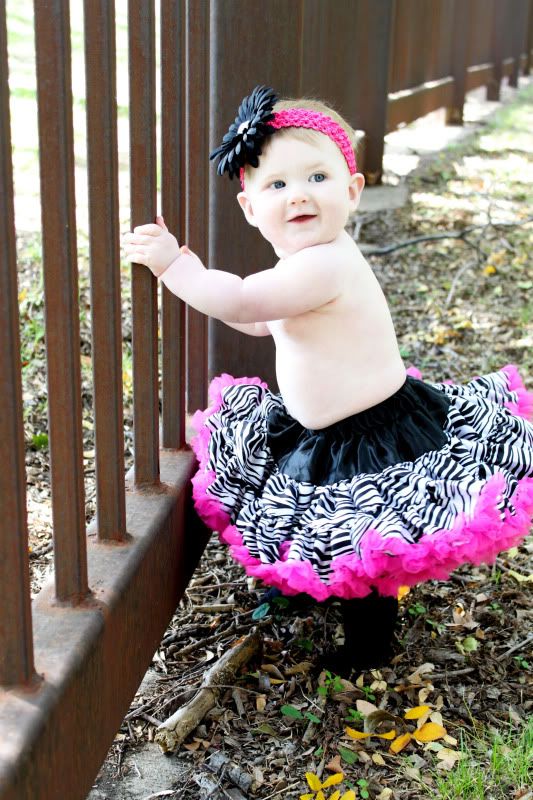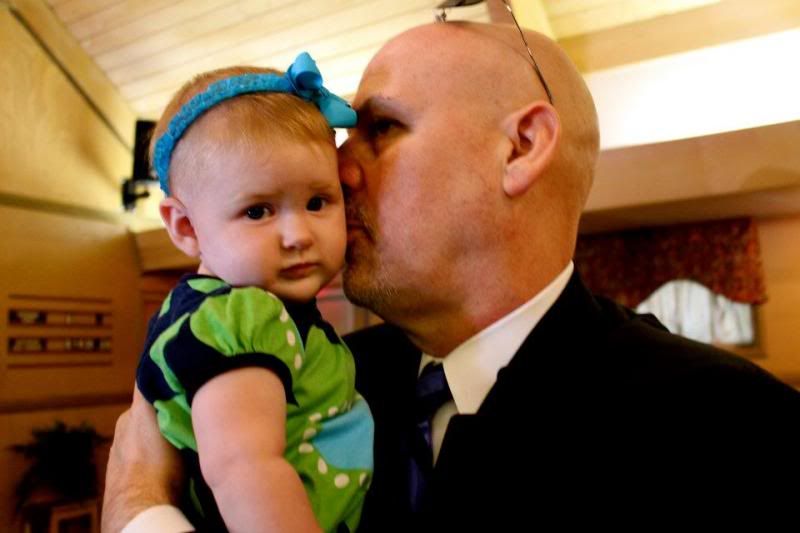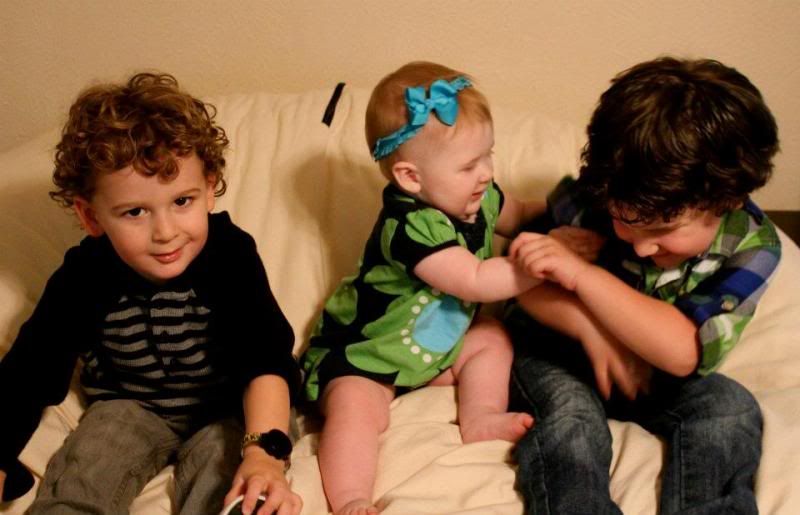 8-9 Months…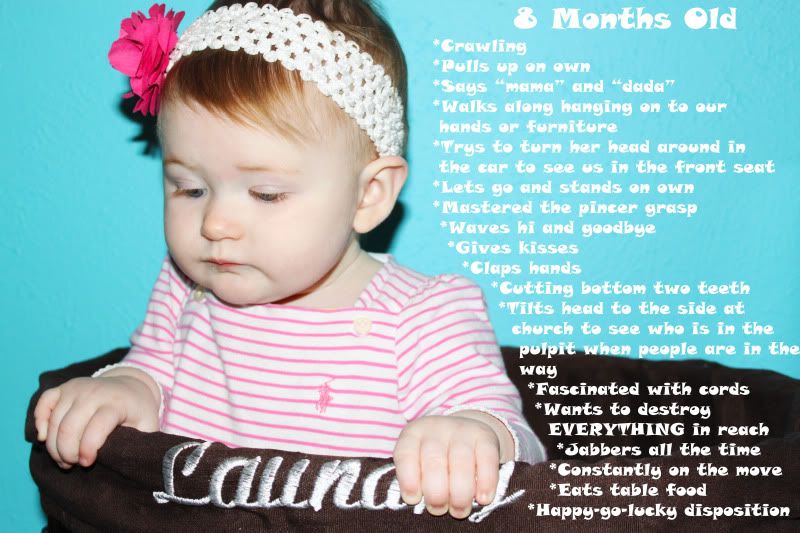 "Dances" when music is turned on- (8 months) You do this cute little bounce when music is turned on, and you will also wave your hands around like a crazy person sometimes.  It cracks me up the most when you bop your head back and forth.
watch?v=qM1vcN1LLyU&list=UUVmOjo-5ETXRhfjcRkL5Y4Q&index=3&feature=plcp
Claps hands- (8 months) You do it all the time now!  You will just randomly start clapping and get excited.
watch?v=HKlARw7UAFI&list=UUVmOjo-5ETXRhfjcRkL5Y4Q&index=12&feature=plcp
First step- (8 months)  I couldn't believe it when you took your first step.  It took you so long to hold your head up that it shocked me when you started doing other things really early.
watch?v=HWOBIbUVA6I&list=UUVmOjo-5ETXRhfjcRkL5Y4Q&index=7&feature=plcp
Takes multiple steps- (8 1/2 months)
watch?v=rU23RZyEnao&list=UUVmOjo-5ETXRhfjcRkL5Y4Q&index=6&feature=plcp
Started pointing at things- (8 1/2 months)
Will try to say "yay" while clapping- (8 1/2 months)
Will imitate some sounds that we make to you- (8 3/4 months)
watch?v=PrSubH4-AJM&list=UUVmOjo-5ETXRhfjcRkL5Y4Q&index=4&feature=plcp
Walking- (9 Months)  You do not walk all the time and everywhere yet, but you can take over eight steps in a row and walk from one object to another.  You seem to have no fear and will try to take off running, get tangled up, and face plant.  It doesn't seem to phase you though. You just crawl the rest of the way to where ever you are going, pull up, and then try again when you're ready.  You seem to have no fear, which really kind of scares me!  You love when I let you walk along holding on to my hand, or when I put the walking toy in front of you.  Seems to be about your favorite thing to do right now.  Well, other than getting into everything you are not supposed to be in.  You probably love that the most.  It's almost like the things you shouldn't touch are the most fascinating to you.  You want to pull the DVDs off the shelf, everything off the end tables, dada's flash drive out of his computer, the trash over, things out of the cabinet, beat the wii sensor on the TV screen, etc. I could go on for quite a while, so I'll stop there. Ha.
watch?v=0MBjtdrVqSc&list=UUVmOjo-5ETXRhfjcRkL5Y4Q&index=1&feature=plcp
watch?v=1PjZ0GZw-Os&list=UUVmOjo-5ETXRhfjcRkL5Y4Q&index=15&feature=plcp
Your sweet personality…
I was so surprised the first day you lunged at my face to give me kisses.  It made my day, and still does every time you do it.  You don't always give them when I try to get you to, but I like the surprise ones better anyway.  They mean more.  They mean you WANT to give me kisses, not just do it because I'm trying to coax you into it.
Lately you have been crawling up to me a lot and pulling up to a standing position using my leg and then reaching up to me when you want to be picked up.  You have been a lot more needy again lately and haven't been interested in playing by yourself much.  You want to be able to be down doing your own thing most of the time, but you seem to want me right there by you.  Which I don't mind at all, because I know I will never get these times back when they're gone, it just makes it kind of hard to stay on top of things I need to get done during the day.
Pretty much every time music comes on now you get your little bounce dance going.  It's the funniest when you get your head into it.  I need to get a more recent video of you doing this so you can laugh at yourself someday. Ha.
Sometimes when you are doing something you will look up at me almost like you are trying to see what my reaction will be to it.  If I give you a quick grin, you will grin back and get all excited.  You are becoming much more aware of your surroundings and interacting with others.  Your personality shines through more and more every day.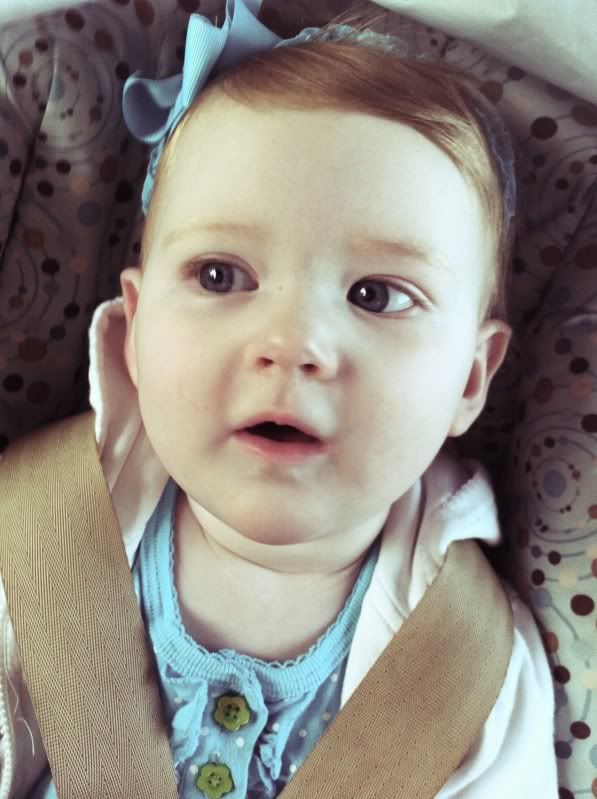 When we are in a store or out and about strangers come up to talk to you a lot.  Bottom line is that people love babies and you love attention.  They mesh quite well.  Just recently you have started waving "bye" to these random strangers in stores when they walk away after talking to you.  If they say "bye" and wave at you, most of the time you wave back.  You have been waving for awhile, but not to just anyone, and not near as often as you do now.  I can already tell that you are going to be my little social bug, just like your daddy.
Climbing on everything! Couldn't this have waited till later??  I mean, not like until you're 3 or anything, just like two more months. 11 months sounds like a good age to start killing yourself.  You have no fear yet, and I'm sure that will come, I just wish it'd come sooner! Hopefully you get lucky like my brothers and I did and never get seriously hurt horse playing. I look back at some of the things we did and it's a wonder we're still alive and never had to get stitches or broke any bones doing it. Three kids, unlimited open country, and imaginations running wild provided too many opportunities to make stupid decisions, but man we had fun.  As your aunties Ape, Rach, and I became friends I began to drag them into the stupidness as well, so I guess we should be thankful they never killed themselves either. Ha.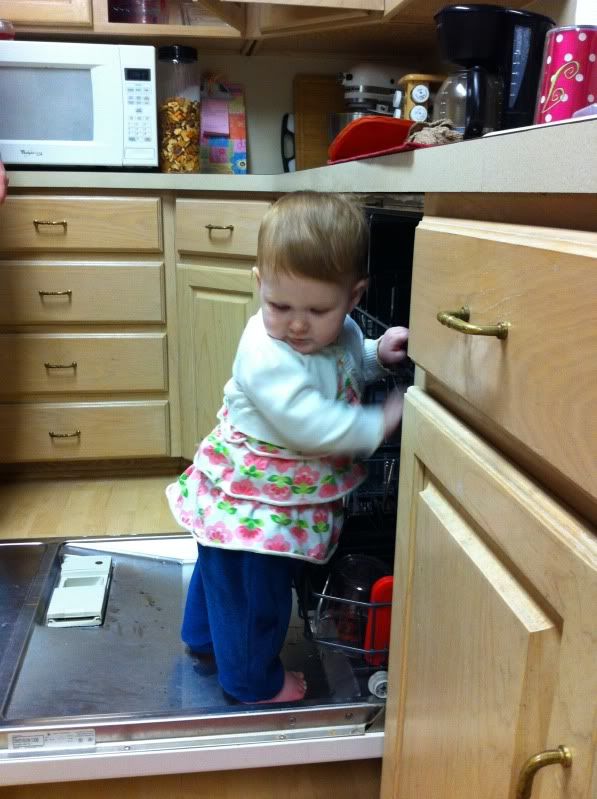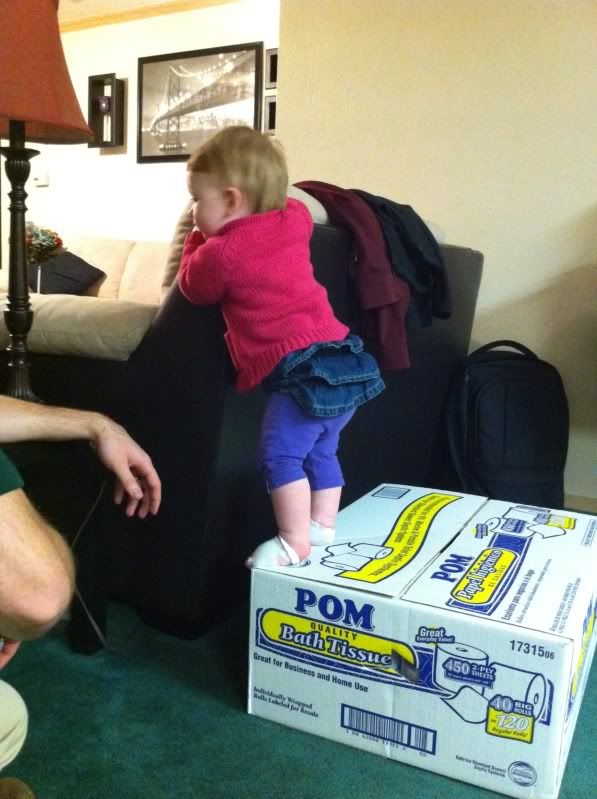 Sleeping has not exactly been your strong point lately. You slept alright while we were on vacation in California, just waking up a couple times a night, but either you are teething, or the trip majorly threw you off. Up until the last couple nights you were waking up every hour to two, freaking out, and screaming bloody murder.   I was completely exhausted, and you were even affecting your dada's sleep. Finally theses last few nights you've been doing much better, just waking up once at night, which is awesome.  Just so you know, your momma appreciates it when you sleep well!  Now we just need to get your naps on track.  Naps have always been your weakness.  For several days now you have only slept for about an hour total during the day.  I can tell you are still exhausted, but usually won't go back to sleep.  So then you are awake and moody.  Hopefully we can get your napping figured out again and momma can have time to get more stuff done during the day!
You love to look at books.  You will grab a book and open it up and just start pointing at things.  You have no idea what you're pointing at, I just think you are copying the way I point at things when I read books to you.  Hopefully your love for books continues.  You will also point at random things around the house.  I can entertain you for quite awhile if I carry you around the and use your hand to point at objects and tell you what they are.  Sometimes you will try to make the sounds I am making. For example, if I say "dog", a lot of times you will say the "d" sound after I say it.
I love how easy it is to get you to smile.  You're such a happy child, and while I know a lot of that is inherent, I'd like to think that your daddy and I play some role in it. : )  Before our trip to California I was at our dealership that we bought our car from getting the oil changed and this sweet old man that worked there walked by.  You flashed him the biggest grin, and he said "my, look at her personality already shining through." I assured him that you had plenty of that to go around, and then he said something that surprised me.  He said "that means YOU are doing a good job."  Then his cell phone rang and after looking down at the screen to see who it was he said, "This is mine, she's still bubbling over with personality to this day."  Even though it came from a complete stranger, it made my day.  Usually all I hear is how great and easy of a baby you are, which is fine and usually true, but the truth is that every child has their own downfalls areas that they are more difficult. No child just sits there and takes care of themself, all are needy.  If there is one thing I've learned from watching other parents is that some make it look like a breeze, and some make it look difficult.  It seems like a lot of it is in how parents react to the situations they are put in.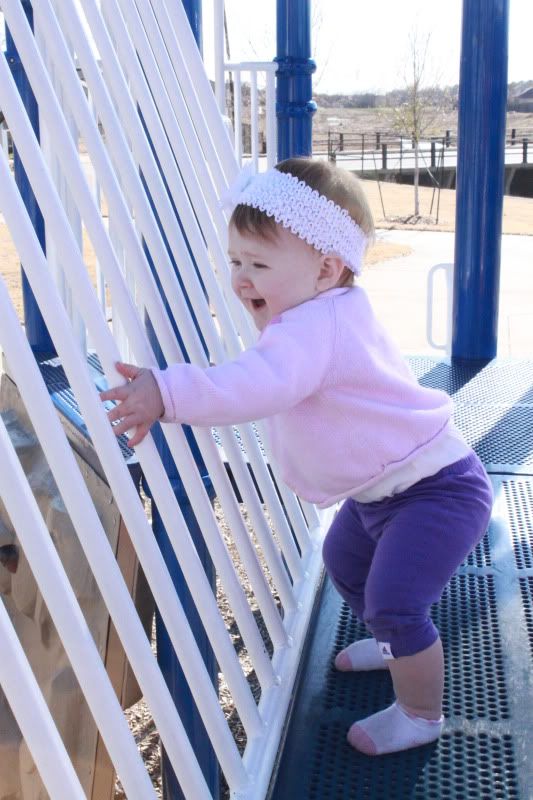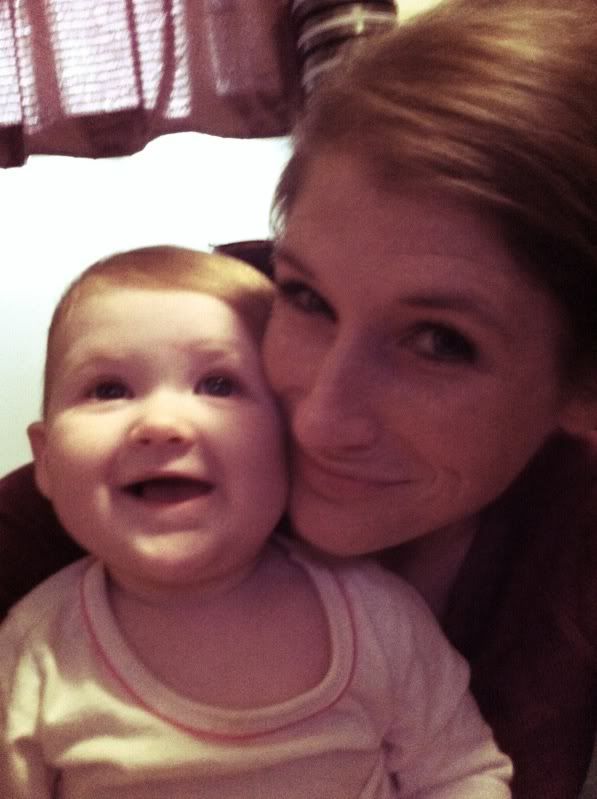 You are jabbering all the time now. It really just exploded since we got home from our vacation to California. When you get frustrated or angry you just go off…. "yayayayababagagadada". It's so much nicer than the "moan cry" you had been doing. Funnier too.
watch?v=DqLvJByu9do&list=UUVmOjo-5ETXRhfjcRkL5Y4Q&index=5&feature=plcp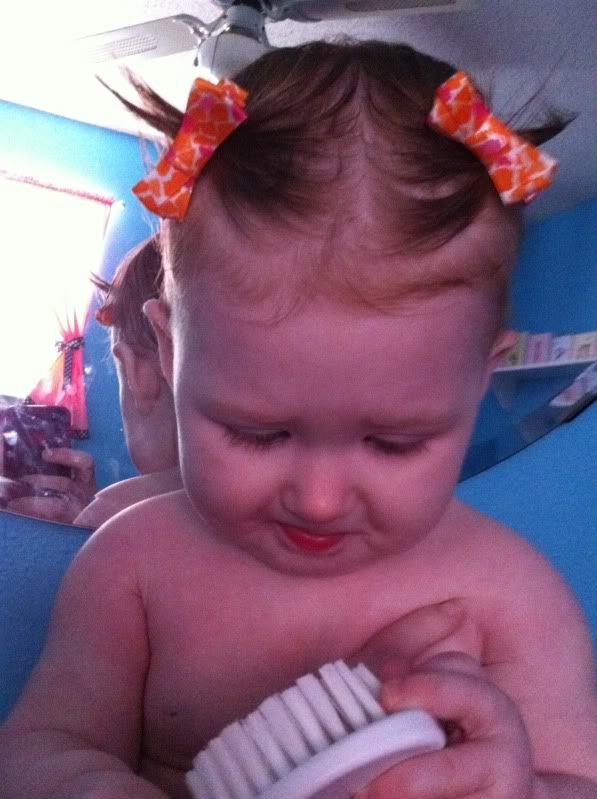 Socks do not like your feet. It's true. They are always falling off. Thankfully you have this weird tendency to pick it up and carry it with you after I see it fall off, so it's easy to find. Cracks me up every time I see you toting one around. Sometimes you even find random ones in your toy box and will start toting them around too.
You know the word "no" pretty well, and will usually listen and obey when I say it.  Well, you did at least.  When we got back from our California vacation it was almost like we were starting over.  You had been very stubborn when we got back and would cry when I told you "no", but through your tears will continue to do what I am telling you "no" about.  Thankfully you got over that pretty quickly.  The last couple days you have actually started stopping again when I tell you "no" and move on to something else.
You will randomly look at me and grin sometimes, almost like you're proud of something you did.  It cracks me up.
Finally getting better about not getting distracted when nursing.  It's easier to nurse you again while we're out. For awhile the only place you would eat good was in the rocking chair in your room. Now I can nurse you again in the living room and pretty much any where else I want to. It's so nice to not have to seclude myself every time you need to eat.  You eat so fast too. Usually 10min total  (maximum)  and you're done.  I still love that time I get to spend with you. I can't believe you are 9 months and I won't have much time left with you if I stick with my original plan (I'm leaning towards extending my plan a little). Of course I do understand that you could also choose yourself when you are ready to be done.  Lately you have seemed to enjoy it more again and like to just get to lay there and chill.  You'll look up at me and grab around at my face.  Just seems like you're relaxing and enjoying it again instead of fighting me the whole time.  Maybe you are getting past the point of thinking that you have to be constantly moving.  Lately you have also randomly just crawled up and sat in my lap.  You have never done that before.  Since learning to crawl you have always wanted to be down and on the move and now you actually allow me to hold and love on you sometimes.
You pretty much eat whatever we are eating.  Sometimes when we have things you can't eat yet (like taco salads last night), I will feed you yogurt or heat you up some sweet potatoes.  For the most part you eat almost everything we do.  Yogurt, cheerios, bananas, turkey and cheese, sweet potatoes, and baked potatoes seem to be your main staples.
watch?v=RL6diJUy4S0&list=UUVmOjo-5ETXRhfjcRkL5Y4Q&index=13&feature=plcp
Separation Anxiety has never really been an issue with you until lately.  You still will go to most anyone that you know, but it has come to the point that you want me when you're upset or tired  It's strangers that tend to scare you most, and most definitely male strangers.  Once you warm up to people you will usually go to them without crying.  Sometimes when you are exhausted at the end of the day you will cry if I even get up and walk away from you, even if I am in the same room.  I'm so thankful that you are still usually pretty good about not clinging to me too bad.  I know every child goes through it to some degree, but I like that you are still independent.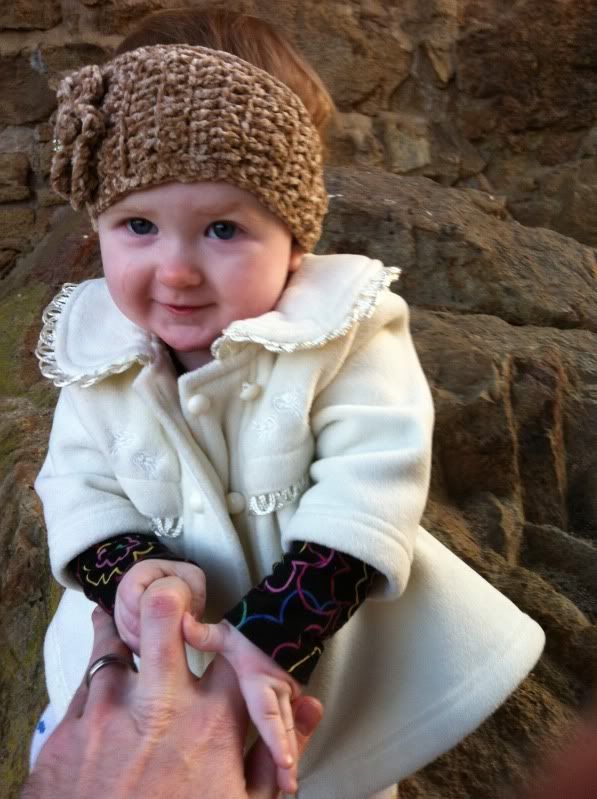 You love for me to chase you when you're crawling.  You will crawl away from me, stop and look back at me almost like you are taunting me, and wait until I come after you.  As soon as I take off after you, you will put your head down and try to crawl at full speed.  It makes me laugh every time.  When I catch you I'll grab you and swing you in the air you will let out streaks of joy.  They make my day.  You are getting to the age that I can actually play with you, and you interact back.  I love that.  I am not wishing you grow up faster, but I am really looking forward to the point when I can really play with you.
California Trip
During dada's break from work we decided to go out to California to visit family and friends.  You were SO much better in the car than I was expected.  Usually you get tired of the car seat pretty quick and on top of that you are constantly wanting to move around during the day. I feared being in a car that long would drive you mad.  You weren't bad at all though.  We bought a couple of little kid tv shows on the ipad and played them for you over and over and over again.  You watched more tv on the trip than you ever have in your life.  It kept your entertained though!
It was so much fun to get to see everyone out there, and one of the days we got to go snowboarding.  Auntie Angela and Ashlee were sweet enough to watch you at the lodge while your dada and I went out and played.  It had only snowed in the mountains once earlier in November, so we were snowboarding on pretty much all man made snow.  It wasn't too bad, but a little icy.  You fall a lot more when it's icy, and falling hurts a lot worse also!
You got to spend a lot of time with Grammy, but I forgot to get any pictures of you two. : (  She is a very special lady, and has always held a very special place in my heart.  I hope you have some memories of her someday even though I know you will never know her like I did.
I also forgot to get a picture of you and Auntie Angela.  The next time we see them, they will have their new little bundle of joy!  I can't wait. : )  You had fun playing with Hayden, and it was so neat to see you interact with him and all the other kids out there.  They have so many little kids at their congregation, and they all seem to flock together after church services.  We have a pretty good number of kids here at our home congregation, and we have many couples who are almost to that point in their lives as well.  I have a feeling that our congregation will begin to look a lot like theirs in the next few years.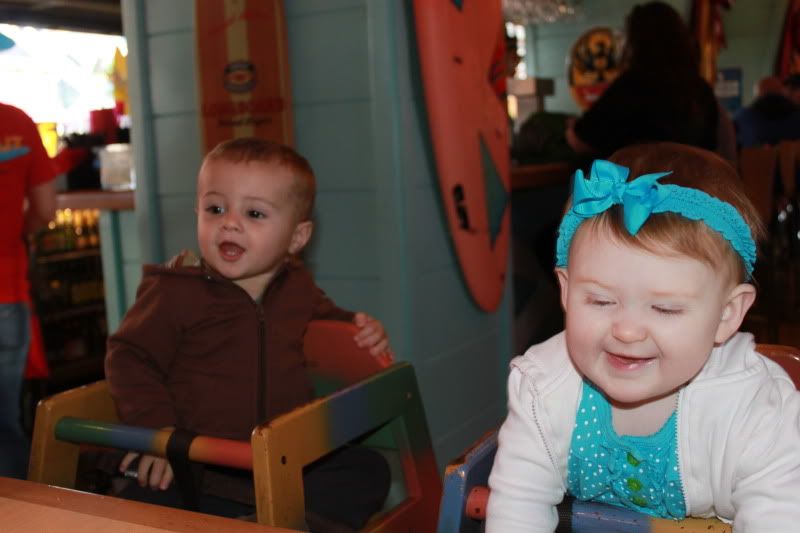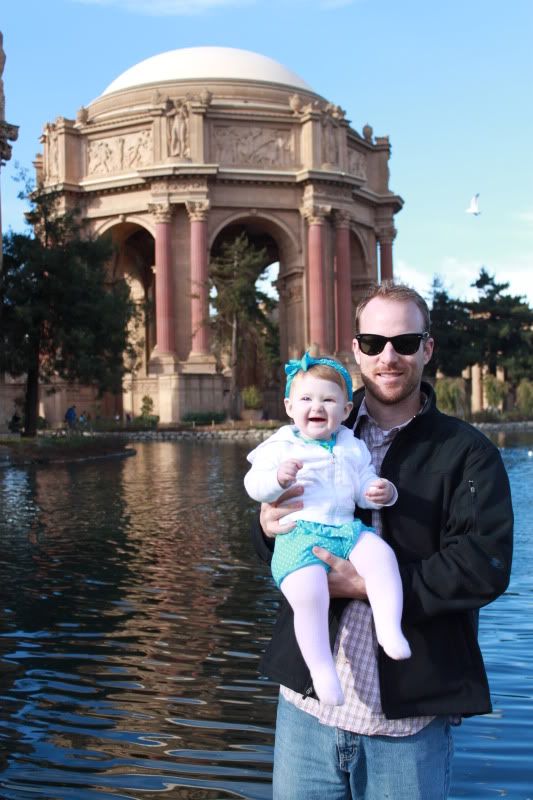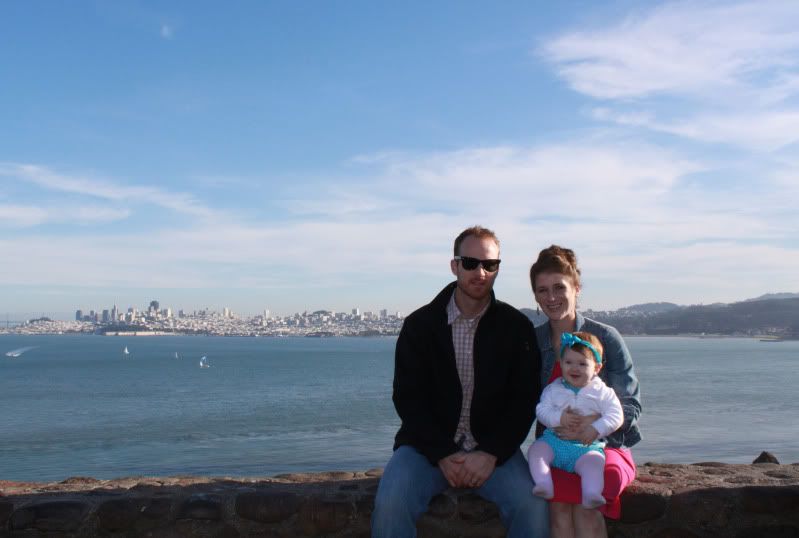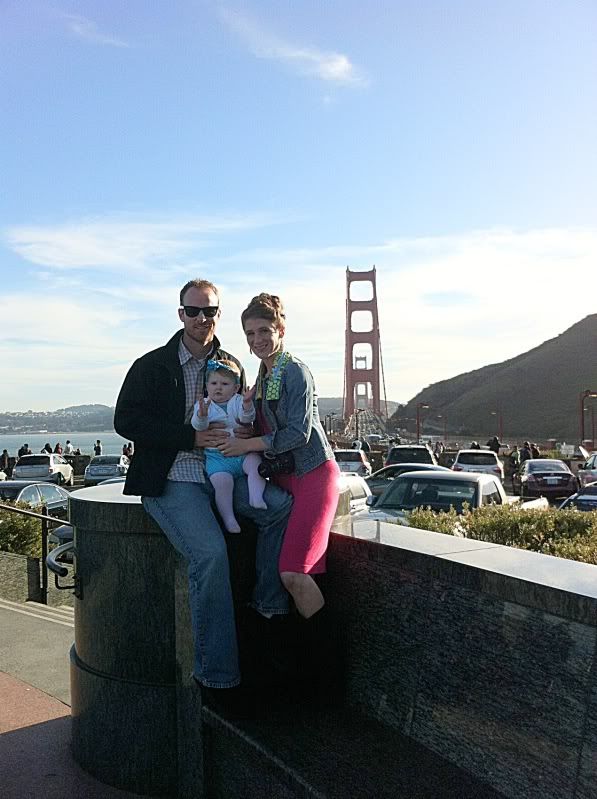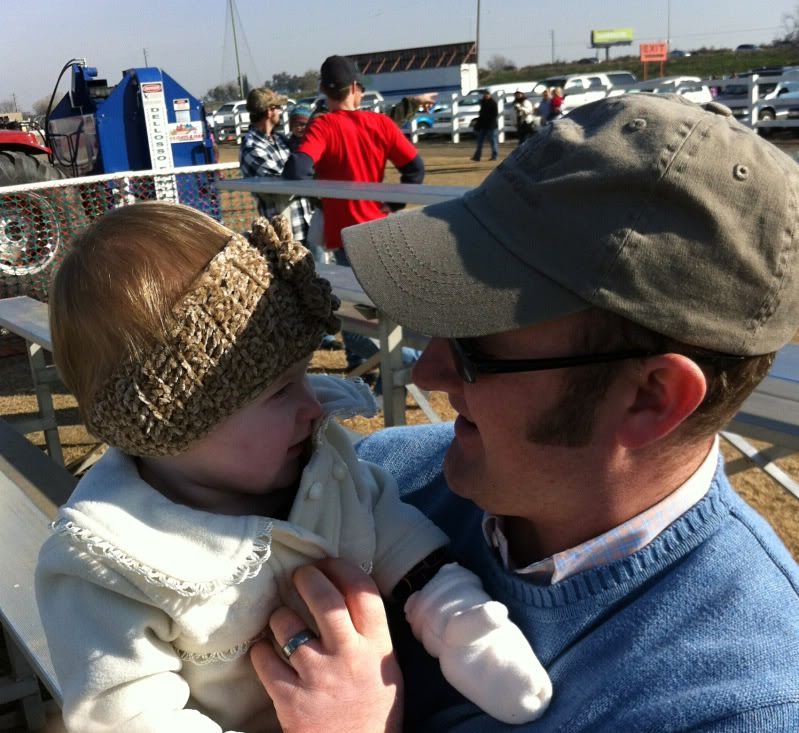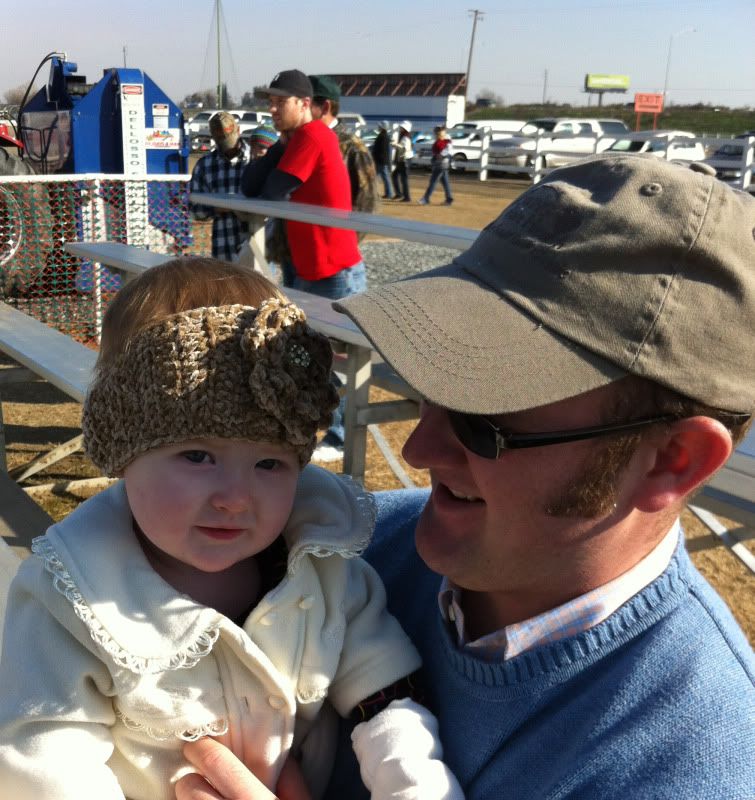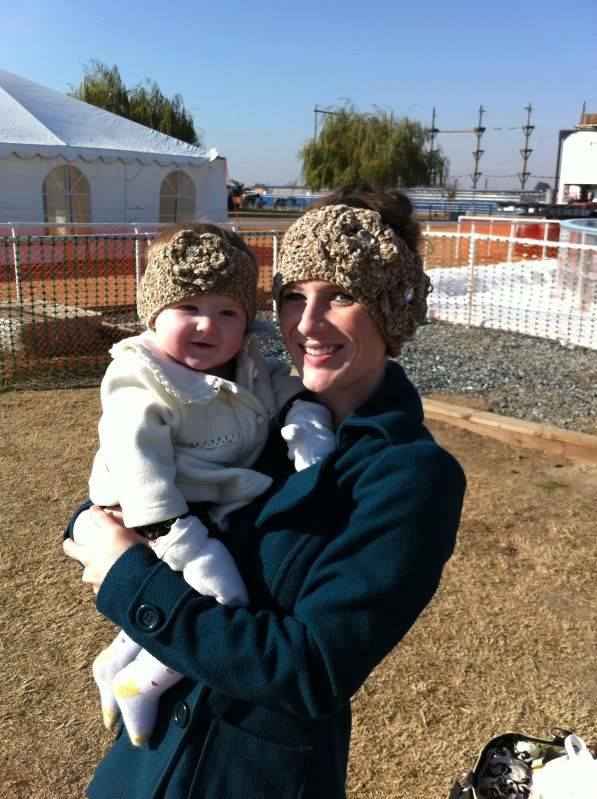 Wrapping this thing up…
These last 9 months have been some of the best of our lives.  You bring so much joy to our little family and I can't imagine life without you.  It's hard to even remember what life was like before you!  Since beginning to stay home with you, stress has been non-existent in my life.  Teaching and planning for 4 different subjects, trying to get everything prepared for maternity leave, finishing an extremely strenuous grad program, and bringing you into this world all happened at the same time and was probably the most stressful time I can remember in my life.  I am so thankful to be done with all of that and to be able to give you all my attention.  I love being at home with you and getting to put all my focus on our little family and taking care of you and your daddy.
Just this last two weeks an opportunity fell into my lap that will help out me and your dada some on the financial level.  Dont get me wrong, we are fine financially, we just actually have to budget like we never did before.  At his school they have an after school 21st century program called the "Aspire" program.  I am going to teach two classes a week after school, each an hour long.  It pays really well since I am a certified teacher, and I am going to be able to teach things that are right up my alley.  I'll be doing one Fashion Design class and one Arts and Crafts.  It's only two hours a week, but it will more than cover my recent increase in health insurance, so that will be nice for us.  The director of the program was nice enough to work around mine and your dada's schedule, and so on the one day I work I will take you up to school with me and your dada will come get you when he gets done with practice.  It will be VERY part time, but will nice to have the little extra cash flow.
We love you sweet girl and are so thankful to have you in our lives!