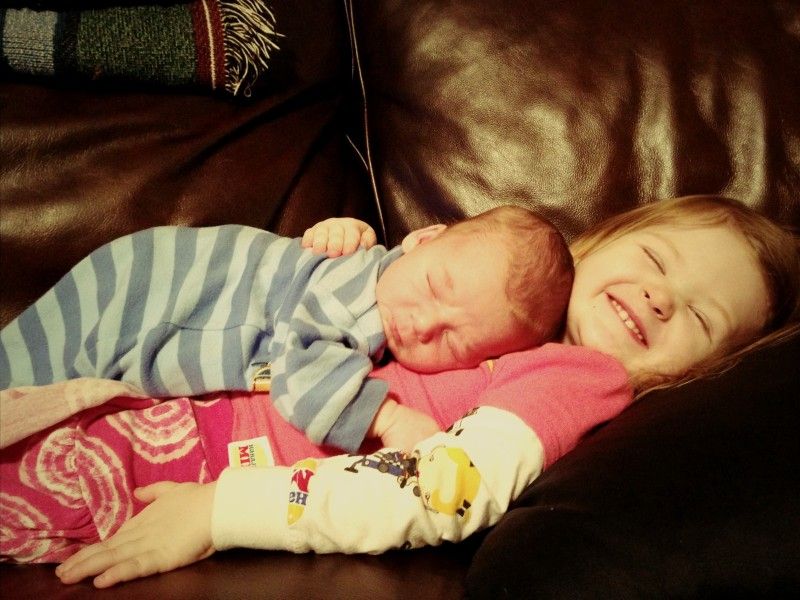 Over the past year of your life, your mood and personality have done a lot of fluctuating. As we near your first birthday (how did that happen?!) I just want to tell you a little bit about your personality and development throughout this first year.  We've had some easy times, and we've had some rough times, but all in all this first year went so fast. I can't believe that my last baby is already almost a year old. I really can't express how sad that makes me.
After we got home from the hospital and settled into our house, you slept, and you slept a lot. As long as I kept you beside me at night and nursed you every few hours, you would sleep as long as I did. You would wake up to nurse and I would just hook you on and go back to sleep. You slept amazingly next to me, and we never really had any wide awake hours during the night like we did with your sis.  You slept A LOT for the first 3 months of your life. I mean, probably 18 hours a day. It was crazy. Kinsley was always such a happy baby and kid, but she definitely wasn't a sleeper. She only napped about 2 hrs a day from newborn days on. She was always awake a lot and I just figured our second one would be like that too, but then there came you. You just slept and slept and slept.  The transition to two was so easy because you were such a great sleeper and I was able to still spend a lot of time with Kinsley.
At about 3 months you started spending more time awake.  You were so sweet, so cuddly, and so smiley. You were such a great baby and so laid back and easy.  From 3-6 months your personality stayed this way and you continued to be a pretty good sleeper. You slept 6 hrs straight for the first time at 6 months, and averaged about 3-4 hrs between feelings at night. You napped very well during the day too.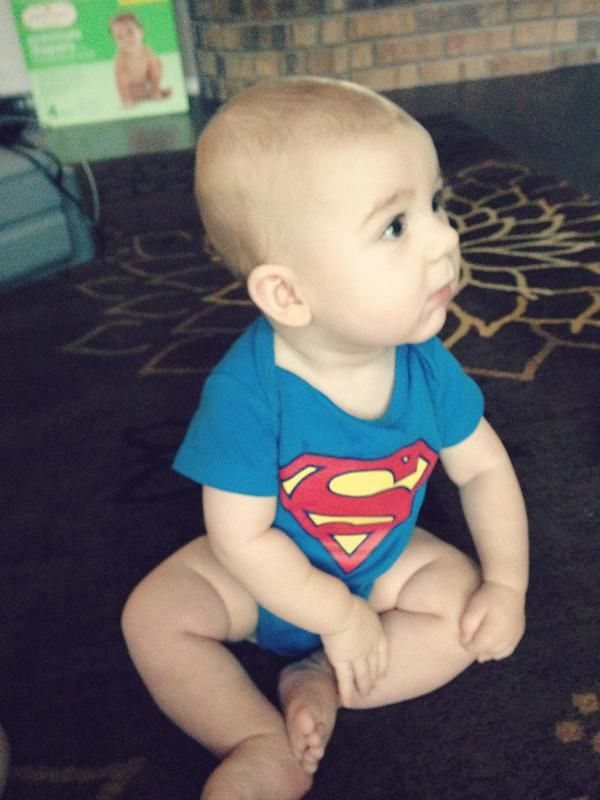 Physically you were much slower than your sister to do things and at 6 months you could finally sit up for short amounts of time. After we moved into our new house you also began sleeping in your own room for the first time. You transitioned to your own room so great and it was so nice to have a room to myself again. It definitely was exhausting having to go all the way across the house at night to nurse you, but I slept so much better without hearing every time you stirred. At about 6 months exactly (maybe a little before) your personality began to change and shift. I've spent way too much time over analyzing what brought about the change, and I've finally just decided it just must have been a rough time you started going through.  You began to cut teeth, and cut them quickly around that time. You may have began to realize that I could walk away and leave you and you didn't like that. The rash in your diaper area that we battled on and off for months started around this time (turned out to be eczema). Maybe the change of environment when we moved into the new house threw you off. I don't know. I don't know what happened, but you became a very unhappy baby. My sweet, precious laid-back baby was replaced with this poor miserable child that spent the majority of the next 5 months crying,unhappy, and fussy. You wanted to be held and carried around all the time and you would scream your head off if I tried to sit you down to do something. I mean, it didn't matter if I was right there in the same room. You wanted to be in my arms.  All. The. Time. Not just in my arms, but carried around and entertained. You would get fussy if I would just try to sit with you in my arms.  I used my ktan a lot during these months because of how much you'd cry if you even thought I was going to let go of you.  You also were suddenly terrified of other people and wouldn't go to anyone without completely losing it, not even your dada. You were attached to me constantly, and didn't want anyone else anywhere near you. When it first started I figured surely it was just a stage since you had previously been so great and so happy, but month after month after month it continued. I began to worry about your physical and emotional development. You had no interest in really doing anything, you just seemed to want to wallow in your misery.  Sure, you had moments each day where I could play with you and get you to laugh and giggle, but the majority of each day you were just in an unhappy state.  Finally at 9 months you began crawling and I really thought that it would make you happier again because you'd be free!  You seemed to get better for a day or two and I was hopeful that maybe this stage was coming to and end, but it didn't. You didn't really care much about your new found freedom. You didn't want to crawl around, you still needed/wanted me constantly.   You wanted to be held.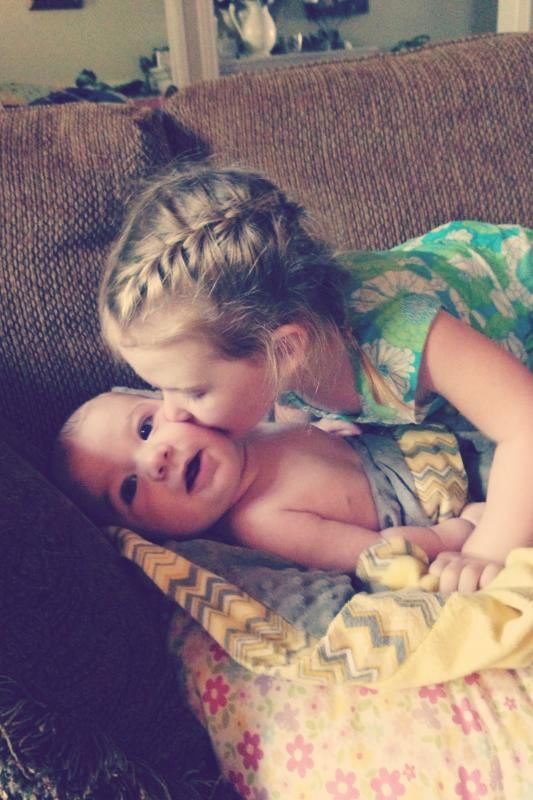 I feel like I did so great at staying patient with you through this stage. I never had a moment where I just thought I was going to lose it if you spent one more day humming and fussing at me. You want to know who I wasn't so great with? Your big sis. I was way harder on her and fear that sometimes I wasn't fair with her. I know I wasn't. I couldn't control your mood or your unhappiness, but I could control her when she acted out. I feel like I expected too much out of her behavior wise because I needed it if I was going to keep my patience with you. It would have been so much easier if you had been my first and I didn't have to split my time between you and a very active toddler. I also wasn't so fair to your daddy either. By the end of most days I was pretty mentally exhausted and battled with myself to have the patience I wanted to, I didn't have a lot left to give though.  During this time I also began to lean on your daddy more than I ever did before to help with you guys and around the house. I had to. Try making dinner with a kid who completely loses it if you even attempt to stick him down on the ground with toys beside you while you cook.  The jumperoo was completely out of the question too.  It would make you so angry if I was right there but wouldn't pick you up. Your daddy was so great though and definitely stepped up his game when I needed him. So thankful for that and for him.  Your sleeping was also pretty bad during this time. You continued to nurse 3-4 times a night, so I was exhausted on top of it all.
Then at about 11 months exactly you began to change. Like a light switch. Nina and Grammy were here after the New Years Meeting and you let them carry you around without losing it when you saw me. They could walk right past me and you didn't scream for me. I couldn't believe it, that hadn't happened in MONTHS. Then the next couple days you started crawling around on the floor and PLAYING. You were PLAYING!! You were all over the place. You would follow Kinsley somewhere and get into what she was getting into. You were playing, exploring, and being curious. It was amazing. One of the very first evenings that your personality began to change back you played on the floor happily while I was able to make dinner BEFORE dada got home. After that you stood up hanging onto the dishwasher and beat a spoon around on things while I loaded it. I felt so free. I was actually able to do some cleaning and cooking while you were awake. I can't really explain the weight that I felt lifted off of me. I was a little leery for a couple days just waiting for you to slip back into your funk. It's been two weeks now and you're still much happier though. You still aren't too fond of most other people but you aren't near as shy and fearful of them as you were, and you still don't like it if I try to leave the room, but overall you're completely different than you have been the last several months.  There are points of everyday where you just want to be held (of course), but you actually want to play now and check things out too.  You don't need to be in constant contact with me anymore, and it is such a relief to see you happy again. I was seriously beginning to wonder if it was just going to be your personality.  It is so hard to see your baby so unhappy and not know why.  As a parent I just did all I could to meet your physical and emotional needs, but at the end of the day I had to just let it slide what I couldn't control. No matter what I did, I wasn't going to be able to make you constantly happy. I just had to accept that and move on.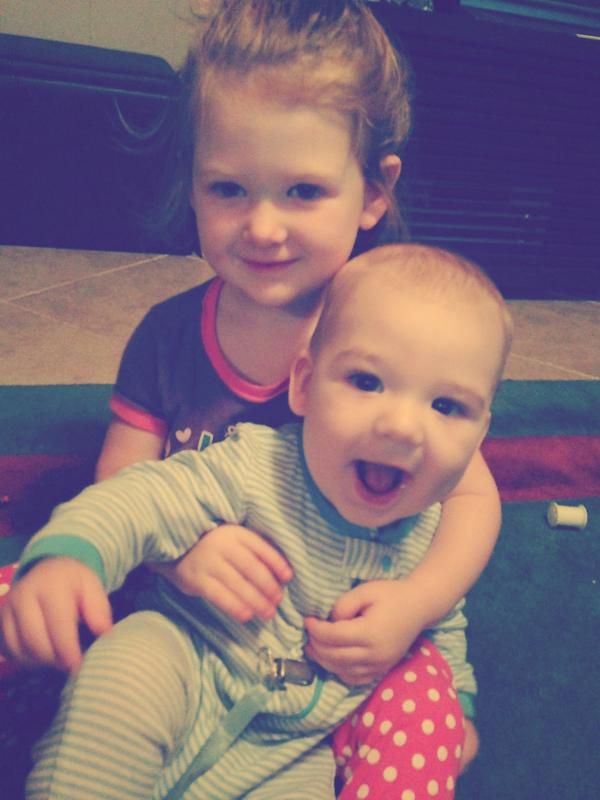 I think that the greatest thing about the last couple weeks is that I have gotten to pick you up and hold because I WANTED to. I get to do it because I missed holding you and cuddling with you. Before, there was no time to miss it because you were constantly in my arms. It is so great to see your personality come alive again now. You make funny faces, do goofy things, laugh SO much, and just interact so much more now. It just seemed like before you were so miserable that you had no interest in doing anything other than fussing and being grumpy. I really can't express how thankful I am and how relieved I am that you have come out of your funk you were in for so long! I love that I get to play with you and enjoy you more now. This is the baby I imagined you being at a year old, not the grumpy pants you were for months.
We love you Easton Ryan! We feel so incredibly blessed and so lucky to get to have you in our lives. Only a couple weeks and you're going to be a YEAR old. Crazy.
**After writing all that I want to clarify that I, by no means, think you are like the worst baby ever. Through the unhappiness you had your happy times too. You were just OUR difficult baby. I think a lot of times we as parents can get caught up in our own situations and feel like no one can understand what we personally are going through.  Parents have been going through the same things for years. I'm positive there are PLENTY of other babies that have lived that were much more difficult than you, and plenty left to be born who will be too.
What about all of y'all? Did you have a difficult baby?