It has been a crazy last few months:
In April we sold our first little beginner home.  It sold a lot quicker than we were expecting and so we had to quickly start looking for a new house.  By the time we closed on our old house we still had not found anything and so Nona and Papa let us move in with them.  After lots and lots of searching we ended up with a home that needed a lot of renovating.  For about 6 weeks many, MANY hours were spent on the house to get it move in ready.  I feel like I probably missed out on being able to just sit back and enjoy you during that time, but now that the hectic-ness has ended, I feel like we're getting back on track and getting a schedule going.  We love our new home and love that all of our memories with you are going to be able to be made here.  Enough about us and now on to you lil munchkin.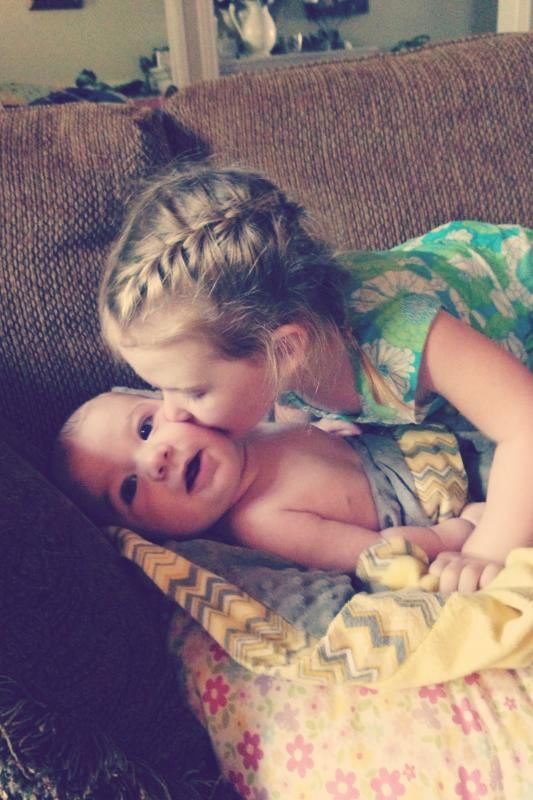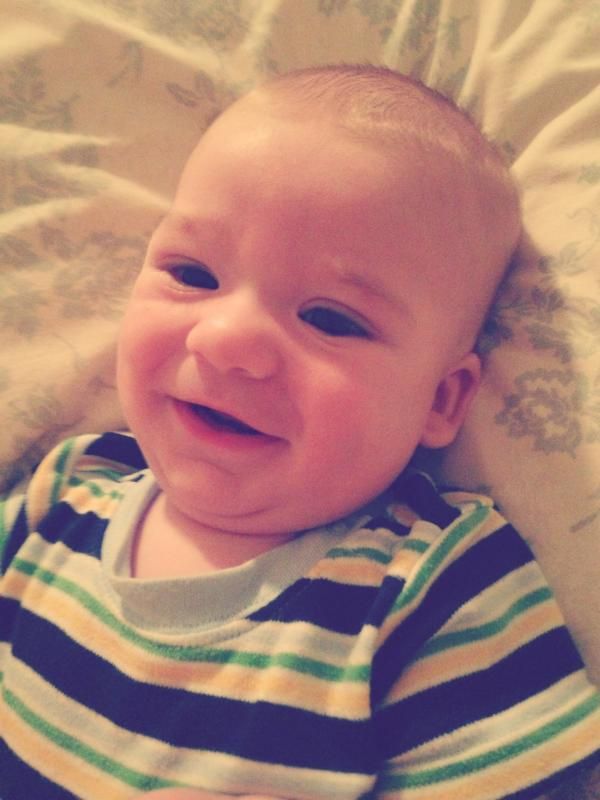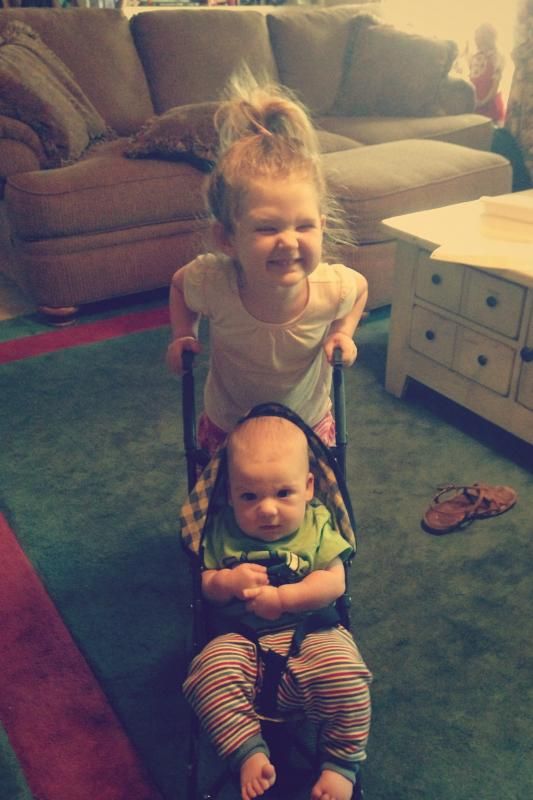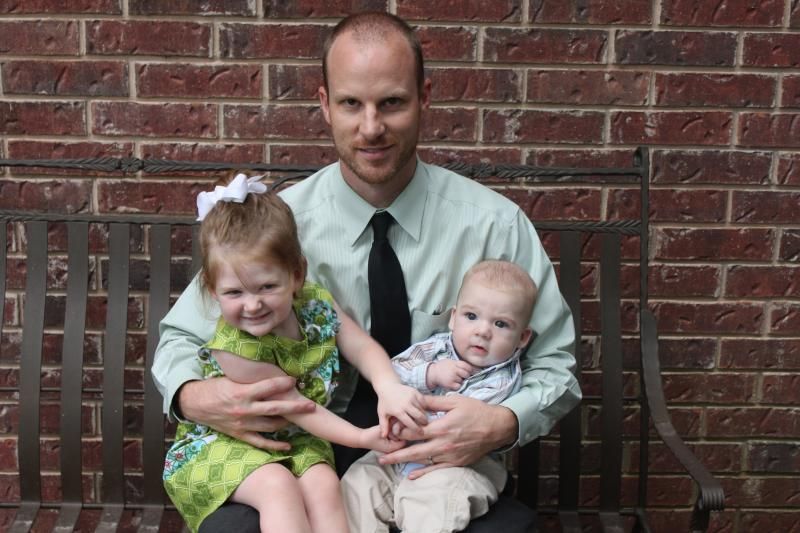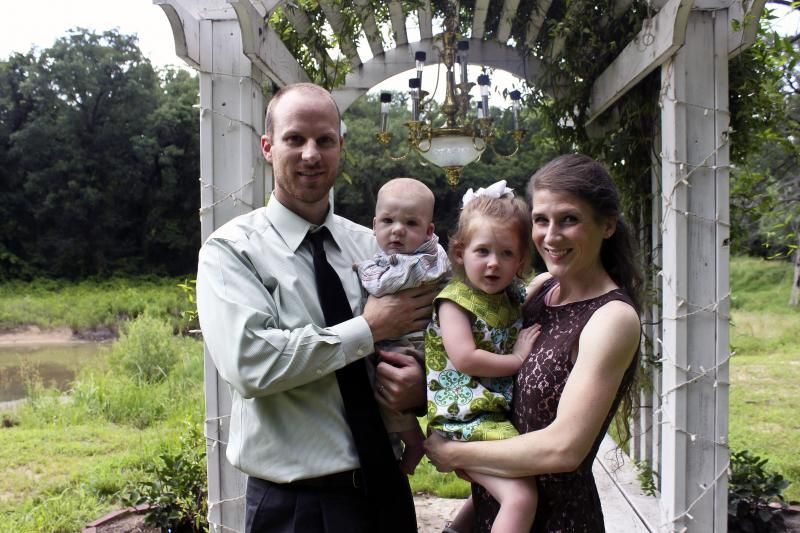 Some of your firsts:
Belly laughed- 3 months:  Nona was batting a balloon around and it cracked you up.
Grabs at objects- 3 months
Back to belly- 3 3/4 months
Takes paci out of mouth with hand- 4 months
Can easily grab objects- 4 months
Cut both bottom teeth- 4 3/4 months
Can put paci back in mouth- 5 months
Slept through the night (6hrs straight)- 5 3/4 months
Can sit up for short amounts of time- 6 months
Recognize your name- 6 months
We moved into our new house so you got to sleep in your crib for the very first time!!- 6 months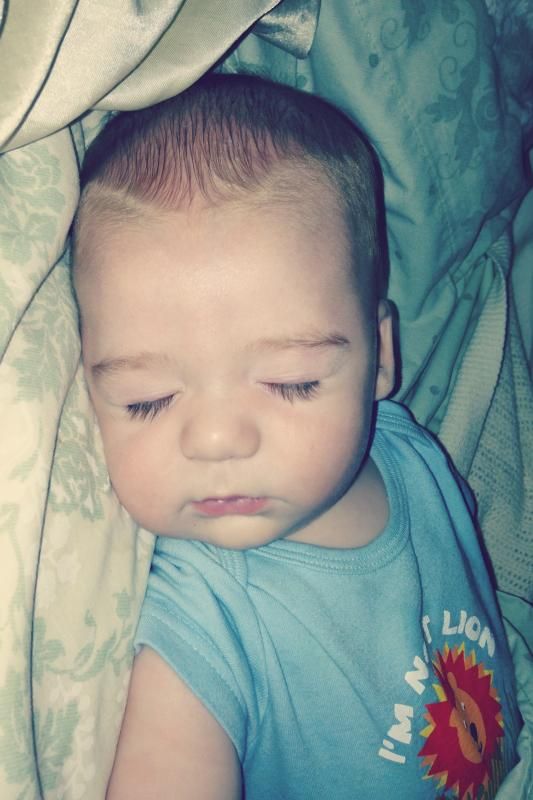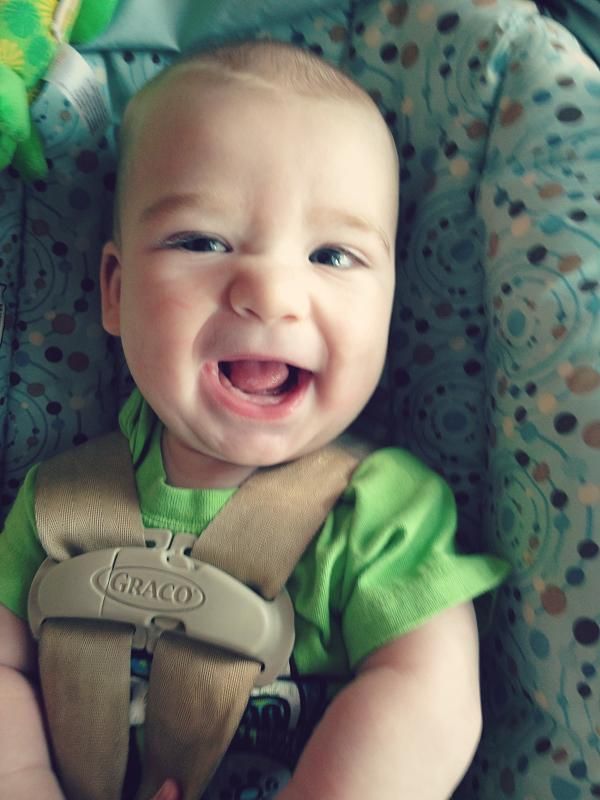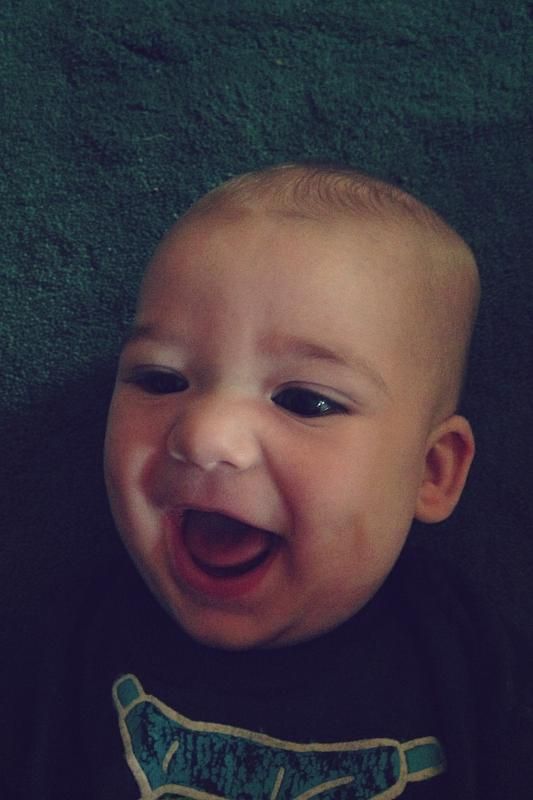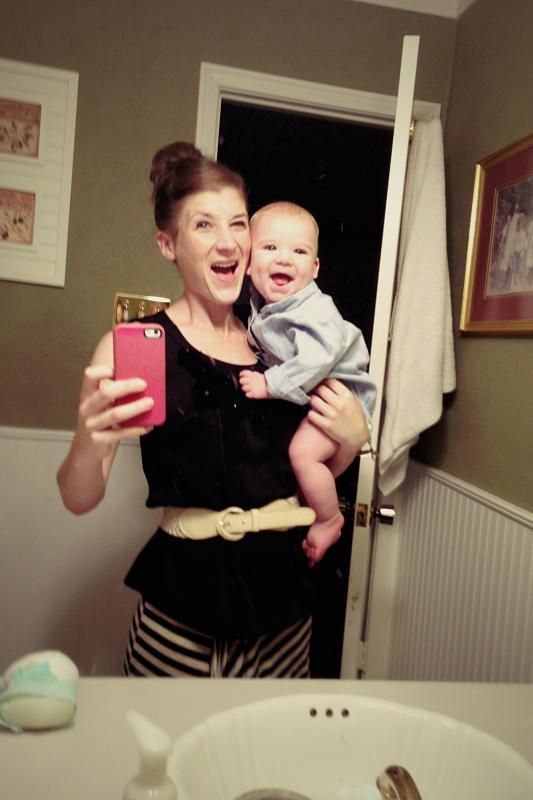 All about YOU!
3 months- getting snuggle up next to you while you're nursing is one of my favorite things in the world. I love the bonding time that nursing brings and getting to examine and soak in your sweet little face and self. Such a neat experience mothers are blessed with.  God definitely knew what he was doing when we created the hormones that bond a mother to their child. I am amazed and overwhelmed at the love and pride that rushes through me when I look at you.
3 months- have good control of head.
3 months- belly laughed!
3 months- grabs at objects
3 3/4 months- back to belly.
4 months- tales paci out of mouth with hand.
4 months- when sitting in my lap facing forward you will turn your head and look up at me when I talk.
4 months- can easily grab objects that are in front of you. Really learning how to use those hands!!
4 3/4 months- cut both bottom teeth!
4 3/4 months- you'll swing your free arm around while you're nursing and whack me on the chest. I don't know what you're doing, but you sure are a wild thing when you're eating!!
5 months- you have changed so much lately! You are so alert and so aware. You'll look up at who is holding you and watch people carefully.  You also laugh a lot now. Mostly at Kinsley while she is being crazy jumping around.
5 months- you have the sweetest little temperament. You're laid back, cuddly, and as happy as can be. I'm so lucky to get to be your momma!
5 months- can put paci back in mouth
5 3/4 months- slept "through the night" (6 hrs straight) for the first time!! Finally little one, finally. : D
6 months- you got to sleep in your crib in your own room for the first time! We finally moved into our new house and got your room put together enough that you could stay in it.  I'm hoping that now that we have you in your own room you will start sleeping better and for longer periods.
6 months- you can sit up for short amounts of time. It seems like it has taken you forever to be able to do this, but I know it only feels that way cause Kinsley was sitting up for two months already. She was crazy early with a lot of things she did though. You just take your time little guy!
6 months- you love to get your back rubbed! If your fussing a little in the crib when I put you down all I have to do is rub your back and you get really still. Kinsley always squirmed and jumped if you tried to rub her back.
6 months- you are a BITER!!
6 months- recognize your name
6 months- you're getting to that stage where you grab and reach for everything. If I'm holding my cup too close to you chances are pretty good that your hand will either end up in it, or trying to pull it out of my hand.
6 months- You didn't nap very long and had been up with me. Kinsley actually took like a 2hr nap and when she woke up she came into the living room waving her hand and saying "hi, I'm awake!" When you heard her voice you jerked your head her way and started grinning and kicking your legs excitedly. You love Kinsley so much and love watching her be crazy and entertain you!
6 months- you are such a squirmy little thing. Your legs are in constant motion.  A lot of times even when you're asleep!  You're reaching the age that you get bored easily and get frustrated that you're just stuck in one place and can't move yourself. Kinsley was crawling at this age, but I have a feeling you may take another month or two.
6 months-  you are not a happy teether.  You have had some pretty fussy days from it and also some alright days, but I can tell when your teeth are really bothering you.  You want to chew on everything and slobber like a mad man.
Sleeping at 6 months- sleeping was hard on us both since we were in a room together for so long. You definitely outgrew the cradle too, but it was all we had for you to sleep in while living with Nona and papa. Most nights you spent about half the night in bed with me and neither of us slept well. Because of it you were nursing about every 2-3 hours, and have just now began sleeping through the night (5-6ish hours) every so often. It is SO much easier for me to get some sleep now that you are in your own room. I'm thankful that I got to spend so much time cuddling with you though. It's time I'll never regret.  Since about 4-5 months you went down to two naps a day. You average about 45 min to an hour and a half per nap. Every now and then you'll stay down for two hours. Usually Kinsley manages to wake you up before that though. : )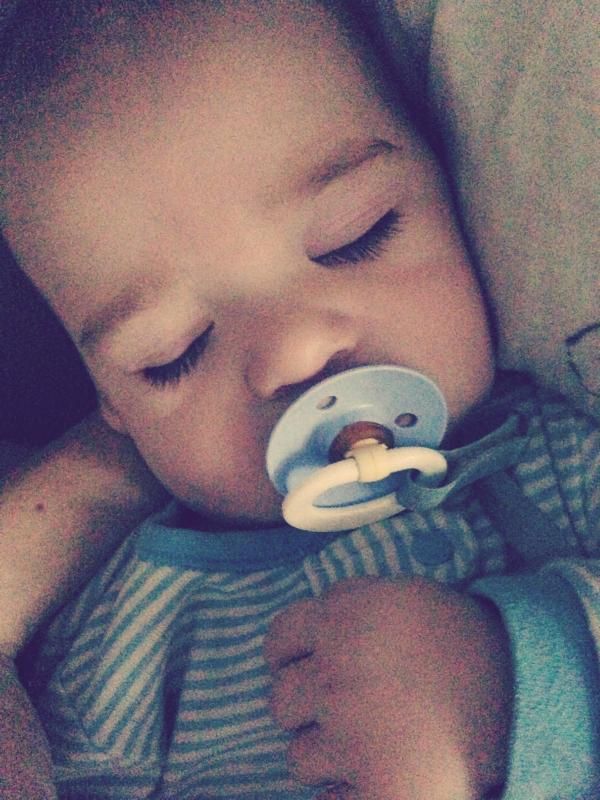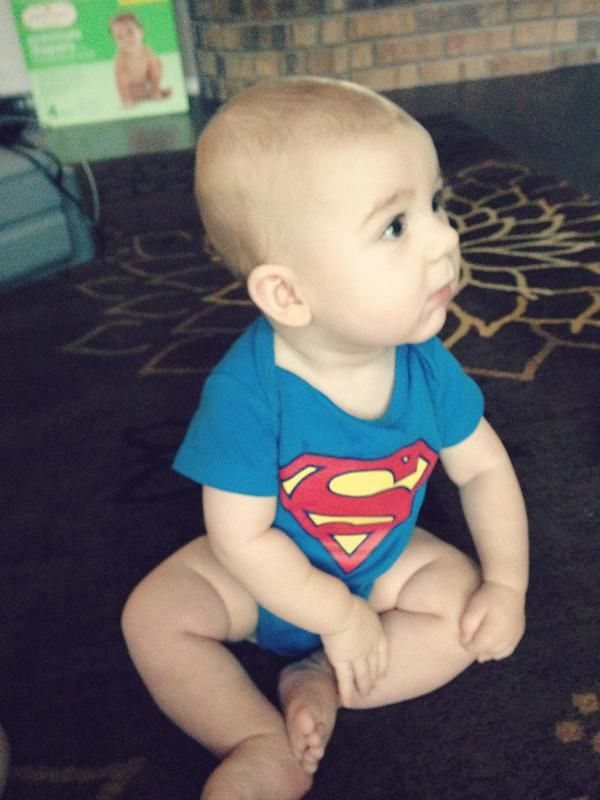 Wrapping this thing up:
You are one of the sweetest little babies.  You're just so cuddly and smiley.  I love getting to watch you grow and watch your personality come alive.  Your gorgeous little smile melts my heart.  I am so blessed and so lucky to get to stay home with you and your sister.  There is no place I'd rather be.  Some days aren't the easiest, and being a stay at home mom can be tough from time to time.  None-the-less I cant imagine being anywhere else but with you two precious things every day.  So thankful that your dada is willing and able to be the sole provider for this family for awhile.  I'd be so jealous if someone else got to spend each day with you and your sis. : )  Love you little munchkin.  You and your sis mean the world to me!