Over the last 3 months we have been settling into a routine in our new little home.  Everything was so hectic there for awhile that it has been so nice to be able to some sort of norm going again.  I am so thankful that I get to stay home with you and your big sister.  Just recently I started a (very) part time teaching position with k12.com that I get to do completely from home.  I only work about 2 hours a week and am thankful that I can bring in a little extra money while still staying home with my munchkins. Since it is so part time, it really hasn't affected our schedule at all and is really easy to do the little bit of work I have during your guys afternoon nap.  Alright, enough about us, lets talk about YOU. : )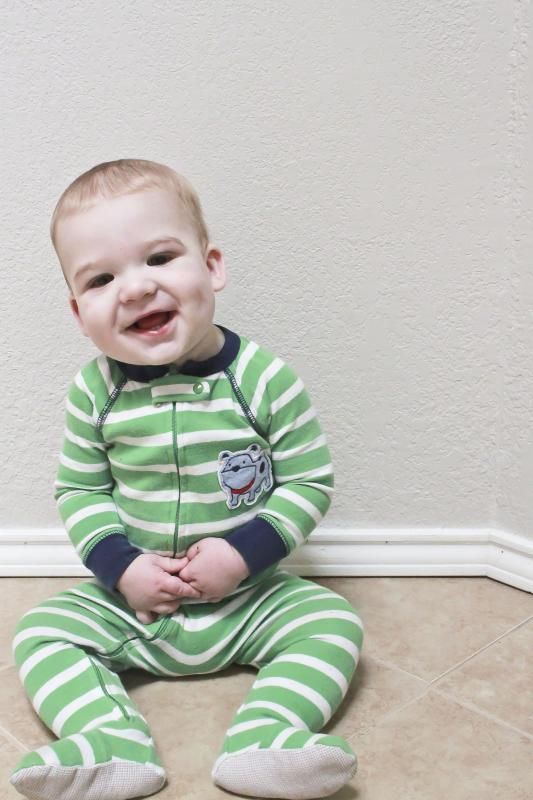 Nursing and Food:
At a little past 6 months you had your first taste of solid food!  Your first food was organic cheerios.  You would eat those every so often from 6-7 months.  At 7 months you started eating a little more regular, but really just a little bit once a day, and still mainly just cheerios.  At 8 months you started eating a little bit at each meal.  You would eat things like yo-baby yogurt, chicken, green beans, carrots, black beans, strawberries, raspberries, etc.  You will eat just about anything I set in front of you.  You are way better at trying foods than your sister ever was.  She was much more picky.  Now at 9 months you pretty much just eat whatever we are, depending on what it is.  If we aren't eating anything that I think you should eat, then I'll give you yo-baby yogurt or some other vegetable instead.  You still nurse 5-6 times during the day and average about 3 times at night.  I don't plan to give you any other liquid until after a year.  I fear that you aren't going to let me nurse you as long as your sister.  You are more of a get your business done and get off type of nurser.  Your sister went through a phase at 9 months where it seemed like she was trying to wean herself and so I took away solids until she began nursing regularly again.  After that she was fine and nursed easily until 16 months.  Then I was so sick from pregnancy and she was losing interest so we just stopped.  I plan to do the same with you.  You will at least nurse until a year, and then after that I'll be more open to letting you wean when you're ready.  I hope you last at least a couple months past a year since you are my last little one, but I don't if that will happen.  I guess we will see!
All about YOU:
6 1/2 months- you have really changed a lot lately. You love to grab and bang things around and just be wild in general. You are starting to sit up so much better and are really starting to laugh and play around. You are starting to get to be so much fun!
6 1/2 months- if someone else has you and you want me, you have started reaching for me sometimes! I love it!!
6 1/2 months- Kinsley is so SO rough with you. She'll drag you around when I'm not looking, tackle you, and jump on you before I can stop her. She's crazy! Who needs an older brother to toughen you up when you have a sister like Kinsley? Ha.
7 months- you slept 10hrs without nursing!! Crazy!
7 months- you love it when I sing "You Are My Sunshine" to you. You grin your head off. : )
7 months- sister pulled your highchair completely over on the hardwood floors. It was so so scary!!
7 months- you went through a phase for the last couple months where you wouldn't let me rock you to sleep. This was something I had always enjoyed so much with your sister, so it made me really sad that I didn't get much cuddle time with you. Lately you have been letting me rock you some and I'm so so so thankful for that.  Mommas need their cuddle time, little boy. You can't deny me of it on my last presh baby!
7 1/2 months- to be completely honest, you've been pretty miserable the last couple months. You want to be held all the time, but not just held, constantly entertained. You get so frustrated cause you aren't mobile, but you won't stay on the floor long enough without screaming your head off to even learn how to crawl.  You have been so so so moody. I really hope it's just teething or whatever and that you grow out of it soon. You seem to hate being a baby right now
7 1/2 months- can finally leave you sitting up without worrying you'll fall over right away!!
8 months- You love this book we have called "Animal Sounds."
8 1/2 months- cut 6 teeth in the last 3 weeks.  You now have all four top and all four bottom middle teeth.
8 1/2 months- will say "mamama" when you're upset and really want me.
8 1/2 months- separation anxiety has began. There are times when you don't want anyone but me. Even dada sometimes. If I try to hand you to someone else when you're in that mood you start bawling and grabbing at me.
8 1/2 months- you finally seem to be out of that funk you were in for two months. To be completely honest, you were absolutely miserable for awhile there. You constantly wanted to be held and carried around when you were awake and you angrily hummed and moaned non-stop. You were also waking up like every two-three hours at night and it was just an absolutely exhausting time. Your mood changed A LOT once you finally popped all those teeth. 6 teeth in 3 weeks is a lot! I really think that had a lot to do with your constant unhappiness there for a bit.
8 1/2 months- STILL not mobile. It's driving me crazy! You can spin in circles on your belly at lightening speed, but you just can't figure out how to go forward.  You love to be walked around though, so I'm wondering if you might not just skip the whole crawling thing.  I dunno, I just know you're gonna be a much happier baby when you can move. You don't appreciate this whole being stuck in places thing.
9 months- you are finally starting to kind of crawl!!  It's kinda of a goofy looking army crawl, but it's crawling!
9 months- Your mood has also changed a lot. You are so much happier lately than you have been in months. You seem to finally be coming out of your funk. This momma couldn't be happier! It's been a long sever last months.  So happy I'm getting my sweet smiley little boy back!!
9 months- mastered the "pincer grasp"
9 months- you're fascinated with balls and will chase them all around the house now that you're crawling.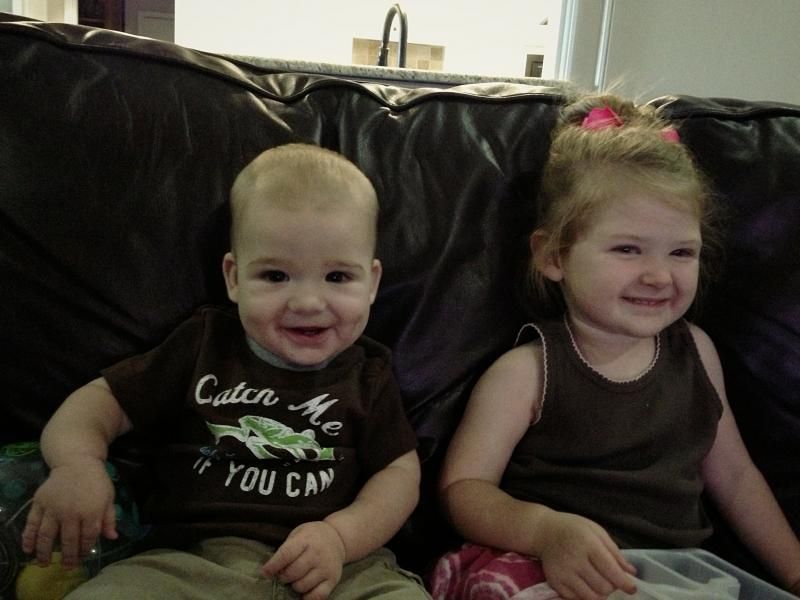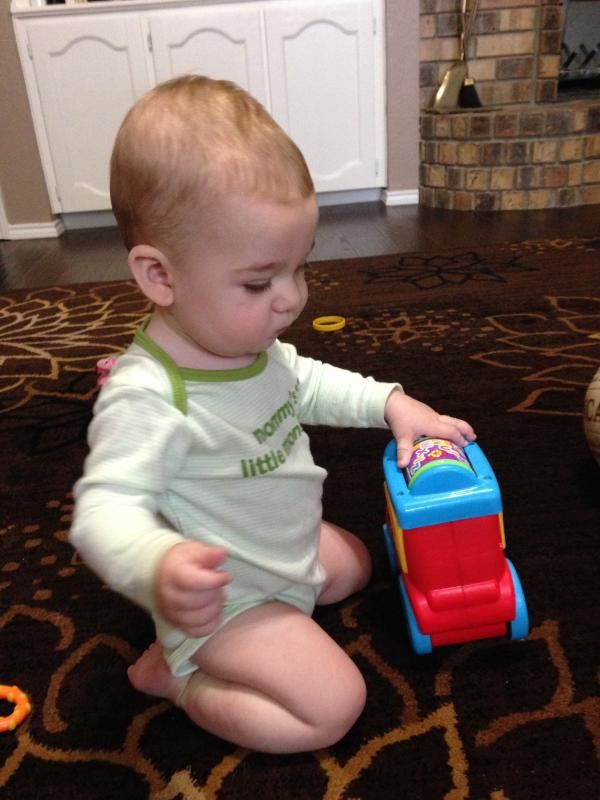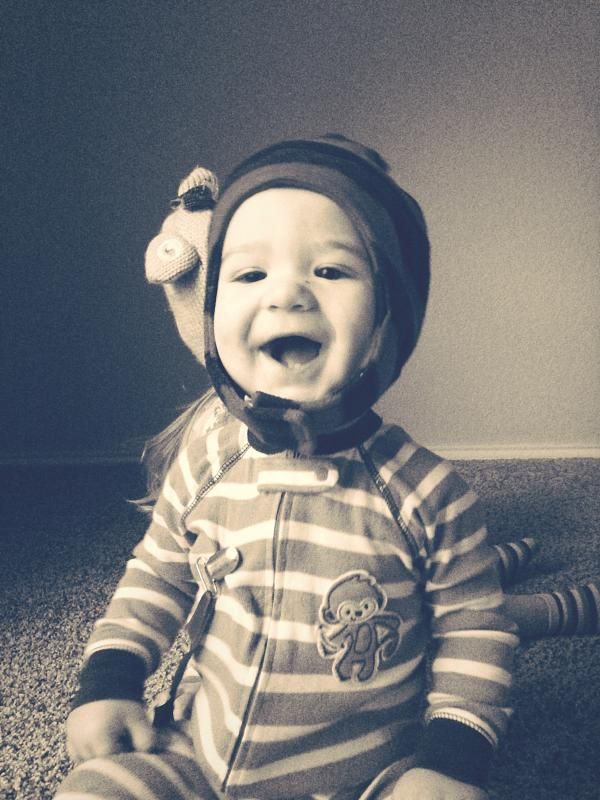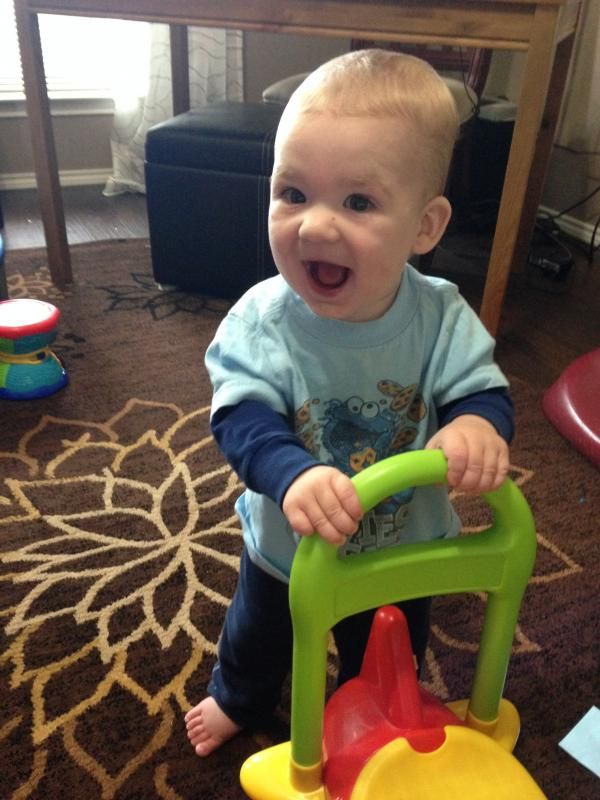 Pretty much the very first time you ever crawled more than 3 ft you crawled over to this basket in your room, pulled up to your knees, pulled the rest of the way up, and then got stuck and got mad. Ha.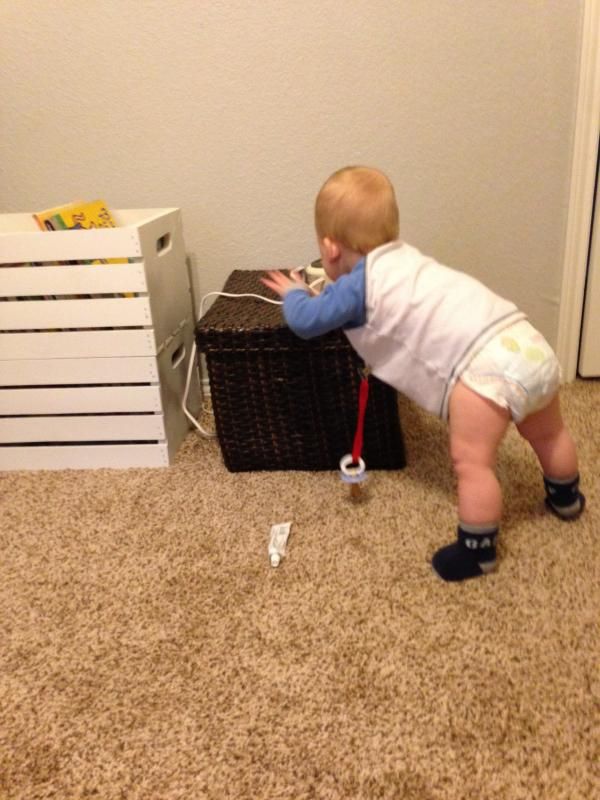 Getting some ZZZzzzzZZZZs:
You generally sleep pretty well considering the amount of sleep, but you still nurse pretty often at night.  You generally get tired and go to bed around 7-7:30.  I just follow your lead and when you start getting moody, get you ready for bed and put you down.  It varies from night to night, but I'm okay with not having a set schedule.  Then almost like clockwork you are awake around 11ish, 2ish, 5ish, and then wake up for the day around 6:30-7.  Kinsley never stayed in her room for 12 full hours at night, she is more of a 9-10ish hour type girl, so we're thankful that you at least sleep longer even though you wake up pretty often.  For now you still take 2 naps a day.  Both usually last between 1-2 hours and your little snores are the most stinkin cute thing ever.  Hopefully when I do your 12 month post you will still be taking 2 naps a day then too.  : )
The constant battle with a rash in your diaper area:
I spent MONTHS battling a rash in your diaper area that would come and go and get better and get worse.  I tried EVERYTHING.  You spent more time naked with me cleaning up pee on the floor for the past couple months than Kinsley probably did potty training.  We changed diaper brands, we changed wipes brands, we aired it out, we rinsed you off daily, we changed your diaper every time it even seemed kind of wet, I tried every diaper cream known to man, I tried natural remedies, I. tried. everything.  Well, at about 8 1/2 months it got really bad so off to the doctor we went.  He thought it might be yeast (even though I didn't, I thought it was eczema from the way it looked) so he prescribed nystatin and hydrocortisone.  Well, after two weeks of using it, the rash was still there.  The hydrocortisone seemed to help some, but the nystatin did nothing.  So, your pediatrician referred us to a pediatric dermatologist.  As soon as the dermatologist looked at it he said it wasn't yeast.  That yeast usually grows in the folds and crevices that hold moisture and that yours were fine, that the rash was outside of that.  After examining it closely he decided that it was "contact dermatitis."  Meaning, eczema that was being inflamed because of your diapers.  So, he recommended that we go to sensitive diapers, and prescribed a stronger steroid cream to knock it out.  We were supposed to use the steroid cream twice a day until it got better, and then just use it whenever necessary.  After getting sensitive diapers and using the cream your rash that I had battled for MONTHS was completely gone in a couple of days.  I have also come to find that your cheeks become inflamed with eczema right after I put a new sheet on and lasts for a few days, so I went ahead and bought sensitive, hypoallergenic detergent as well.  Basically, you have VERY sensitive skin.  I also can't use your regular baby wash on your privates or they break out.  I can't even pat them dry with a burp cloth that hasn't been washed in sensitive detergent or they get kind of red.  If the cheaper brand of sensitive diapers that I bought continues to work well for you then we will stick with those, if you continue to have issues with breaking out and we have to go to the non-chlorine, more expensive ones, then I am going to look more seriously into cloth diapering.  If we end up having to go that route it would just be for at home, and we would still use disposables when we go out and about. Cloth diapers have come a lot further than I realized and doesn't seem near as gross as I always thought it was.  I guess we will see what the next couple months hold.
Wrapping it up:
The love that rushes through me when I look at you is such an amazing feeling. I adore your precious little face and can't imagine life without you. I think every parent can attest to this feeling, but I just want to make sure you know how incredibly loved you are.  I can't really express how much I love cuddling with you, playing with you, listening to your adorable little belly laugh.  It is amazing how blessed our little family is. Things haven't always gone exactly as we've planned, but I look around and see how perfectly they've turned out and how incredibly blessed we are with this little life we've built.  Love you little man!