I've looked forward to being a mom since the day your daddy and I said "I do."  I've always loved holding and playing with children and so I had no doubt that I wouldn't love being a mom myself.   However after I began teaching and grew to enjoy it so much, some fear did enter my mind.  I feared that I had put myself in a position that it would be difficult for me to give up something I had grown to love and enjoy so much.  That fear was short lived.  I knew immediately after you were born that I was going to be right where I wanted and needed to be.
I love getting you out of bed in the morning.  Each morning that I come and peak over your crib to get you out of bed I get nothing but a face full of smiles.  You grin up at me so excited to start another day, and it melts my heart.  While this may sound corny, I miss you when I put you down for bed and look forward to the next day when we get to play and "talk" again.  You have brought so much more joy to our lives then we ever could have thought possible.  Your Daddy and I have so much fun with you.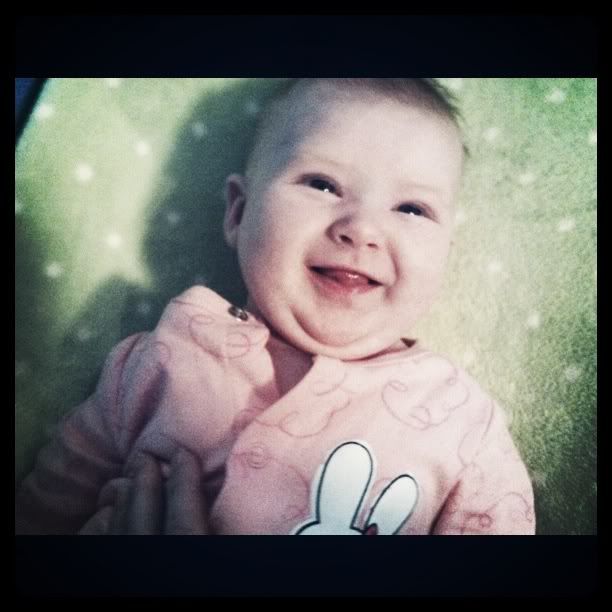 Lately you have turned into a little person of your own.  You sit up on my lap like you're a big girl.  You have also been swinging your arms like mad lately.  When you're in your jumperoo you bounce around like a crazy person with arms flailing every where hitting anything you can reach.  You have also started doing this when you're nursing.  Whichever arm is on top and free you swing it around in a circle hitting me on the chest over and over again.  It's funny now, might not be so funny later though. Haha.  At church I'll sit you in my lap and open the songbook in front of you while we sing.  You'll just sit there and hit on it with your hand.  You also do this when I read to you at night.  Speaking of church and singing, you seem to love it and are always perfectly content during the singing.  You are usually always good at church anyway minus the last couple nights.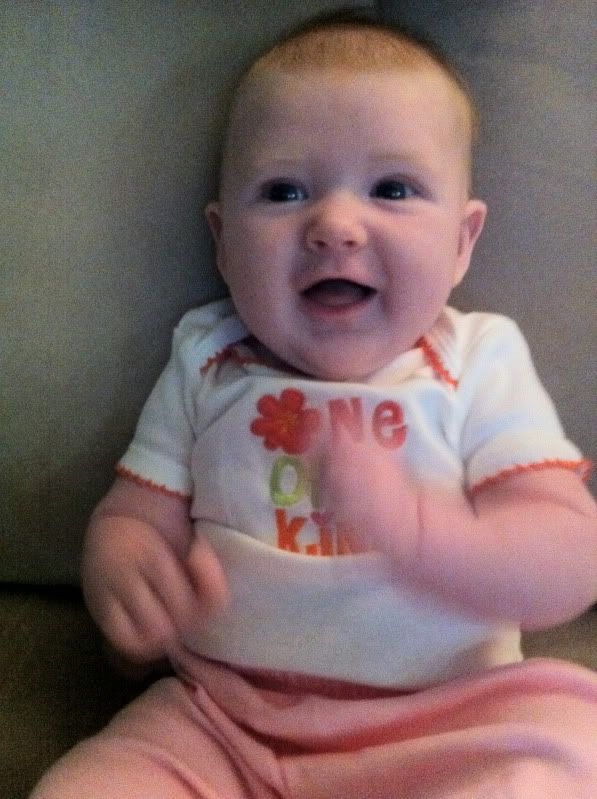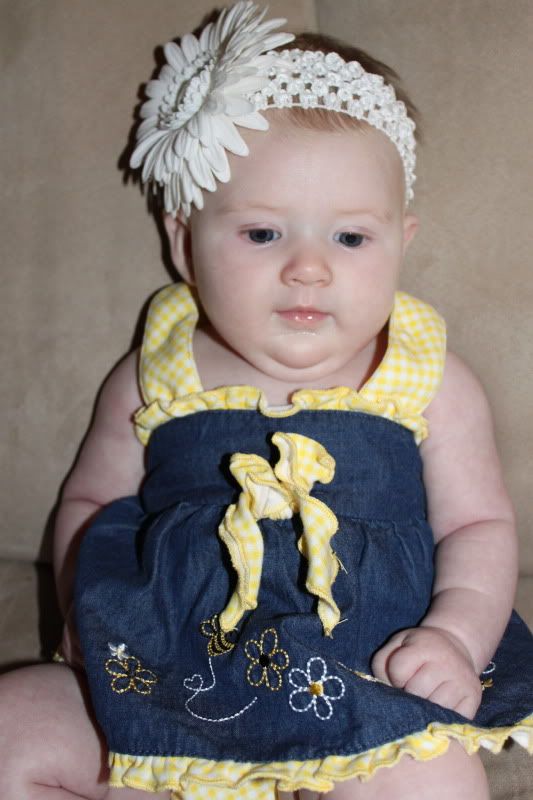 Since the last time I wrote you have begun to do several new things.  It seems as if you change almost daily.  You're growing up way to fast.  I'm trying my hardest to slow it down and savor it, but it seems to be flying past me anyway.  You are now 15wks and your 4month appointment is rapidly approaching.
-You love to grab your dress and pull it up.  To be specific you love to grab anything you can get your hands on. (Started at 11wks)
-You try to put everything in your mouth.  Sometimes you get frustrated when whatever you have in your hands is to big for your mouth.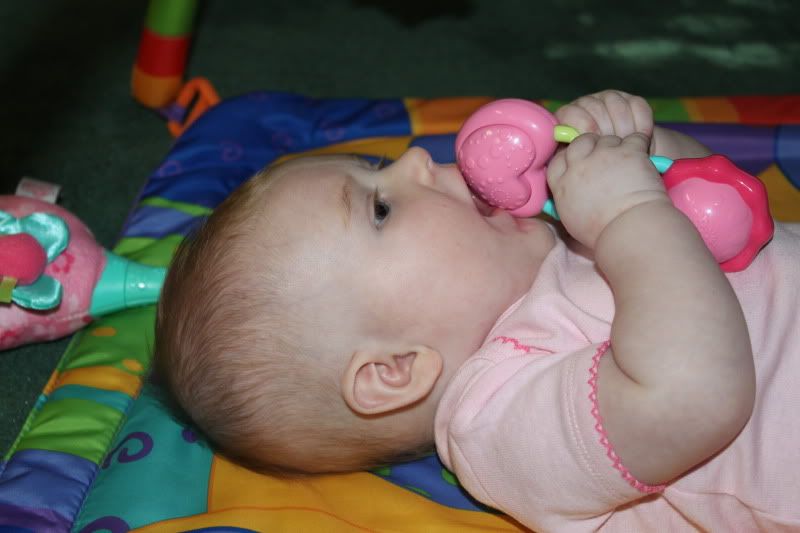 -You've rolled from your belly to your back twice, but will not do it on a regular basis.  You're just not interest in being put on your belly and you hate it. (12wks)
-You have learned how to grab your paci and take it out of your mouth, but can only get it back in half of the time, which frustrates you. (12wks)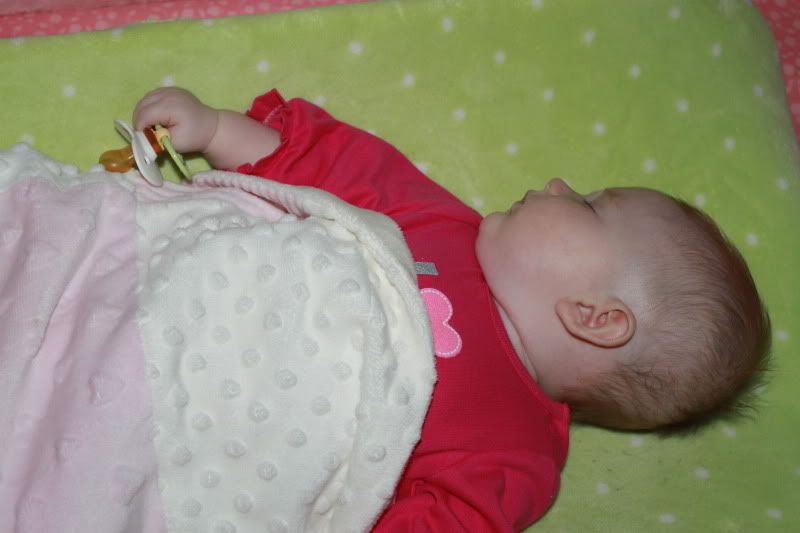 -You have super strong legs and can easily stand by yourself for semi-long periods of time with our help keeping you balanced.
-You have begun to notice the dogs and will study them when they are near you (11wks)
-You talk.  A lot.  Non-stop many days.  Sometimes it's more like squealing then talking.  You love to hear yourself. : )
-Blowouts, blowouts, and more blowouts.  At the 4th meeting you pooped out of your diaper onto my white skirt during church.  It was so much poop that I had to wipe it up with wipes before I could even get up or it would have went everywhere.  It was quite an adventure.
I guess this little post will have to end now.  I can hear your sweet coos on the monitor.  Nap time is over! : )  Here are some more pics …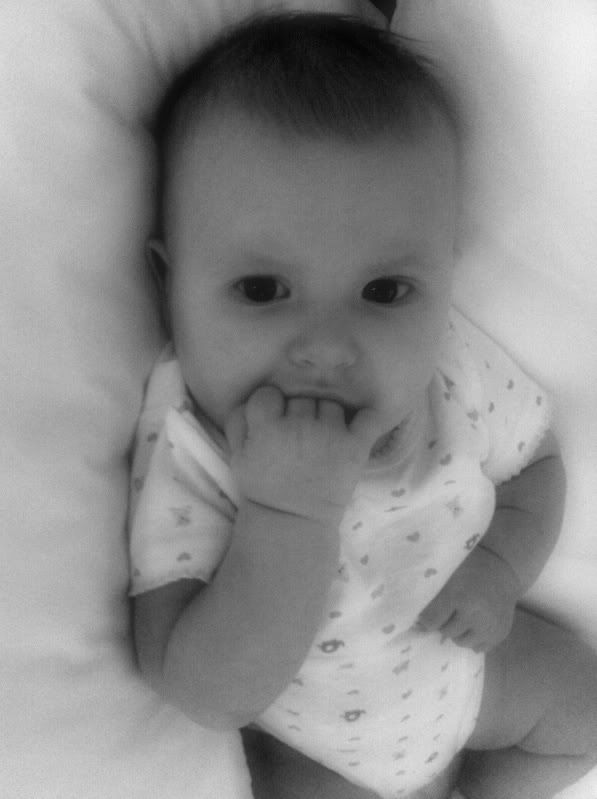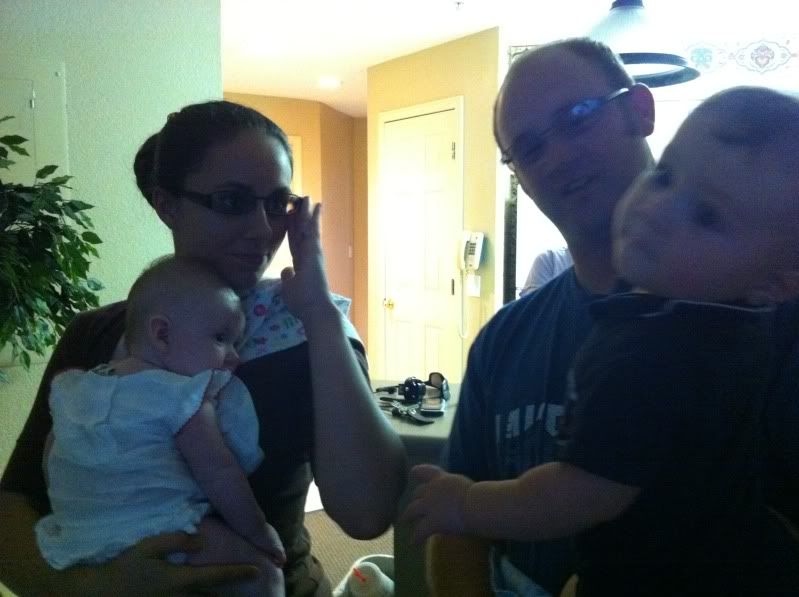 You, Auntie Angela, Uncle Joshua, and cousin Hayden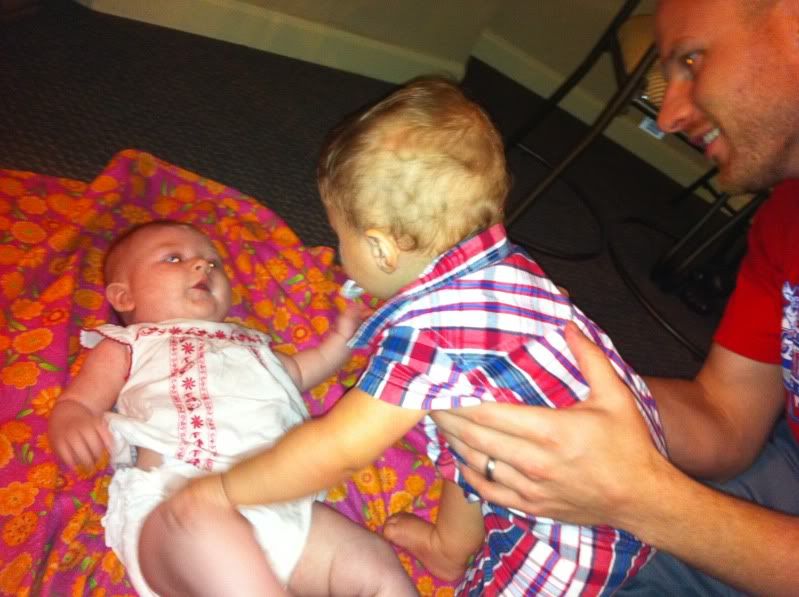 It was impossible to get a pic of you two together.  I did get a couple of videos though!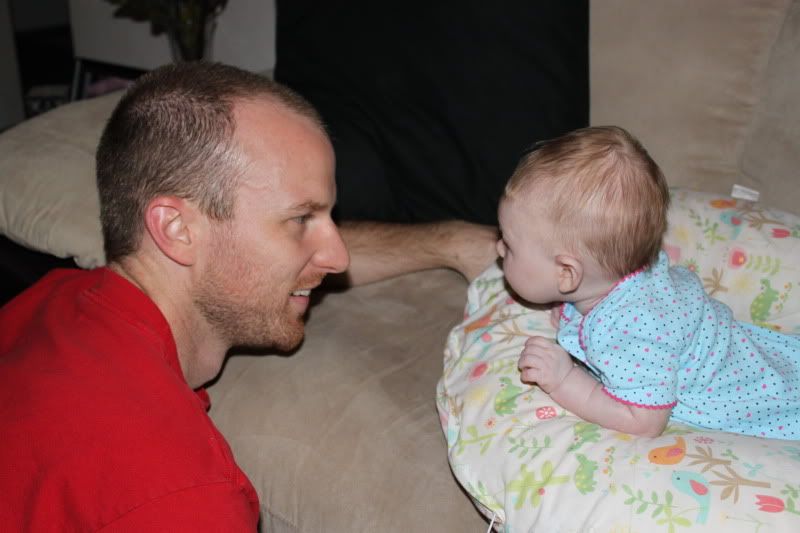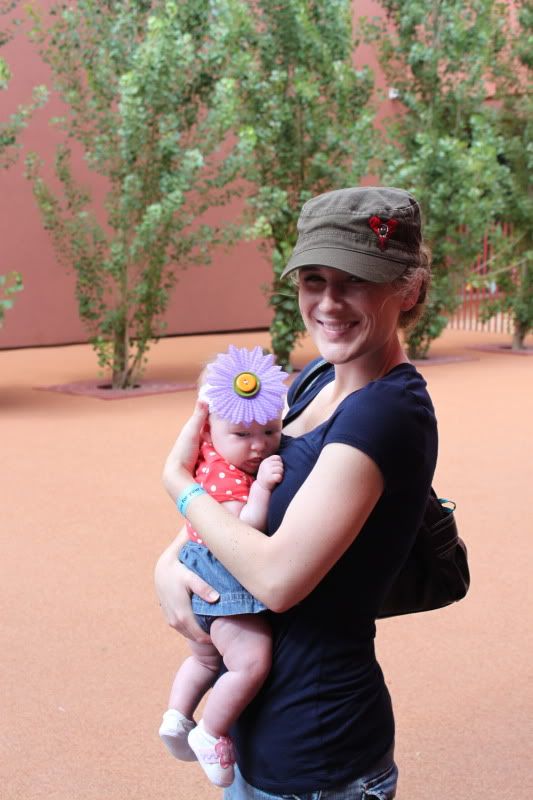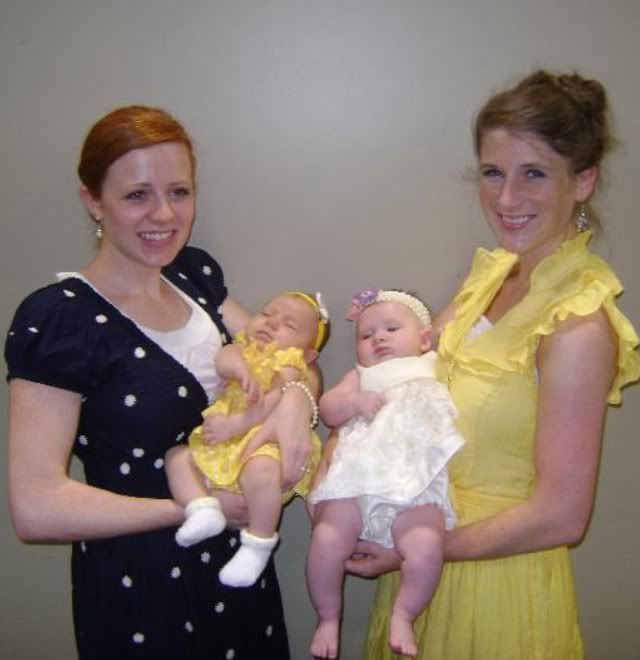 You and Savannah!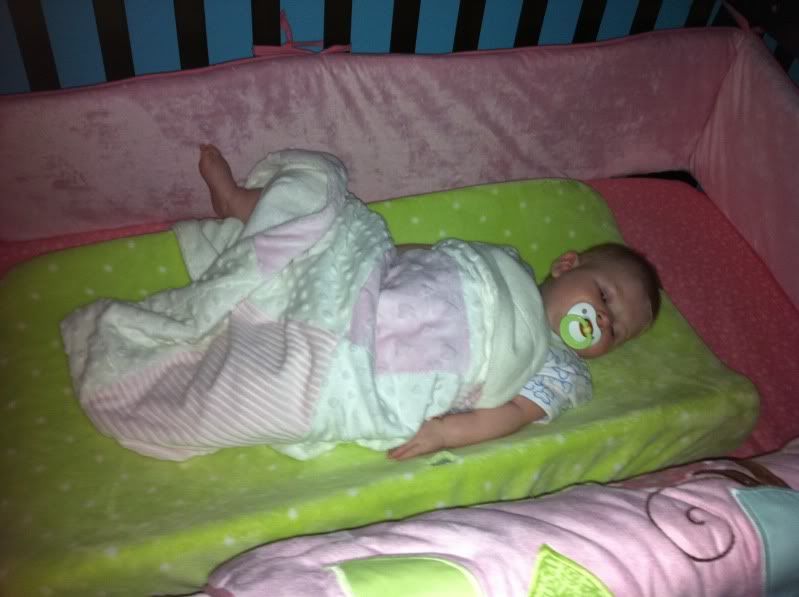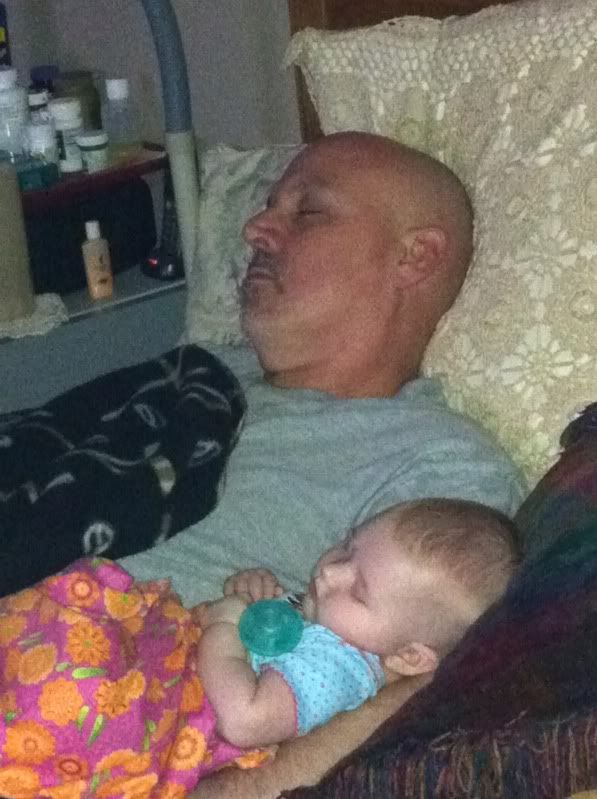 You and Papa napping.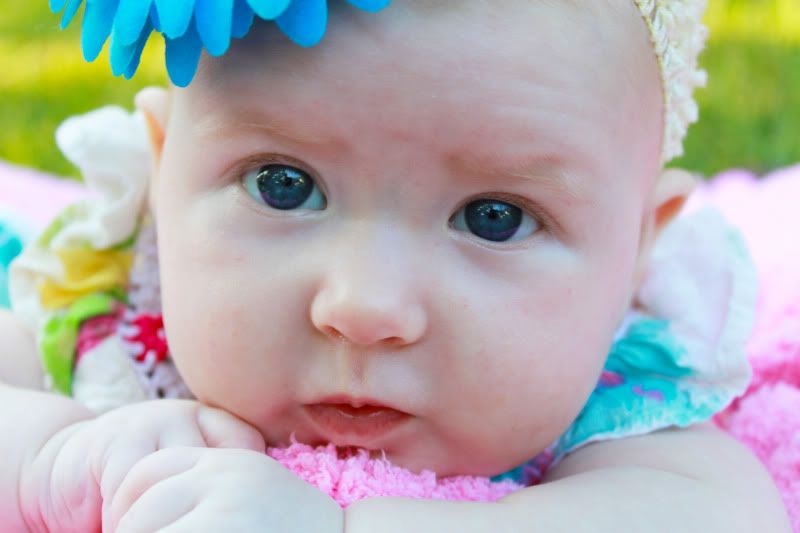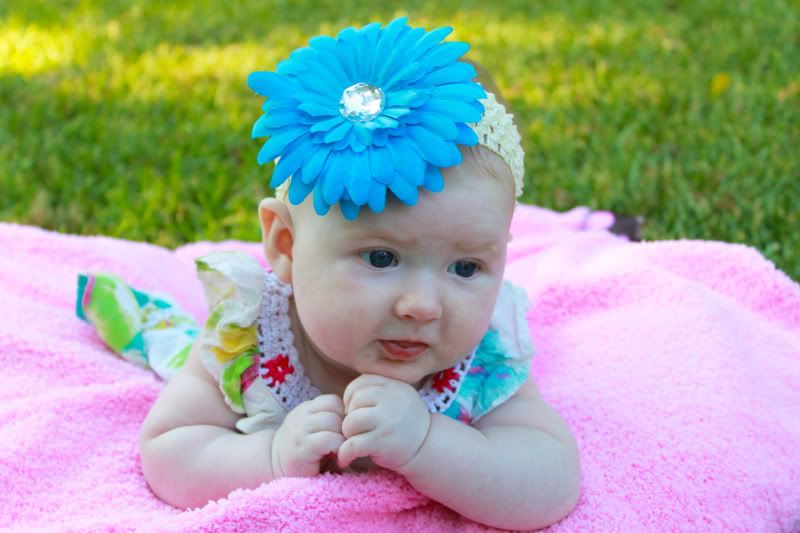 Your mommy and daddy love you!