I'm not really sure what sparked my interest in cakes.  I have enjoyed "creating" things for awhile now, but it has always had to do with clothing, or making things for my home.  I am definitely a results oriented person and working hard for a rewarding outcome has always been satisfying to me.  This is why I think I enjoy making things that turn out "pretty", such as cakes! : )  I have never been an artistic person and so I often do not step too far outside my comfort zone in that area, which is why I have become partial to fondant.  If you mess up, you just pull it off and fix it.  Butter-cream isn't near as forgiving.  A while back I found a marshmallow fondant (cause it tastes SO much better than regular fondant) recipe and went to town.  I covered my very first cake that evening (without any butter-cream underneath it because I didn't know how, ha).  It was fun and challenging all wrapped up together.  I love challenges, life is so much more fun that way.  Just this last year Ambria and I decided to take a cake decorating class together.  We wanted to learn more about making cakes so we could make them for our kids throughout the years. Cakes are expensive y'all!  It was a VERY basic class, however it taught me quite a bit.  I knew very little about cakes at that point. Okay, practically nothing.  I didn't even know how to use a coupler and a tip or even how to put a basic buttercream coat on a cake.  Seriously.  Sad, I know.  Well, since that class I have been eager to begin dabbling in this whole cake decorating business.
So remember how I said I like challenges? Well, I decided to do a 3 tier cake.  I wanted it to be crumb coated, covered in marshmallow fondant, dowled, and to follow the theme of her nursery.  Ridiculous, right?  I know.  I began planning this months ago.  I am an extremely organized person and love to have plans in place and details set.  I also knew that I would be stressed out of my mind at the last minute if I wasn't prepared, so I got started. I first started collecting details from Kinsley's room that I wanted to include …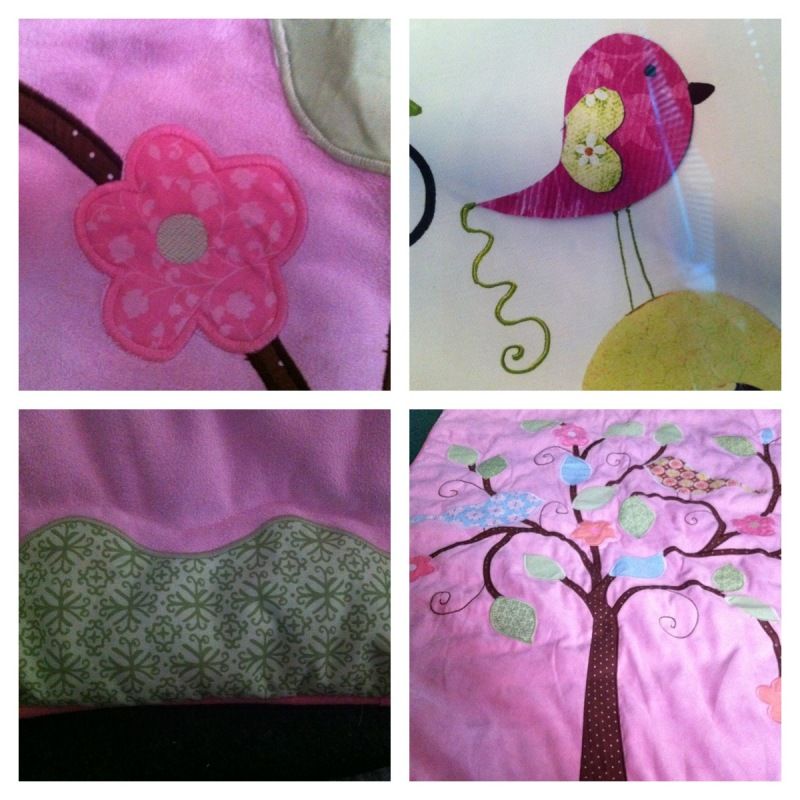 Next, I sketched out the basic idea of what I wanted with the cake to look like.  Here it is…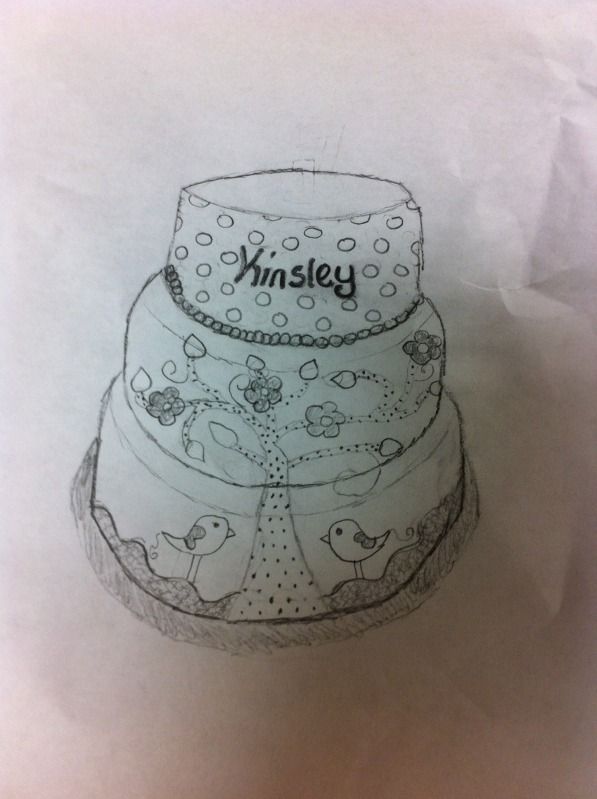 I have to admit, I had to find a picture on google and trace the basic cake outline.  My artistic abilities are pitiful.  However I am pretty proud of all the stuff that I drew on the cake outline.  My stick figures used to even look bad, so give me a break, I've come a long way. : P
In this planning time I also watched several episodes of "Fabulous Cakes" and seriously learned so much from it.  That's how I learned how to crumb coat a cake and use dowels.  It's easily my favorite cake show.  Too bad that they only have like six episodes that they keep playing over, and over, and over, and over, and over again.  TLC, if you're reading this (since I know your employees spend their days reading little no-body blogs) please record some more episodes of Fabulous Cakes.
Then I got to work.  A huge thanks to Moma and Angela for helping me out!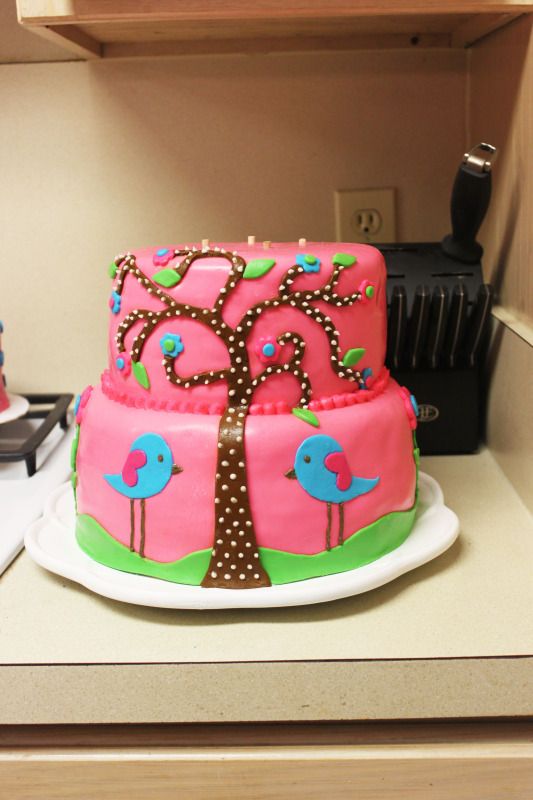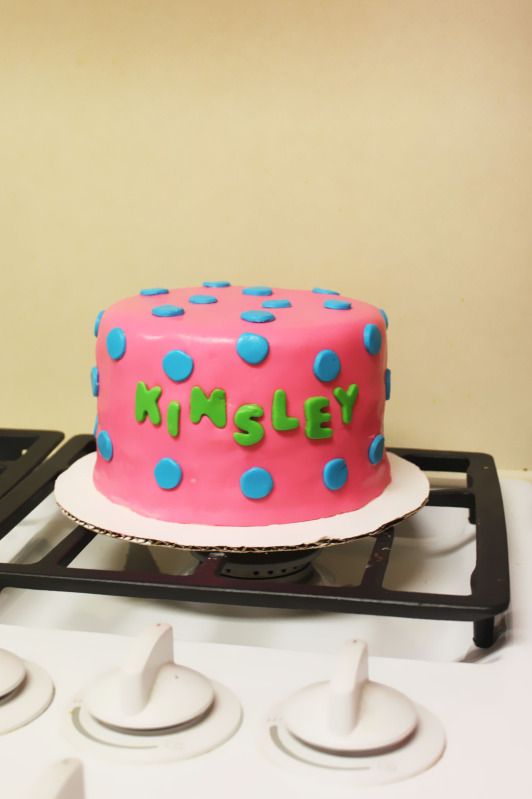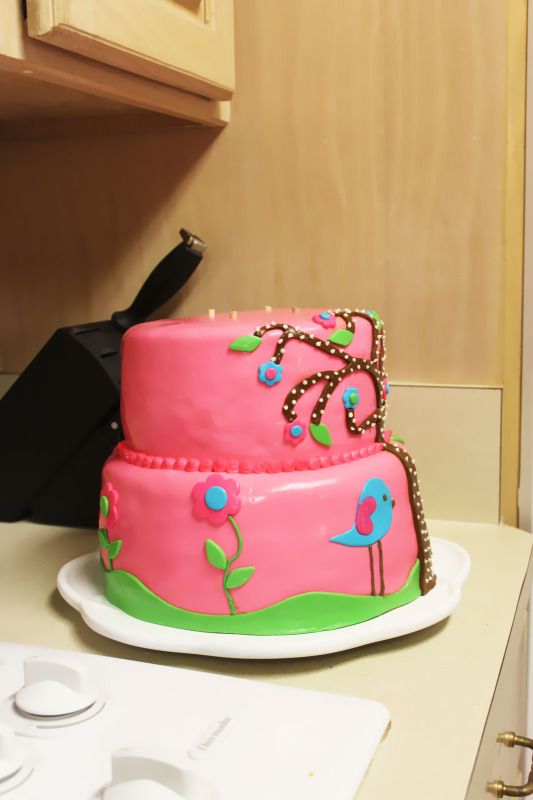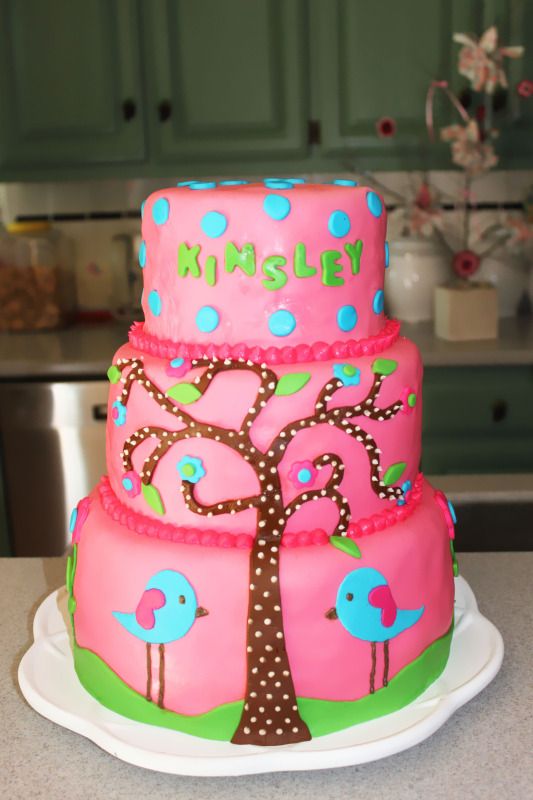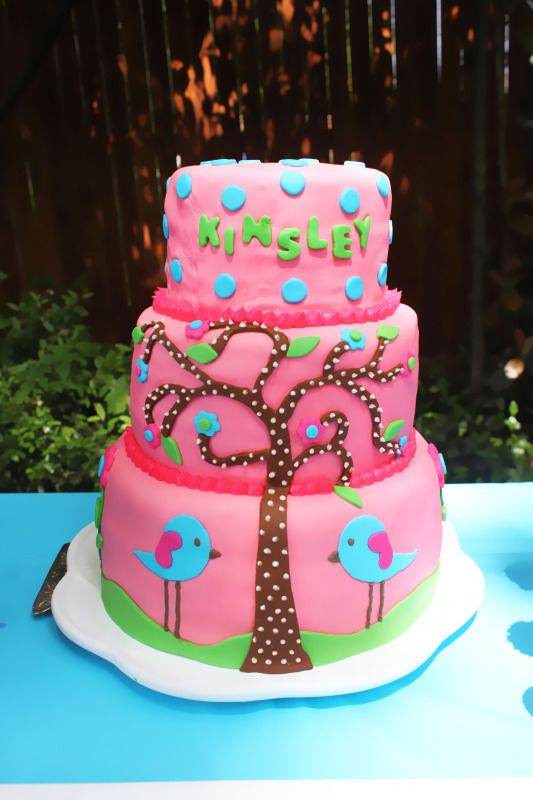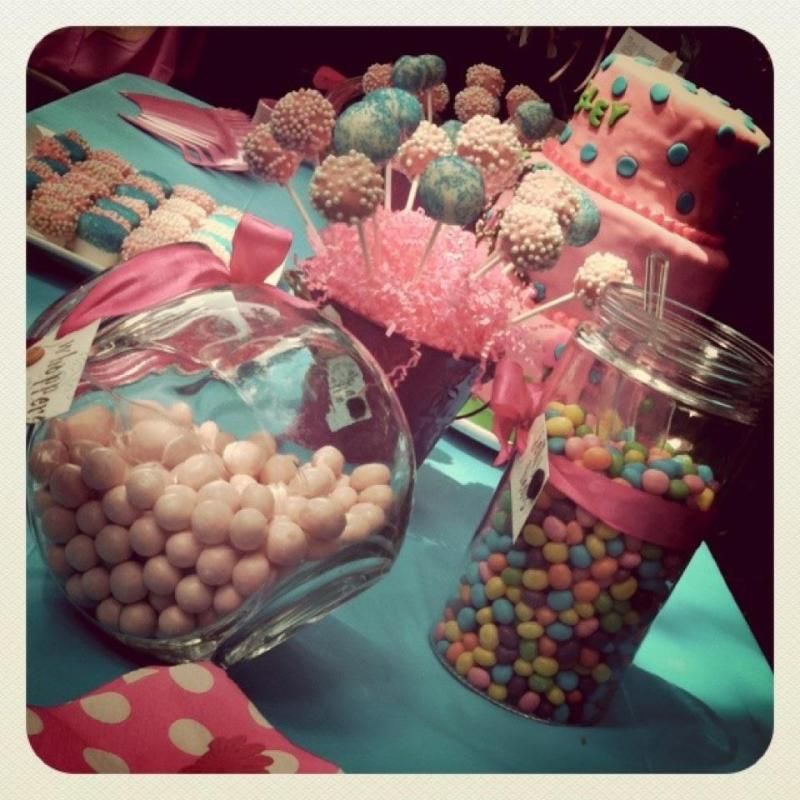 There are several flaws that I see automatically when I look at the cake and wish I could have done better, but over all I was fairly pleased.  I know that I will hopefully just continue to improve as I spend more time making cakes.  I don't know if I was fully prepared for the amount of time I would need to put into the cake, but I definitely will be in the future.  It took a lot of time, guys.  I know it looks simple, but it took quite a bit of effort.  I enjoy it, but definitely not something I could do for a living.  Besides it being such tedious work, I would also weigh 5oo lbs.  Having so much sweet stuff in front of you is not good for a sugar-holic like myself.
A couple things I plan to do differently in the future …
-I will roll the fondant onto the cake without chilling the crumb coat first.  I think it will be easier to smooth the buttercream out better underneath.  (I may change my mind about this one after trying it)
-I want to make the fondant thicker.  I wish I wouldn't have rolled it out as thin.  I think it will be more forgiving to bumps underneath and less likely to rip if it's a little thicker.
-I learned that if you refridgerate the fondant after it's on the cake it is going to sweat while it is coming back to room temperature.  I had a freak out Saturday morning when my fondant was wet and shiny, big freak out.  Thankfully Angela googled it for me (how did our parents ever live without google?!?!?) and we found out that it would correct itself once it came back to room temperature and it would dry (and it did thankfully).  Many recommend not to stick it in the fridge at all and to leave it on the counter in a cool dry place.  I think I may still refridgerate it in the future though.  It makes it so much more sturdy.
-I will stack all layers before the buttercream underneath the fondant is soft.  I completely squished my top layer putting it on the cake because I waited until we got to the birthday spot and then stuck it on.  If I would have done it before we left and while it was still firm it wouldn't have become wrinkly and squished.  It made me sick when I messed up something I spent so much time on AFTER it was already done.
-I like using water best to "glue" the fondant decorations on to the other fondant, but will be more careful in the future because I had some small problems with the colors bleeding onto the other colors.  I will also be more careful about being sure of where pieces go before sticking them on.  Once they have been put on with water they are HARD to get off.
It was definitely a challenge, but am excited to have learned a little about decorating cakes.  I hope that with each one that I do/help with I will learn a little more and the whole process will get easier and easier.  I know I will always be too critical of what I do make, but I guess that's what makes a person work harder to do better the next time.  It drives me crazy when I am not good at something and makes me want to work that much harder at it.
Would you believe me if I said that I orginally just planned to throw some pictures on here and not really say anything at all?  Okay, I'm shutting up right ……… now.