I meant to do a post at 15 months, but things have been super hectic around here.  When 15 months came around we were without internet and had been for about a week and a half.  Then after we got our internet back we started our huge renovation project which has kept us busy since.  We still aren't through. Bleh. We have torn all of the ugly green carpet out of the house and tiled the kitchen, dining, living, entry, and hallways.  Our house has been a wreck for the last couple weeks, but you seem unaffected other than not having your usual slew of toys laying around.  Alright, enough about what has been going on with us.  Lets talk about YOU.
This is you being crazy, like always, while we were working on the floors….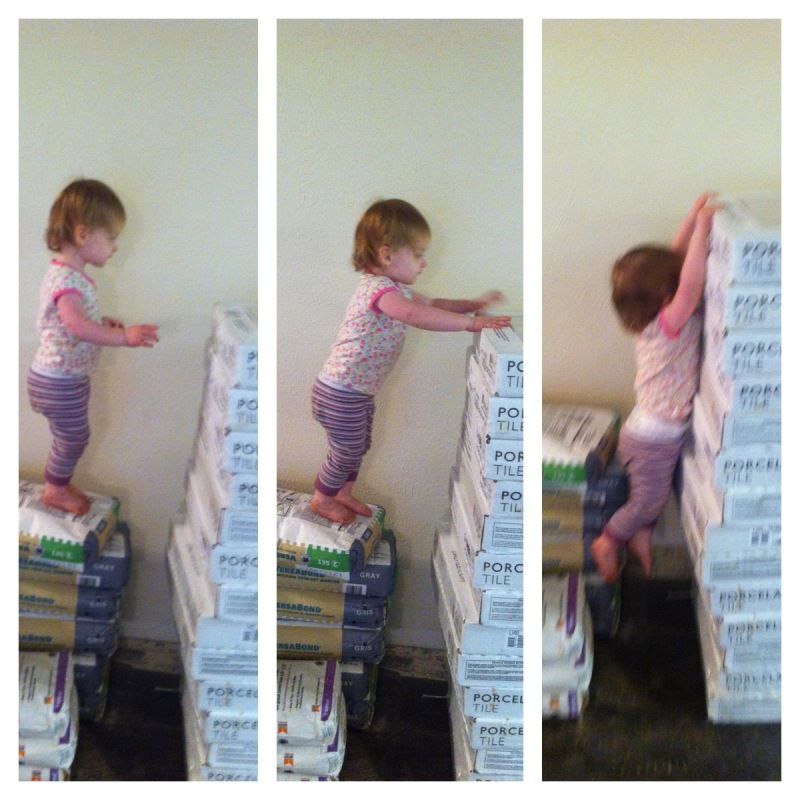 New things:
Started making up own words and jabbering with them- 12 1/2 months
Throws ball well- 13 months (been trying for two months, but now you have it down)
Runs- (fast!) 13 months
Walks backwards- 13.5 months
"Sings" (hums) along with music- 13.5 months
Points at things that she wants you to get for her- 13.5 months
Knows how to open the iPhone- 14.5 months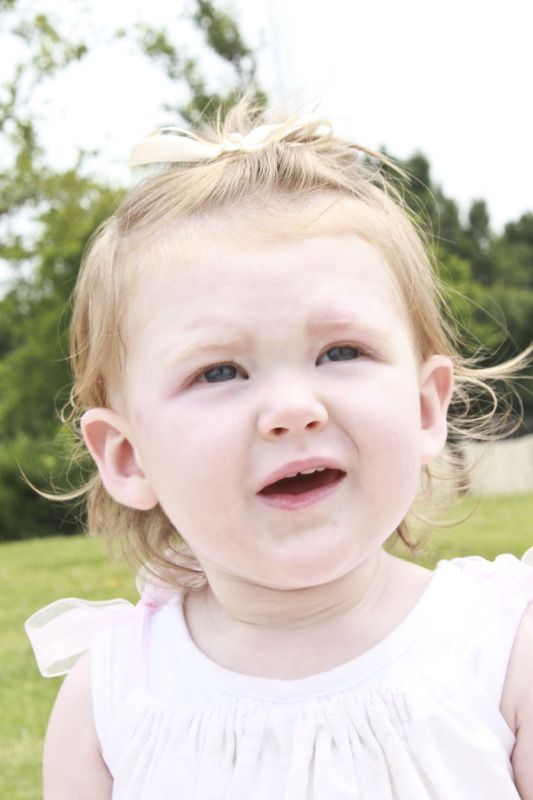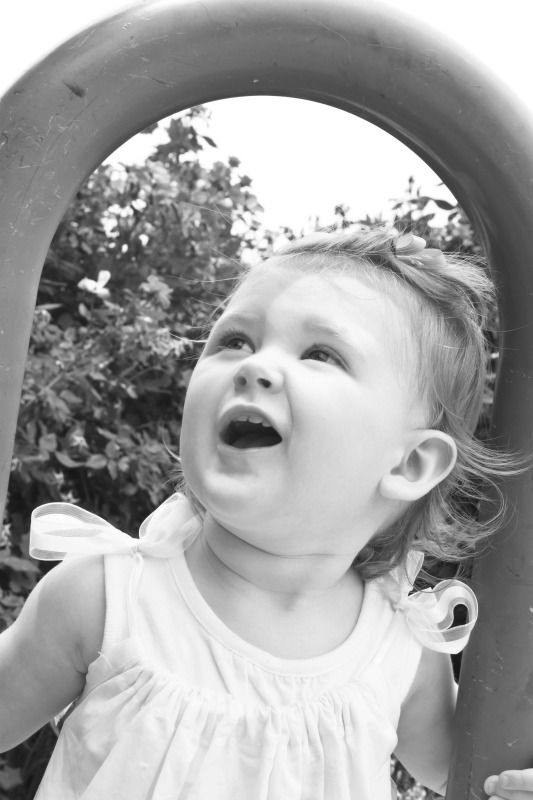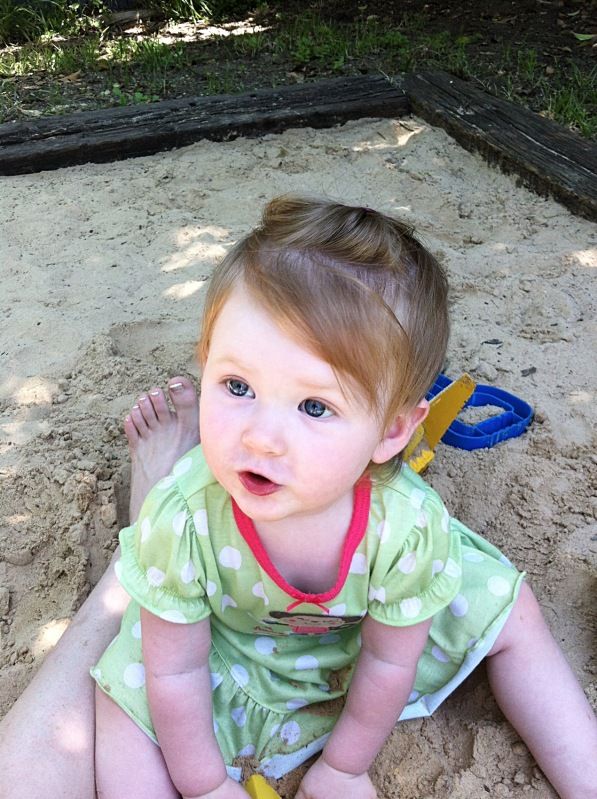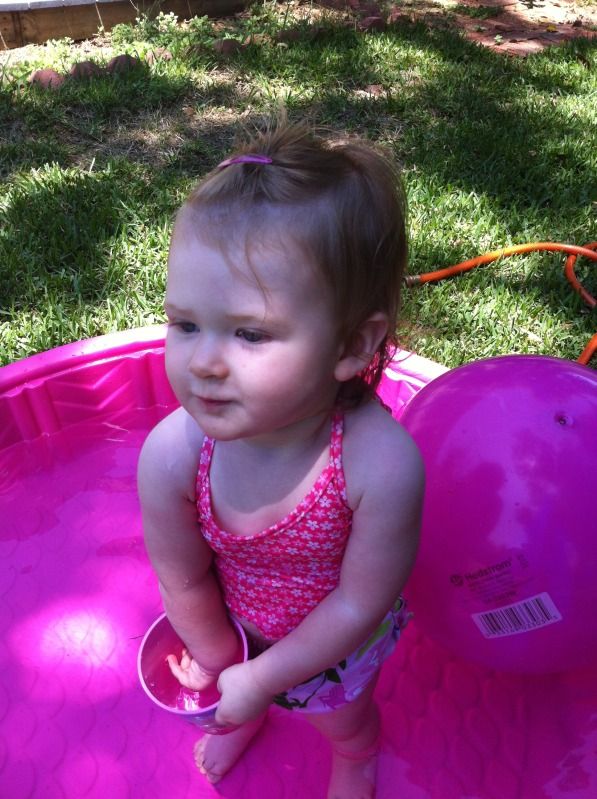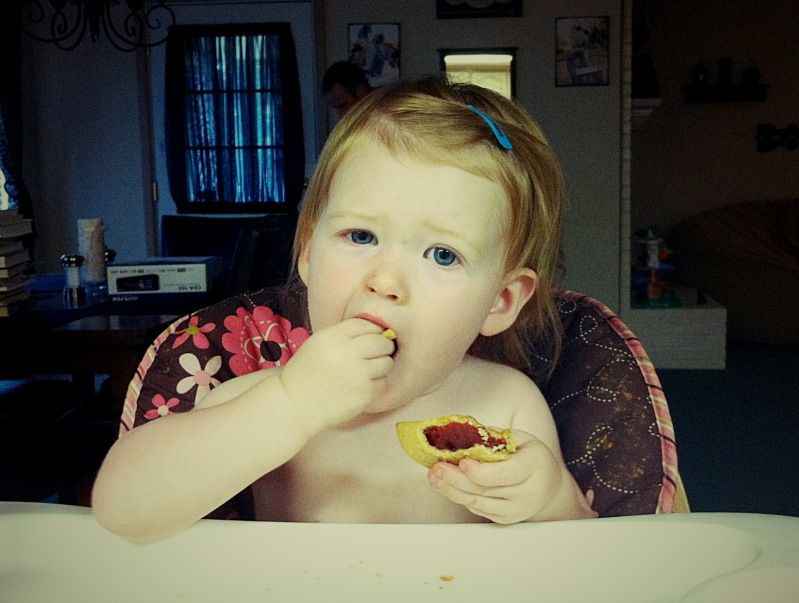 New Words:
10. Bug- 12 1/2 months
11. Eye- 12 1/2 months
12. Thank you- 13 months
13. Bible- 13 months
14. Brown bear- 13 months
15. Down- 13.5 months
16. Yes "ess"- 13.5
17. Baseball- 13.5
18. Uh oh- 14 months
19. Wow- 14 months
20. Amen- 14 months
21. Ouch (ow)- 14.5
22. Mama- 14.5
23. Papa- 14.5
24. Bite- 14.5
25. Up- 14.5
After "up" I quit counting your words.  Your language has blown up and I just can't keep up with it anymore.  I've got your first 25 down though. : )
Things about you and your development:
13 months- all over the place. Run, climb, and jump off of things. Crazy baby! You have no regard for your safety.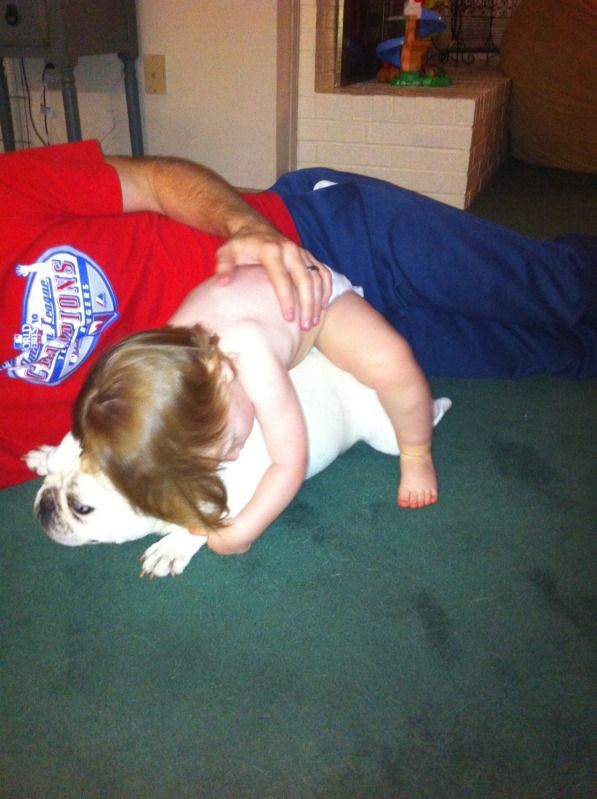 13 months- your understanding exploded. You understand most everything I say to you. "wanna go for a walk" – you get excited "wanna go out back" – you go to the back door "let's put your shoes on"- you'll grab them. There are SO many things like that which you understand. It amazes me how fast kids learn these things. I love being able to communicate with you so much more.  I'm enjoying this stage so much more than the one we just left when you were 12 months.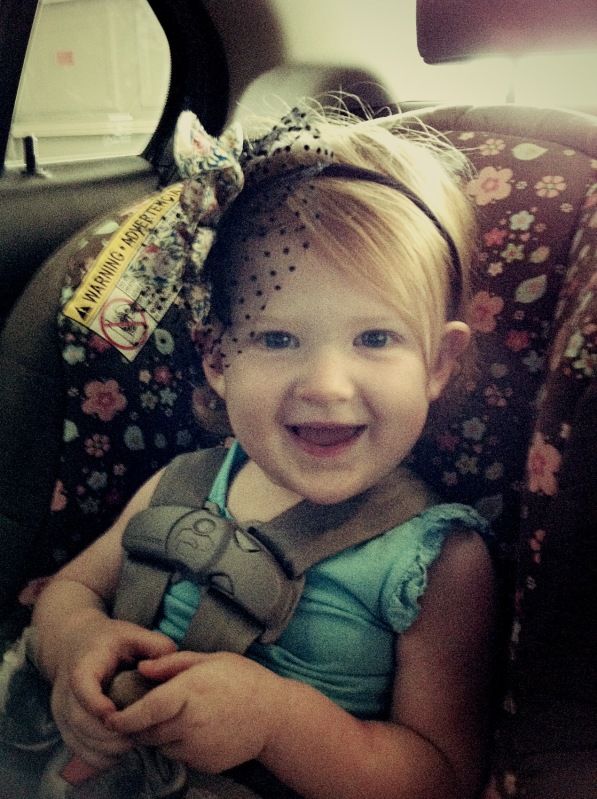 13.5 months- started jabbering a ton. You know you're telling us something, we just have no idea what it is!
13.5 months- you love music and will bob your head back and forth when a song comes on that you like. You will also try to sing along with it.
13.5- it's amazing to me what all you understand. I'll tell you to do things/go get things that I didn't even know you knew their names and you'll do it. It's crazy what you pick up on and we don't even realize!
14 months- the other night I was so tired that I was falling asleep while trying to rock you to sleep. I got so tired that I decided to just put you in your crib and climb in with you. We were both just laying there and when I opened my eyes you would look at me with this silly "what are you doing, mom" look and then would giggle at me. You were so delirious that you started poking my eyes while they were closed and would laugh. It was so funny. We both ended up falling asleep, but I was startled awake by a  text and then woke you up trying to climb out. I ended up getting you out and rocking you back to sleep. It is such a silly insignificant story, but it's just one of those moments that will stick with me for a long time. I lived getting to fall asleep next to your sweet giggling face.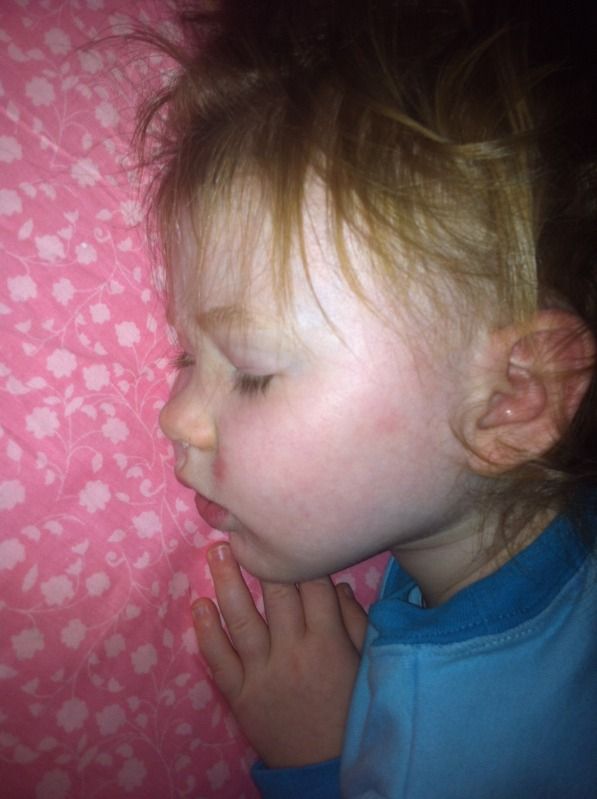 14 months- whenever we read the book "Snuggle Puppy" and come to the parts where it says "kiss" you will turn around and give me a big kiss. I love it and I love getting affection from you. You have never been a cuddler or let us cuddle much with you, so we love it when you show us affection.
14.5 months- for a couple weeks you went through a fussy clingy stage, but now seem to have emerged from it. As you emerged your personality just seemed to boom a little more. You have been laughing so much and being so silly lately trying to get attention. I love it. You are so fun when you're like this.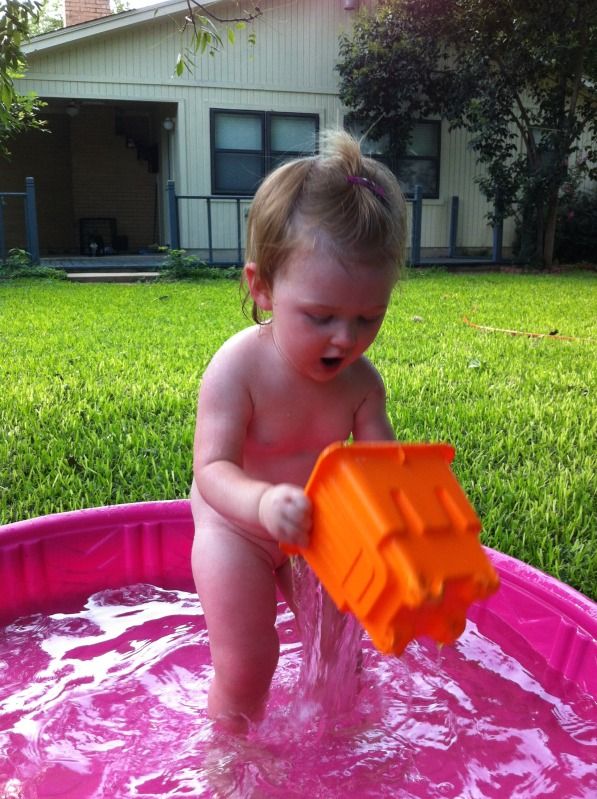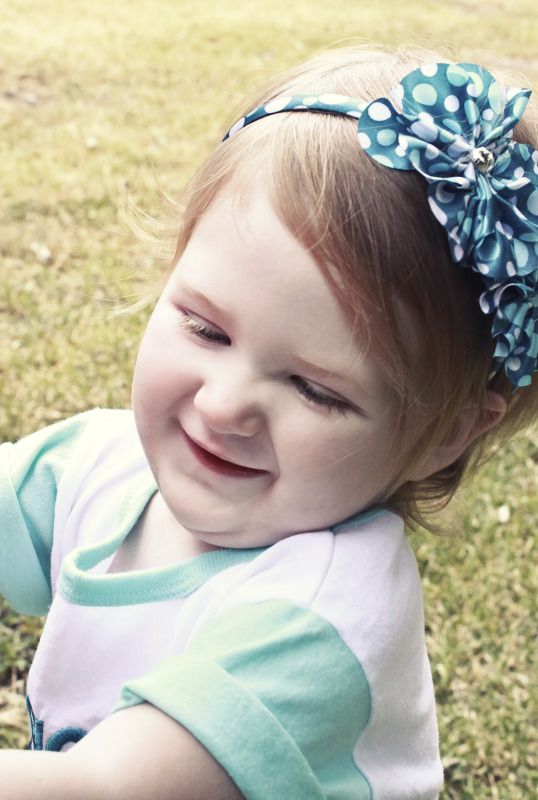 14.5- you will laugh at your self when you sneeze and will go "choo!" acting like you are sneezing again.
14.5- for a couple months now you have began getting upset if I show anyone affection other than you. When me and your dad hug you will start crying, run up to me, and sometimes tug at my leg until we stop hugging.  For a child that has never been a cuddler, it cracks me up that you are so particular about who I give affection to.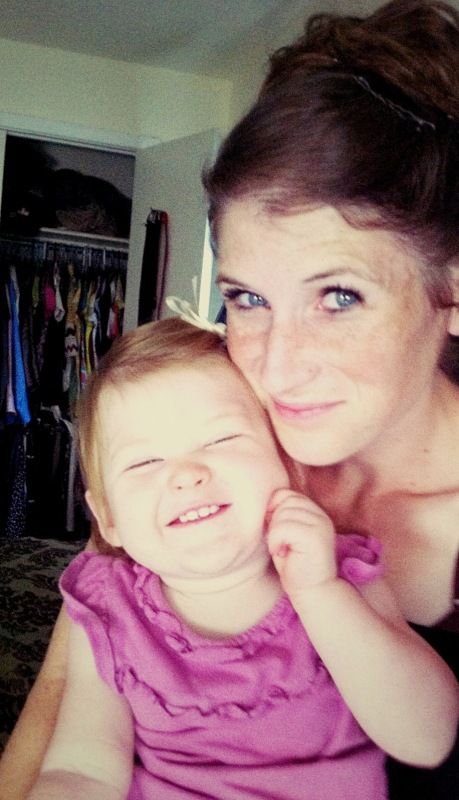 14.5 months- lately you have been giving big bear hugs. You'll just run up to us and wrap your arms around us and squeeze as tight as you can. I love it. …and I love you, a lot!
15 months- You say "uh oh" all the time. Even when something you do isn't an accident. It's one of your favorite words right now.
15 months- you have started to love books again.  I'm so glad about this. You went through a phase there that you wouldn't hardly look at them, just wanted to be on the run. Now you are always bringing us books and wanting us to read to you.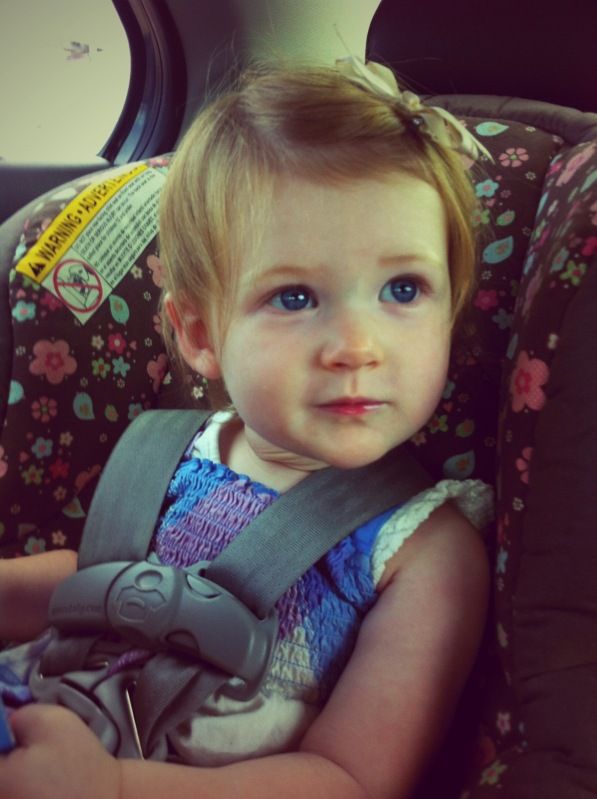 15 months- you are sleeping the best you ever have in your life. On average you have been taking TWO hour and half naps each day. For many, MANY months of your life I was lucky to get two 30-45min naps out of you on any given day. It's helped me a lot while getting through the beginning pregnancy fatigue though. I was able to nap with you.
16 months- I just recently weaned you, and ever since I did, you won't let me rock you to sleep anymore. At all. It makes me so sad. I hope you grow out of it. You didn't always let me rock you to sleep before, but every once in awhile you would. I loved that time with you. Time that I just got to cuddle with you without your running around like a terror as your often do. (Edit:  Now you let me rock you again sometimes!!)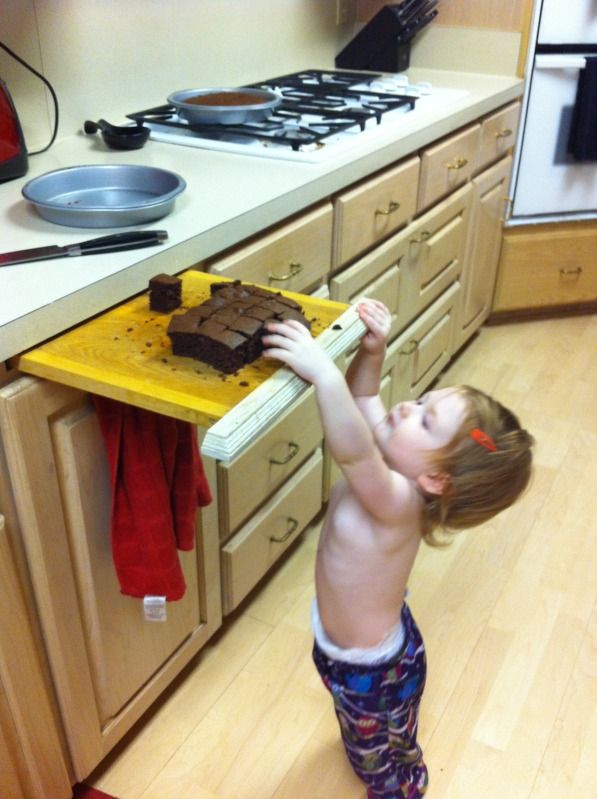 16 months- You jabber more than you ever have in your completely own made up language. You still speak words as well, but not when you're going crazy jabbering!
We love you so much sweet cheeks.  You're quite a handful these days, but I know they won't last long and I try to always keep that in mind when i'm shooing you out of the cabinets for the 100th time. : D  I love watching your sweet personality grow and change and always look forward to whatever the future brings with you.
In other news… you're gonna be a big sis! We're 13 weeks preggo.  I figure I'll wait another few weeks before it makes it's way to facebook. : )  Love you!